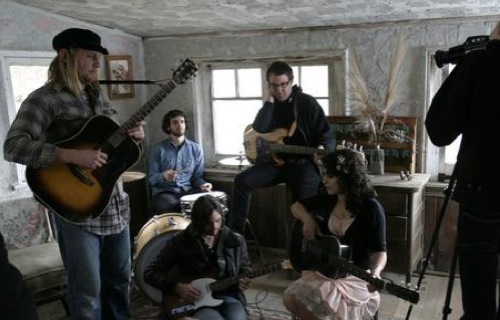 Off The Record is a recurring feature, here on the Drunkard, that marries two of my greatest interests; music and travel. Having a locals perspective when visiting a new locale is the difference between experiencing it through the lens of a tourist and of that of a native.
Off The Record gathers some of my favorite artists, asks them to reflect on their city of residence, and choose a handful of places they could not live without, be them bookstores, bars, restaurants or vistas.
Today's installment of OTR catches up Van And Cambria from Oakland CA's Port O'brien who wax on their favorite northern California spots. The band is set to play here in Los Angeles, at the Echo, May 13th with Someone Still Loves You Boris Yeltsin. We have three pairs of tickets to giveaway to Aquarium Drunkard readers. If you want a pair, leave your name, a valid email address and your favorite summer-time cocktail in the comments.
* * * * * * * * * * * * * * * * * * * * * * * * * * * * * * * * * * * * * * * * * * * * * * * * * * * * * * * * * * * * * * *
Even though the band is based out of Oakland, all of us grew up in San Luis Obispo county, and continue to spend a lot of time there. Its a beautiful area on the coast directly in between San Francisco and Los Angeles. There are a bunch of little towns in the county that all have some individual charm. Cambria and I are from Cambria (yes, she was indeed named after the town), Caleb is from Los Osos, Josh is from Arroyo Grande, and Zeb is from Cayucos.
1) Nitt Witt Ridge – Located in Cambria, Nitt Witt Ridge is described as the "Poor Man's Hearst Castle." Its essentially a house made of found objects by a legendary eccentric named Art Beal, or Captain Nitt Witt. The site has a fascinating story behind it, and is a registered California Historical Landmark, designated as "Folk art." We are fortunate enough to know the current owners and have been able to put on a few shows there, and even filmed the music video for "Stuck on a Boat" there.
2) Bubblegum Alley – Located in San Luis Obispo is simply a brick alley with walls completely covered in used chewing gum. Its so interesting to see it change over the years, different artistic things made with chewing gum. You'd be surprised at how creative people can be with chewing gum. "Weird Al" Yankovic went to school in San Luis Obispo and wrote a song about this very alley.
3) Boo Boo Records – Located in San Luis Obispo this is easily our favorite record store of all time. Its been able to survive and thrive in the changing market, while maintaining true to its roots. They have a great selection of all kinds of music, and a great vinyl selection as well. Everyone that works there is incredible, and the prices are great too!
4) Taco Temple – Located in Morro Bay this is the favorite SLO county restaurant of Port O'Brien. Their food is described as "California fusion" and the burritos are enormous (and not too expensive at about 7 bucks). Its right on Highway 1 and across from the ocean. It has an extremely relaxed "Californian" feel and I doubt they would kick you out if you came in shirtless or shoeless. Their chips and salsa (free after 5pm) are to die for.
5) Elephant seals! – North of San Simeon about 10 miles or so is a massive elephant seal breeding ground. Its now a huge tourist destination, but its still absolutely fantastic. At night is our favorite time to go. There isn't anyone there, and you can just hear the thunderous yells of the seals. Then, one a car passes by with its headlights, it momentarily shows you just how many seals there are. Its beautiful!
6) Thai Boat – Located in Morro Bay, this is a Thai restaurant full of charm and amazing food. Its located in a building shaped like an actual boat and the people there are honestly the nicest, warmest, and most considerate people in the world. Its small, mainly a take-out place, but its worth it just to meet the family who runs the place.
7) Palm Theater – San Luis Obispo's independent movie theater plays consistently great movies for a great price. Even the popcorn is affordable! The screens are on the small side, which provides a great intimacy and it really feels like a community event when you see a movie there. Plus, Mondays are only 5 bucks.
8) Linnea's Cafe – San Luis Obispo's most wonderful coffee house. This place has a wonderful back garden area, and plenty of cozy seating. They have great breakfast, and their coffee is great. Their tea selection can't be rivaled in the county and the ambiance is perfect. Plus, they are open until 11pm, which is rare for this county.
9) The hot tubs on Moonstone Beach Drive – One of the only things to do in Cambria during night-time is to sneak into the local hotels and use their amazing outdoor hot tubs. Fogcatcher is probably the best, and we've never been kicked out there. If there are too many people using the tub, try the Fireside.
10) Main Street Grill french fries – Cambria's and the world's best french fries. Honestly. 100% Port O'Brien guarantee.
Download:
MP3: Port O'brien :: I Woke Up Today
————–

www.portobrien.com ++ www.myspace.com/portobrien
+ Download DRM FREE music via eMusic's 25 free MP3 no risk trial offer
——————————————————————————————————————————