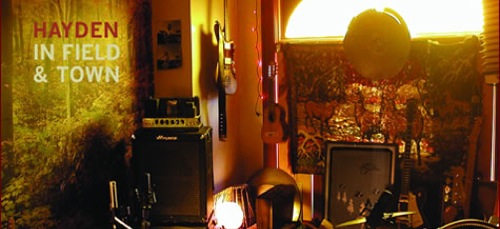 The pinnacle of Hayden Desser's career thus far was his 2001 album, Skyscraper National Park. It took the suffocating isolationism of Hayden's lyrics and finally let it transcend the minimalist structures of his first two LPs, allowing it room to breathe and explode across songs like the noisy and gorgeous "Dynamite Walls." But those elements disappeared a bit through the follow-up, Elk-Lake Serenade, in exchange for a more controlled, more fleshed out set of songs that, on the one hand, created some of his finest singles to date, but on the other, left less emotional investment to be had. In Field & Town pulls from both albums' worthiest elements and creates an excellent album that finally sees Hayden's songwriting getting the fully composed treatment it regularly deserves.
The album opens with a song that is bound to throw long-time listeners. The title track is more bubbly and invested with sound than just about any Hayden song before it. When I first heard it, I didn't like it. The sound is reminiscent of elements of indie-rock and I initially thought it derivative. But the more I listened to it, the less I was able to pin down exactly where I had heard the styles before. I'm used to a Hayden album having moments of full-on instrumentation amidst smaller, more sparse constructions. So imagine my surprise when the track that follows it, "More than Alive," starts off with a standard-sounding Hayden piano arrangement only to explode across horns and punches of electric guitar. "The Van Song," and especially "Worthy of Your Esteem," continue in this vein, creating some pretty outstanding moments across the first half of the album. Only the maudlin and lovely "Damn this Feeling" is a return to the Hayden form of old – piano and harmonica holding up the whole song. It's a great momentary lull and reminder of why his earlier albums were so enjoyable. It doesn't negate the fact that this move away from that style was a necessary move in order for his music to remain interesting.
In the middle of the album is its longest song, "Did I Wake Up Beside You?" At just over five minutes, it hearkens back to the exploratory noise of Skyscraper National Park, building across a couple of verses and choruses to a truly triumphant bridge of intense sound. It's here, and honestly across a lot of the record, that comparisons to Neil Young have been most accurately leveled at Hayden. It's only fitting considering Hayden's cover of Young's "Tell Me Why" on the Live at Convocation Hall double-album. The stumbling, seeming out of sync, but really well within it – the borderline atonal guitar solo that rips through the bridge – all reflective of Young's work.
The rest of the album is spotted with one bubbling pop moment ("Where and When"), more typical Hayden minimalism ("Weight of the World," "Barely Friends") and one of the album's finest lyrical moments, "Lonely Security Guard." It's one of the moments where Hayden's lyrics escape the dreary navel-gazing he evokes so well and, while not eschewing the self-deprecation, creates a funny and warm story. He's done this before – "Hollywood Ending," for instance – where his natural sense of humor (catch him live on tour and you'll see what I mean) comes out in unexpected ways. It makes for one of the album's finest moments and shows the depth of his writing ability.
In Field & Town isn't any great leap forward for Hayden – at this point in his career, I doubt we're going to see one of those. But it is a truly excellent record, one his fans will enjoy if they open themselves up to his developing style and look for all the familiar touchstones. New fans also may find a lot to like now that his music has fully climbed up from its darker, simpler moments. – j. neas

Download:
MP3: Hayden :: Where and When
MP3: Hayden :: Lonely Security Guard
———
Amazon: Hayden – In Field & Town
+ Download DRM FREE music via eMusic's 25 free MP3 no risk trial offer
——————————————————————————————————————————