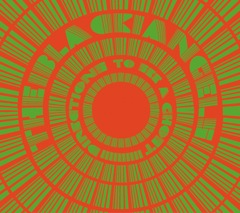 At times, epiphanies can be a slow process. I had been listening and re-listening to Directions to See a Ghost, the second LP from Austin, Texas' The Black Angels, for a week at this point. The touchstones are obvious — their name is a Velvet Underground song reference after all and there is just too much fuzz to not think of My Bloody Valentine. But those names just seemed too obvious. I was hesitant to write this review using only those points for reference. I just wasn't satisfied with my thought process.
Then came enlightenment.
Continue Reading After Le Jump…

It came in the middle of the album's nearly 17 minute closing track, "Snake in the Grass." Sitting at my computer, surrounded by the song, it dawned on me — Kyuss. It sounded like freakin' Kyuss.
Kyuss isn't a band that you're going to hear people pulling out of their critic's toolbox that often — the stoner/desert rock band that gave the world Josh Homme and of course, eventually, the Queens of the Stone Age, has its own sort of niche following, but nothing viral. But I'll be damned if "Snake in the Grass" doesn't sound like a unique and eerie cousin to Kyuss' "Demoncleaner." And honestly, that excites me.
Directions to See a Ghost is an incredibly worthy follow-up to the Black Angels' 2006 debut LP, Passover. The overall sound hasn't changed a terrible lot — it's obvious that the band didn't take the 'radically different' approach to their sophomore effort. But the production has been amped up and what was already a full and powerful sound has become even more so on this album. The structure mimics the first album to some extent — a clutch of songs and then an overpowering, long closer (18 minutes the first time, 16 and some change this time) that leaves the listener wasted in its wake. Given the band's sound — fistfuls of fuzz and noise, grooves that are locked into and driven out to their logical ends, reverb laden vocals — it would be easy to end up with something akin to My Bloody Valentine — a record that works more as a piece, divided up into "tracks" that are sometimes hard to tell the difference between over time. (Ask me to name an individual track on Loveless and I could name a few, but I'd be hard pressed to sing any part of any one song for you.) Instead, the band delivers a consistent sound that explores sincere shifts in percussion and treatments to create pieces that work together and apart.
There isn't a bad song on the record, but the standouts are truly standouts. "Doves" is anthemic in its soaring chorus; "Mission District" builds a moody, slinking bass and drum combination into a song that positively oozes an evil-tinged sexuality by the time it explodes across the speakers. My interpretations of this are based completely on sound. The vocals, purposefully buried in the mix until they've become just another sound in the stew, are hard to discern, but it doesn't make them any less important. In fact, singer Alex Mass' vocals are one of the band's deftest weapons. Sounding at times like a psychedelic channeling of Ian Curtis, Mass creates a mood that is simultaneously detached and strangely invested.
The excellent pairing of the songs "18 Years" and "Deer-Ree-Shee" in the middle of the record take two songs and turn them into one as the tracks meld together with keyboards and sitar treatments. "Vikings" is a slow burner that uses a percussion line that makes you feel like you're on a ship sailed by the titular people. You can hear the drums beating, the oars pulling, the coast of the hapless victim village off the prow. "You in Color" recalls the thick guitar work of Girls Against Boys during its introduction — the plowing riff making way for the song that barrels after it.
Directions to See a Ghost is an easy record to get lost in. Its sound is something that can be allowed to wash over you or to be explored song by song. In all the recent discussions about the future fate of the album, I can't imagine the sincere loss to music if records like Directions to See a Ghost are torn apart into individual songs. Much greater than the sum of its parts, the Black Angels have created one of the best records of 2008. – j. neas

Download:
MP3: The Black Angels :: You On The Run
MP3: The Black Angels :: Mission District
———-
Purchase: The Black Angels – Directions To See A Ghost
www.theblackangels.com ++ myspace.com/theblackangels ++ www.lightintheattic.net
+ Download The Black Angels via eMusic's 25 free MP3 no risk trial offer
——————————————————————————————————————————