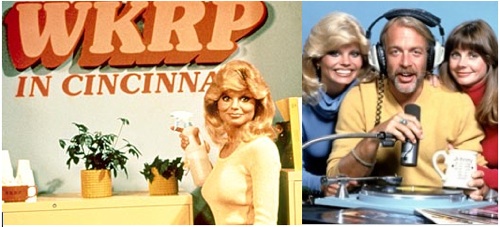 Retro TV Themes Revisited is an on-going AD feature that aims to mine our long-running collection of past television (aural) glories, cuz they just aren't making them like they used to. Have at it in the comments.
"Baby, if you've ever wondered, wondered whatever became of me. I'm living on the air in Cincinnati, Cincinnati WKRP…I'm at WKRP In Cincinnati."

Johnny 'Dr. Fever' Caravella, Herbert 'Herb' Tarlek, Les Nessman, and DJ Venus Flytrap…characters every one of them; and then you had Loni Anderson, who I always just assumed was playing herself. Yup, WKRP In Cincinnati.
Related: Revisit previous Retro TV Themes Revisited posts
Download:
MP3: WKRP In Cincinnati :: Theme Song
——-
* * * * * * * * * * * * * * * * * * * * * * * * * * * * * * * * * * * * * * * * * * * * * * * * * * * * * * * * * * * * *
+ Download your digital music via eMusic's no risk 25 Free MP3 trial offer.
——————————————————————————————————————————-