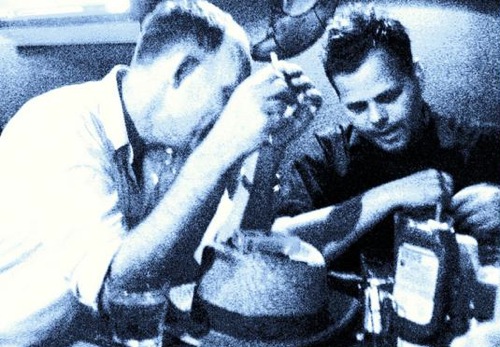 Off The Record is a recurring feature, here on the Drunkard, that marries two of my greatest interests; music and travel. Having a locals perspective when visiting a new locale is the difference between experiencing it through the lens of a tourist and of that of a native.
Off The Record gathers some of my favorite artists, asks them to reflect on their city of residence, and choose a handful of places they could not live without, be them bookstores, bars, restaurants or vistas.
We last caught up with Matthew Ryan in 2006 (read the AD Interview here) on the heels of the Strays Don't Sleep project. Since then Ryan has released two LPs, 2007's From A Late Night Highrise and the recent Matthew Ryan Vs. Silver State (April 2008). In today's installment of Off The Record, Ryan waxes on his longtime home of Nashville, TN, and why we all should invest in a Sleep Number Bed.
* * * * * * * * * * * * * * * * * * * * * * * * * * * * * * * * * * * * * * * * * * * * * * * * * * * * * * * * * * * * *
++ Things & Places I Miss While Traveling – By Matthew Ryan

My Sleep Number :: A year ago I invested in a sleep number bed. It goes from Zero to 100, each number represents an interesting sleep experience. I never thought I could miss a bed as much as I do when I'm away from my sleep number. All other mattresses are imitations of comfort compared to it. The only downside to sleep number beds is the weird rubbery squeak sound they make should you be wrestling or having a pillow fight on one in the middle of the night. It almost sounds like seagulls with jelly beans in their mouths are laughing at you from a distance. It's not a complaint really, it's just a noticeably different sound. Admittedly though, it offers a bit of humor to any midnight marauding. That being said, for typical sleep situations, it's above all compare. I think about it every night when I lay down in some classic box spring situation.
The Mercy Lounge :: Some friends of mine own this bar and club, and it's among one of my favorites anywhere. Actually, my friend Todd who is one of the owners, he and I used to work at Tower Records together back in the early 90s. Funny how things just seem to appear over time. He's a huge music lover and supporter. The whole gang are good guys and true music lovers. And then there's Jenny Rebel. Without a doubt one of the prettiest and nicest barkeeps anywhere. Harlan's great too, just not as pretty. It's nice to walk into a place and feel among friends and have your drink of choice waiting for you. They took an old cannery and turned it into a unique room for music. Suddenly I have a lot of memories in that room, too many to bore you with here. But it gets a nice mix of people and somehow stays low on pretense. Pool tables are in the back, and the ghost of Gumby has been known to haunt well-meaning folk rockers from time to time.
The Tin Angel :: The first time I went to the Tin Angel was with Lucinda Williams and Kasey Chambers. We sat and drank and had a really good meal and some laughs. I had never been there before, but I'd driven by it a million times. It's on West End, just before you start heading out to the Belle Meade area before you cross over 440. It's a pretty unassuming but well-lit looking place. My first impression of it was of a restaurant not unlike that place in The Fisher King where the horrible deed went down. But that was unfair. It's a classic privately owned place. You get a diverse group in there, it's not over-priced. The Chicken Schnitzel is my favorite. You can get some form of potato with every dish, which to me is a ticket to paradise. I will eat potatoes in virtually any fashion. It's soul food for the Irish. There's a bit of history attached to some of the paintings on the wall where you enter. It's pretty dark, sad and sensational stuff stuff, so I won't go into detail, but it's there for you to ask about should you go and you're curious.
The View From My House At Night :: I bought a house in the small hills outside of Nashville. My house faces west and there are the houselights and often taillights on the hill opposite of me at night. It looks like a tiny San Francisco without nearly the grand bridges, water or congestion. Just a quiet little valley I guess. But the most cinematic part of it is that just north of me is the path planes take to come into the airport. It's amazing looking at night when the stars are all stretched and bright and a plane is hovering almost like a helicopter off, above the hill. They're not so close that you can hear them, they're just so quiet and impossibly slow moving that they create all this drama. Some nights they make me think of Blade Runner and on other nights they make me think of Close Encounters Of Third Kind.
Nashville :: It's hard to explain the allure of living here. I'm not a party crasher or a particularly social person. I'm not anti-social either. I just have my friends and we talk and hang and laugh like we all do. But Nashville is a strangely potent place. Just last night I went to a BBQ where John Prine played. I'm one of those that believes Prine is a national treasure. Few things are as distilled, funny, sad and pure as his music. He opens his mouth, and there it is. His guitar playing makes you think that anything is possible because it's simplicity is monumental. So last night a friend invites me, and I go. And it's really that simple. I've met John Prine a couple times, and I always have to resist the urge to start throwing confetti and popcorn at him. What I mean is, living in Nashville gives you both sides of art, work and integrity. It's both beautiful and alarming how human all of it is. A few months ago Toby Keith was at one of my shows. Now, I don't know why or how he showed up there, maybe he just wanted to get out of his house. We didn't talk, but I remember watching him stand in the crowd, and the crowd kinda formed a halo around him. He wasn't getting harassed for autographs or anything like that. In fact, the audience seemed determined to pretend he wasn't there. And I thought to myself how lonely that kind of celebrity must be sometimes. The point is, that living in Nashville is some strange movie, it's somewhere between The Fountainhead and The Wizard Of Oz; if you have any sense of wonder at the engine that drives people, there is no more cinematic and explosive dissertation on dreams, delusion, hope, talent and ambition as living in Nashville. I could go on forever, living here as put me in some of the strangest "is this really happening?" moments of my life. Maybe one day I'll move away, I have Dublin in mind as a good next adventure. But I do love living here. For all it's complex sub-plots and history, it's a beautiful place and there's definitely something in the water here. But among all this there's another city within all this where people go to work in normal jobs and do normal things with commuting and weekends and craft fairs and dentist appointments and school buses and 100 year old corner bars. And It all just co-exists. Pretty amazing.
Download:
MP3: Matthew Ryan :: They Were Wrong
———
Amazon: Matthew Ryan – Matthew Ryan Vs. Silver State
+ Download DRM Free Music via eMusic's 25 free MP3 no risk trial offer
——————————————————————————————————————————