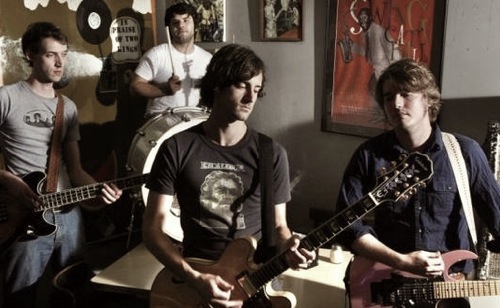 Off The Record is a recurring feature, here on the Drunkard, that marries two of my greatest interests; music and travel. Having a locals perspective when visiting a new locale is the difference between experiencing it through the lens of a tourist and of that of a native.
Off The Record gathers some of my favorite artists, asks them to reflect on their city of residence, and choose a handful of places they could not live without, be them bookstores, bars, restaurants or vistas.
Today's installment of Off The Record catches up with American Princes' Collins Kilgore and David Slade in their native Little Rock, AR. It should be noted that Kilgore, who just moved to Brooklyn, now only gets to enjoy these spots 11 months of the year.
* * * * * * * * * * * * * * * * * * * * * * * * * * * * * * * * * * * * * * * * * * * * * * * * * * * * * * * * * * * * * *
The Big Dam Bridge :: Yes, that's actually the name of this pedestrian bridge over the Arkansas river. It connects the neighborhoods on the north side of Little Rock to the western parks of North Little Rock (which is a separate city, actually). This means I can bike to the Burns Park soccer fields as fast as I can drive there. I never cared so much about all the free and accessible recreation in Little Rock until I moved to New York, where "recreation" means either a gym membership or a 5th floor walk-up.
Sim's Barbecue :: This barbecue restaurant, located in a house in one of the poorest neighborhoods in Little Rock, serves every dish with plain white bread and is probably the most superior barbecue I've had, ever. There are other fantastic BBQ places in LR as well, and thinking about any of them bums me out because regardless of which "Best in Manhattan" BBQ place my friends have taken me to I can get only a facsimile of the most sub-par barbecue Little Rock has to offer.
The Arkansas State Fair :: Fried Twinkies and Oreos, carnies hawking David Lee Roth coke-mirrors, rickety amusement park rides constructed in the 70s, and REO Speedwagon. All of this staged outside of the decrepit Barton Coliseum where I saw MC Hammer play with Vanilla Ice and En Vogue in 1990. If you could take the Delorean back to 1985 this is what you would want to see. Admission is five dollars.
The White Water Tavern :: Dive bars tend to either be completely instrumental or completely antithetical to a local music scene. The White Water firmly resides in the former category. It's had many incarnations over the years (having burned down at least once, I believe). Shortly before I moved back to Little Rock, the bar began hosting a Tuesday night indie rock revue/open mic. After only a matter of weeks everybody of drinking age in town started flocking there to check out friends' bands or to perform with their own. Since that time, the WWT's changed hands, coming under the ownership of the exquisite Matt White (perfect, right?), who has really upped the bar's profile. Now touring bands come through on a regular basis, rubbing elbows with us Little Rockers, and any night of the week, you're likely to see incredible live music, incomparably inexpensive booze prices, and 75-90% of your friends.
The House With No Windows, Rock St. :: Now, this is actually no longer around, so I'm un-sportingly telling you of a Little Rock That Once Was, but this place was awesome enough to deserve a mention. Decades ago, this insane owner of several area pawn shops decided that anyone walking by his house would be tempted to rob him of his ill gotten gains (which, I guess, he stored at his house). Rather than installing bars or a security system, he walled in his entire home with a brick facade so that it looked like a normal two story house, only with no windows. It was so unspeakably creepy. Naturally, in high school, it was a great place to skulk around, My best friend and I convinced ourselves it was a vampire den. A few years ago, they ripped up the facade and now it's just another boring building, but for a time, it was a weirdness unlike anything I'd ever come across.
Goodwill, Indian Hills Shopping Center, North Little Rock :: Everyone's got a favorite thrift store, and usually that designation comes about in the wake of some tremendous find. For me, the aforementioned Goodwill is The One. More or less every time I walk in there, I come across a vintage t-shirt of superlative quality. Some highlights include The Cure (ca. 1985), Stevie Nicks (ca. 1983), Phil Collins (ca. 1990), and an Animal Chin shirt (Bones Brigade, admittedly, and not a band, but still…how sick is that???). I don't know whose mom is cruelly getting rid of her son's dope t-shirt collection but I, like Haliburton, am willing to capitalize on the misfortune of others on this one.
Pinnacle Mountain :: Several miles past West Little Rock (or, Little Dallas, as we like to call our suburb) there's a mountain that is a rite of passage for everyone who's ever lived in Central Arkansas. It takes anywhere from 20-45 minutes to climb, depending upon which path you take or how bad your asthma is. I challenge you to find anyone in Little Rock who hasn't either made out, been stoned, or been yelled at by a church group leader (or all three) somewhere on or around Pinnacle. Despite it being a de rigueur thing to do in Little Rock, the view from the top is truly breathtaking, and should remain so for another 18-36 months, until Little Dallas sprawls out around all of the (at the moment) beautiful and unspoiled land surrounding the mountain.
Related: Check out previous Off The Record entries on Aquarium Drunkard…

Download:
MP3: American Princes :: Watch As They Go
MP3: American Princes :: Auditorium
—
Bonus: American Princes :: Don't Lie To Me (Big Star cover)
———-
Amazon: American Princes – Other People
www.americanprinces.com ++ myspace.com/americanprinces ++ www.yeproc.com
+ Download American Princes via eMusic's 25 free MP3 no risk trial offer
——————————————————————————————————————————