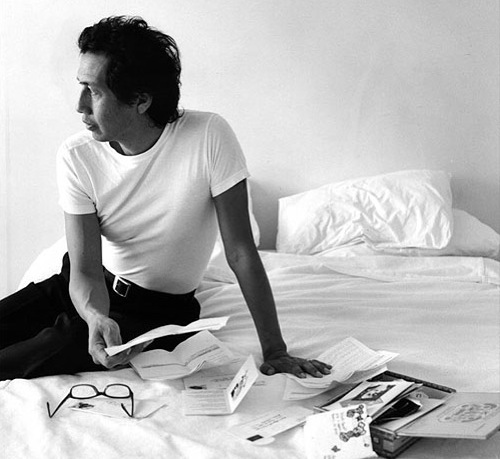 Poet…musician…troubadour…survivor, Alejandro Escovedo is all of those and more. Decades into a career that has spanned various styles and genres (all the while arguably creating his own), Escovedo has just released his 9th solo album, Real Animal, one that is being hailed by many as his some of his strongest work to date. Aquarium Drunkard spoke to Escovedo last week about the new LP, his influences, the role music plays in his life, and living in the infamous Chelsea Hotel circa 1978.

Aquarium Drunkard: The title of the album reminds me of some sort of raucous call to arms – the sparse cover art included with you holding your guitar almost like a cherished weapon – and also, title wise, of Lou Reed's live Rock and Roll Animal album. How does the theme of Real Animal extend through the album and what does it mean exactly?
Alejandro Escovedo: Well, to me, first of all, it kind of embodies the primitive music I love – the primitive aspect of the rock and roll I love, beginning in the early days. Growing up in San Antonio, listening to Jerry Lee, Bo Diddly, Chuck Berry, you know, that sort of stuff. And then into the English rock and the American garage rock I love so much. It's always been part of that primitive quality of rock and roll that I've always loved a lot and always tried to stay close to in one way or another, even when I use strings. And the other part of it is the survival instinct, the animal quality these people have had that I love – you mentioned Lou Reed, I think of Iggy Pop. I think of a lot of different people who have that sort of survival instinct in them, much like an animal would. To me, that's what it sums up, really.
AD: The critical reviews of this record went straight for the personal – where many people had seen The Boxing Mirror as a rumination on your long battle with Hepatitis-C, now people are seeing Real Animal as the great celebratory life album. Was there a conscious decision in making this one of the more amped up records you've made in awhile?
AE: I think there was. I don't know how conscious it was. Maybe instinctively I knew I didn't want to venture back into that dark, melancholy kind of area I'd mined for so long, especially with The Boxing Mirror, the record I made immediately after I was ill and I was still recovering from that illness while I was recording it. And I've said this before, but I was so caught up emotionally because of those years and not being able to play, wondering if I ever would play again, and then finally making another record, I hadn't really exorcised all those feelings. So with this record I wanted to step away from all that. And by telling this story, this autobiographical story, this musical memoir, let's say, I was able to step back and look at it more like Chuck Prophet and I were constructing a movie. So that lent a little distance to it. And yet I was able to flesh out all these characters and bands. And it's funny, but I feel like I even dug deeper in a way. Maybe not on an emotional level, but maybe in making an assessment of where I've been and where all that music and those bands have brought me.
AD: Is the album centered around a confluence of looking at life through different lenses of age and experience – of different spots in your evolution as a person?
AE: Yeah, I think the music has always kind of – some people would say music is a soundtrack to your life – but it's always been such an integral part of my life – not just because of my father, but my brothers and my family and then just on my own, the music I've absorbed. Like a lot of us, it's kind of a religious experience. A lot of the relationships I've had with people were based on the music we did or didn't share. Those were younger days, but I mean, we used to kind of obsess who we would hang out with based on their record collection. Looking at it now, I obviously don't feel the same way as I did then, but I still have very concrete and distinct views about what is good and bad in rock and roll. So it's always been such a vital thing in my life – I can't separate the two, really.
AD: Speaking of the little bit of 'Bowie trash' that you reference in "Nun's Song," how'd you decide to work with Tony Visconti on this album? How was working with him?
AE: Well, I'll be quite honest. At first, we chose another producer to work with – Glyn Johns – who has made beautiful records and is a very talented producer and a great guy. We just found we weren't really hearing the same thing and we weren't seeing the same results. So, at that point we decided that we would try to find another producer who was a little more compatible. Once Tony heard the songs, he immediately got what it was about. He loved the story, he loved the songs, he loved the band, he loved Chuck and I collaborating together and that was it. He was perfect for it because of the nature of what these songs were about and the band that these songs were speaking of. He was perfect. And when I first thought of making this record, it was going to be Tony or Glyn Johns or someone of that ilk, because we wanted to go back into that era and get that sound. And I didn't finish answering the question, but I must say working with him was a complete joy. He brought such beautiful qualities to the record. The type of things he brought to us in term of song arrangements, string arrangements were vital to making this record what it is. He's a beautiful man.
AD: Can you elaborate a little on working with Chuck Prophet on this album?
AE: Well, he's a dear friend. First and foremost he's a great friend of mine. Then he has all these qualities that he's a bad ass songwriter, a brilliant guitar player. He grew up in the same area of Southern California that I had. We had been in bands at the same time – he was in Green on Red, I was in the True Believers. And so there was a lot of connecting points for us and once we got together we found out we were very compatible in that – he's a storyteller, I'm a storyteller and we would talk into these hand held recorders and we would pick out the stories we liked, the anecdotes we loved and try to make rhyme out of them, make songs out of them. It was more fun than we thought we should have had, but it was a great experience for all of us.
AD: "Chelsea Hotel '78" recalls a stay in the famous/infamous New York hotel that was home to so many artisans over the years. You name check a few lesser known New York punk personalities like Neon Leon. Was this based on a real experience?
AE: Yeah, absolutely. I did live in the Chelsea. We'd moved there with the Nuns. When they went to San Francisco, I stayed there. I lived there for – well right after the Sid and Nancy incident, like the song says, finally moved out and moved on. Yeah, I was there. These stories are all true, you know.
AD: Though I had heard a track or two here and there, my first real introduction to your music was through the Por Vida tribute album that raised money for your medical expenses during your extended illness. Am I alone? Do you think the album had the fortunate side effect of being a starting point for a lot of new listeners? Because honestly, I picked it up mostly because I knew Son Volt had gotten back together to record a song for it.
AE: Yeah, I've heard that before. That's wonderful. The record was a great gift from all those artists and not only did they help me, on a more simplistic basis, financially, but they also helped spread my name around and bestowed a great honor on me by covering my songs. It was good for everyone. But the one thing I love more than anything about that record isn't just the performances, but the love you feel from listening to that record. I think everyone really put their heart into it and that's a great honor.
AD: The now print-defunct No Depression magazine picked you as their 'Artist of the Decade' back in 1998. But as much as their demise had to do with shifts in how readers absorb media and the drop in revenues as a result, there have been discussions about its possible place as a bellwether for some sort of shift or hibernation of the 'alt-country' (whatever that is) genre. Where do you see the genre right now? Does it have a distinct future, is it open, does it ever really go away?
AE: I don't think it ever really goes away, like you said. I think it's always been there to some extent. When Lefty Frizzel made his records, they were way outside the box. When Charlie Rich made records, no one had made country records like his. There are always going to be guys – that's the most wonderful aspect of what you might want to call country music – is the outlaw, rebellious nature of it when it's done with that kind of heart and that kind of vision. I don't think that will ever go away. The fact that [No Depression] made Buddy Miller their artist of the decade is a testament to that. Buddy's made some just incredible records and he's known as the guy who gets the best band together for Emmy Lou or whoever, but he's a wonderful artist on his own and he has beautiful things to say. I don't think it'll ever go away. Every time I play, or I come to Nashville, I hear someone new. I heard this woman last night who we played with – Jennifer Nicely is her name, just amazing. I never see it going away. I just see it growing. A new generation of kids will come along and wind up being influenced by Whiskeytown and Son Volt and the Jayhawks and Wilco. And Wilco is a great testament to the great experimentation of the medium. I don't ever see it going away. I think when it suffers is when people try to disregard it. They may have started out there, but then pretend it just never happened. I just don't see it ever dying. And you know – No Depression is now an online medium instead – we can only sell so many trees and there have to be new ways of getting the message across. I'm just glad they're still there in whatever medium they choose. words/j. neas