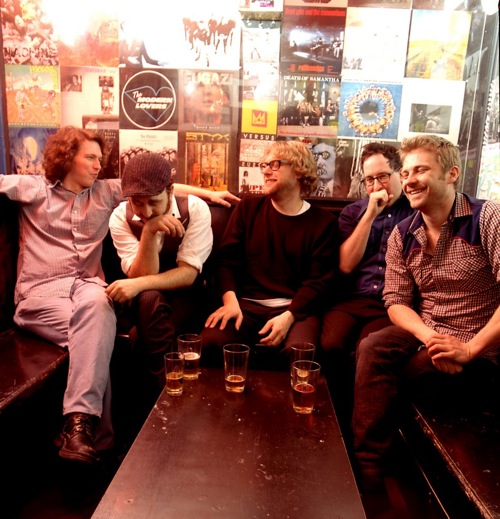 Over the course of four years and as many albums, The Hold Steady have been given the knee-jerk title of America's Best Bar Band, and, stylistically speaking, Stay Positive, the group's latest release on Vagrant, will do little to change that. The usual big riffs ("Stay Positive") and Led Zeppelin name-checks ("Joke About Jamaica,") are in place, and you can take it for granted that when the Brooklyn group steamrolls through college towns this fall, beers will shoot into the air when the group collectively shout "Get hammered!" in "Constructive Summer." But what's always made the Hold Steady bigger, better, and more interesting than the nametag that they wear is how simply and gracefully they flip that same bar scene over onto its back and point at where its bones stick out near its belly; they know what it means to hunger for more than what's on the plate in front of them.
By now it's no secret that Craig Finn is one of our best poets; he shoots out stories like a mouth full of thumbtacks, and he's always draped the back alleys in satiny sheets like a better-read Born to Run-era Springsteen. But just as the Boss showed what happens once you finally get out on Darkness On the Edge of Town, Finn gives us the confusion, the comedowns, and — in the harpsichord-laden "One For the Cutters" — the courtrooms that inevitably come with the rising sun.
Finn's characters on Stay Positive are older than their counterparts on Boys and Girls in America, the Hold Steady's 2006 release. These kids have grown up and outlived their expectations of what a killer party really feels like. All they've got left are the lessons they learned from the old rock 'n' rollers, and though Finn may shout that Joe Strummer "may have been our only decent teacher" in the album-opening "Constructive Summer," by the time the curtain closes and the set's torn down on "Slapped Actress," we've seen too much — too many empty shells that once believed in the power of rock 'n' roll, too many claw marks left over from where temptation pulled harder — to believe him. Finn sings about the inevitable downfall that comes when fans canonize musicians in "Slapped Actress" — "Some nights it's just entertainment / And some nights it's worse" — and though it follows ten songs of hero-worship, its thunder rolls loudly; the fact that he literally canonizes Strummer early on is worth noting and is drawn into darker, more mysterious relief. This is the heaviest song in the Hold Steady's weighty canon, with enough going on lyrically and musically to make up for three or four "Navy Sheets," the record's only misstep.
Which isn't to say that a listen to Stay Positive can't be a good time; this is the Hold Steady, after all, and their version of rock 'n' roll has always been about having fun first and foremost. Stay Positive teaches its lessons in between fist-pumping choruses and, in the case of the heartbreaking "Lord, I'm Discouraged," a feet-lifting guitar solo from Tad Kubler. They're tighter than ever here, and far more willing to take chances. Sure, "Constructive Summer" is a pretty obvious reach for the great heights of Boys and Girls standout "Stuck Between Stations," but you can't blame the group for trying; in attempting to recreate the best song of 2006 they may well have crafted one of the best of 2008. And there are stylistic leaps here, from the obvious "One for the Cutters" to the straight-up 80s hardcore of the title track to the haunting desert soul of "Both Crosses." But make no mistake; the group is treading in dark waters, and you can feel the Replacements grinding the gears the moment that "Slapped Actress" begins its downhill drive.
In the Hold Steady's world — one where resurrection has always been confessed by girls with glass braided through their hair and salvation tastes that much sweeter when you use it as a chaser — it makes sense that these revelations are sung from the pitchy and reflective corners of the bars; they know that it's a dark world, the world of rock 'n' roll, and though the Hold Steady may not quite stand in the light, they certainly catch glimpses of it when the neon signs flicker out. words/m. garner
Related: Craig Finn (The Hold Steady) :: The AD Interview, Pt 2
Download:
MP3: The Hold Steady :: Stay Positive
———–
Amazon: The Hold Steady – Stay Positive
+ Download The Hold Steady. Explore eMusic's 25 Free MP3 trial offer. No strings.
—————————————————————————————————————————–