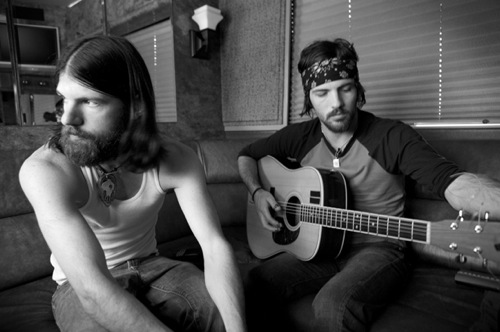 The Avett Brothers have been slowly transforming their sound in the six years they've been releasing records. They've winnowed the best parts of their rag-tag and raucous energy and truly begun to marry it to their growing skills as songwriters. Now, on the verge of recording their first major label album for American Recordings and having Rick Rubin put his stamp on their work, they've released a final EP for their long-time indie home, Ramseur Records.
Their last LP, Emotionalism, was the most instrumentally complex the band has attempted and it was the most full they have sounded as well. So The Gleam II may come as a bit of a surprise. For one thing, Bob Crawford's bass is completely missing. Instead, the six songs focus on Scott and Seth Avett's melodic, melancholic, songwriting – all singing, all guitars, banjos and little else. If there are songs to look back to for comparison, think Four Thieves Gone's "Sixteen in July" or Mignonette's "Pretty Girl at the Airport," but neither of those approach the intimacy of these recordings.
The natural reaction might be to look at this as a step back, but the EP goes a long way to silencing some of the band's critics. A fellow DJ friend of mine is fond of calling them 'the tone-deaf brothers,' a criticism that could be leveled at some of the rowdiest and shoutiest moments in their catalogue, but here the brothers take turns laying out gorgeously sung songs that show just how deft at melody they are. The other thing that comes across is, compared to their earlier songs, the ones that closest approximate these in style and instrumentation, the brothers have grown immensely as songwriters.
"Tear down the house that I grew up in / I'll never be the same again," the opening lines of the EP, could well approximate the band's decision to light out for the major label territories. The first half of the EP doesn't have anything that properly resembles a chorus, but their style of writing songs that are so verse heavy, verses that are catchy in their own right, calls more attention to the lyrics. Maudlin and focused on family, love and death, themes that run pretty standard on an Avett Brothers album, it's a good thing on which to focus listeners. While the songs on the album are by no means interchangeable, neither do they tend to stick one above the other. "The Greatest Sum," because of its chorus, tends to stick in the mind a bit more quickly, but the self-elegiac tone of the songs is what ends up lingering even longer. This is an album that recalls late summer/early fall days and as a bookend to one part of the Avett's career, they couldn't have closed on a more poignant note. It makes the anticipation for their American debut all the more intense. – j. neas

Download:
MP3: The Avett Brothers :: Murder In The City
———
Amazon: The Avett Brothers – The Gleam II
www.theavettbrothers.com ++ www.myspace.com/theavettbrothers
+ Download your music DRM free via eMusic's 25 free MP3 no risk trial offer
——————————————————————————————————————————