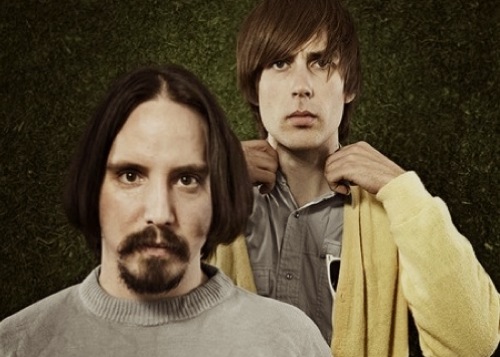 Off The Record is a recurring feature, here on the Drunkard, that marries two of my greatest interests; music and travel. Having a locals perspective when visiting a new locale is the difference between experiencing it through the lens of a tourist and of that of a native.
Off The Record gathers some of my favorite artists, asks them to reflect on their city of residence, and choose a handful of places they could not live without, be them bookstores, bars, restaurants or vistas.
Today on OTR we catch up with Jim Guthrie, one half of the duo Human Highway that is rounded out by Islands frontman Nick Thorburn. The duo's debut Moody Motorcycle, an indie take on early '70s golden coast folk and doo-wop harmonies, drops August 19th via Suicide Squeeze in the States and the Secret City label in Canada.

Below: Jim Guthrie lists five of his favorite Toronto haunts…including and unnamed "chicken place" and his house.
* * * * * * * * * * * * * * * * * * * * * * * * * * * * * * * * * * * * * * * * * * * * * * * * * * * * * * * * * * * * * *
Rosie Robin :: This is a convenience store that is run by 2 or 3 Jamaican women (all sisters I think) and they are the nicest people ever. It's the kind of place you would have gone to get some Big League Chew when you were a kid. It's on a side street about a minute from my house and there's always a cat to stop and pet on my way to get a scratch ticket(s) or bread. They have a little of everything so it's easy not to have to go down to the main street for food or bathroom stuff. They also have brunch on the weekend but you don't get to choose what you want. You have to eat what they're making that day and like it!
Nazareth :: The cheapest Ethiopian food(and the yummiest) in Toronto. My girlfriend and I always get the vegetarian meal for 2 with a beer and a Diet Coke and it comes to like, 11 bucks. We can never finish it either. You have to get there early or you won't get a table because they only can fit a handful of people.
Chicken place :: There is a Portuguese chicken place down the street from Nazareth but I can't remember the name. It's not as cheap but just as yummy. They serve you cafeteria style and there's never anywhere to sit either because they only have a few little tables. Why do the best restaurants never have enough places to sit?
Paul's Boutique :: A little shop that sells used musical instruments and other gear in Kensington Market. I have really bought too many things there but I go by every once in a while to try different guitars and drool. Lots of good synths, amps and recording stuff too. Mmmmmm….recording stuff.
My House :: Mostly the backyard but the rest of the house is pretty fun to be in as well. We've got a deck over looking a good size garden with an apricot, pear and cherry tree. We've had a ton of rain this year and everything is growing like mad. I like to sit and watch the local squirrels and cats cut through our yard. We also just got 2 kittens (brother and sister) from the Toronto Cat Rescue and they are the cutest god damn things I've ever seen. They eat, play-fight, sleep and clean each other the whole day through. They always want to be in the same room together and seem pretty much blissed-out all of the time. All this makes it pretty hard to want to go to any of the other places previously mentioned in this list.
Download:
MP3: Human Highway :: The Sound
———
Amazon: Human Highway – Moody Motorcycle

+ Download your music DRM free via eMusic's 25 free MP3 no risk trial offer
——————————————————————————————————————————