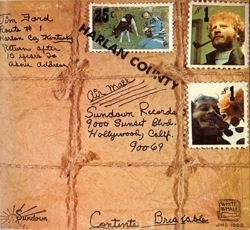 Recently, sitting in a dark booth of a non-descript bar in a non-descript portion of Sunset Boulevard in Los Angeles, I was listening to the unashamed (and awesome) time-traveling selection of Los Angeles DJ Dr. Who (spins on Thursday nights at The Bar in Hollywood and deejays the soul-funk night at downtown's La Cita on Saturday nights, a long-haired, shaggy-bearded, flannel-wearing throwback spinner who leans toward hazy soul-funk from the '60s and '70s. Some of the songs I had heard, most, admittedly, I had not, but while all were highly appropriate given my general mood and musical inclinations, one stood out.
"Who is this?" I asked Dr. Who.
"Jim Ford, Harlan County. The entire album is excellent," he insisted, holding up the vinyl sleeve with one hand and touching his finger to his thumb on the other like a sommelier offering approval on a vintage wine. (Though, in this case, whiskey is more appropriate.)
And so it is: Every so often I "discover" an artist who I thought was fairly obscure, until I begin to dig into their work and realize I must've been living under a rock or deaf–or both–to not have heard them previously. Such was my reaction to Ford and his excellent-indeed lone release, Harlan County.
Ford's story reads like an cinematic tragedy, full of fact and legend documenting his brief rise and long, steady decline, only then to die during resurrection.
Growing up in Kentucky, Ford ran away to New Orleans as a teenager, living on the street, absorbing and incorporating the music there. By the mid '60s, he reemerged in California. This is significant because those three landscapes simultaneously spill out of the speakers when you spin Harlan County. (And if you were to construct a geographic foundation for the Drunkard's own musical leanings, it would probably map out much the same.)
1969's Harlan County nods to Ford's hometown in the Bluegrass State, punctuating a life there like an aural biography, not just for Ford, but for anyone coming of age in post-war coal-mining country during the late '40s and '50s. With arrangements and rhythm from Redbone and accompanied at times by the likes of James Burton and Dr. John, Harlan County travels separately through bluegrass country, country western, soul and funk, often weaving them together, as he does on the standout "I'm Gonna Make Her Love Me."
The record, a dynamic masterpiece in terms of capturing a time and place, would seem to be the starting point for a decades-long climb into music history. Nick Lowe cited Ford as his biggest influence, and Sly Stone once called him "the funkiest white man I know." But despite the niche acclaim, he sold precious few records, avoided live performances, partied like 10 men and mostly disappeared. In fact, his most significant contributions were made elsewhere as a songwriter, and almost entirely anonymously. He penned the Temptations' 1976 record Wings of Love in its entirety. Bobby Womack's "Harry Hippie" was his. And "Niky Hoeky" –made famous by Aretha Franklin and refined by Bobbie Gentry–also owes its words to Ford.
His legend lies elsewhere, however. He lived with Marlon Brando's ex, Movita Castenada, for a decade in the '60s and '70s and was unofficial stepfather to two of Brando's children. He posed in a Sergio Leone-inspired spaghetti-western Playboy spread when times were financially strained. He's credited as a torchbearer in the London pub-rock movement (Elvis Costello is only Nick Lowe-removed from Ford), but his arrangements were so otherworldly by the early '70s that not even Lowe's band Brinsely Schwartz could adequately provide them for a record, so it was never produced. And once, in 1971, he exited a plane in a London airport with what is now said, as legend has it, to be a million dollars of cocaine strapped around his waste. His affinity for the drug was no secret, neither in song–see "Dr. Handy's Dandy Candy"–nor in his life. He battled substance abuse for years, not sobering up until 2004. The only reason anyone even knows that much of the man is because Swedish music pub Sonic Magazine nearly impossibly tracked him down in 2006. At the time, he was living in a trailer Mendocino County, California, dozens of master tapes littering his floor, a trash heap of three decades worth of unreleased material.
This would be his resurrection after years of obscurity. Prompted by Sonic and others, Ford agreed to let German imprint Bear Family release Sounds of Our Time, a compilation that stacked 15 unreleased tracks on top of a re-issue of Harlan County. And by the fall of 2007, plans were in the works for 2008's rare demo collection Point of No Return and a May 2008 "reunion" gig in London with Nick Lowe. But like most tragedy's, the hero doesn't survive his own legend. Three years sober and a career revival waiting, Jim Ford was found dead in his mobile home in November 2007.
The Bear Family compilations serve as nice homage to the artist, and the Temptations, Aretha and Nick Lowe offer significant reference points for his influence, but there's no stronger testimony to his career and his country-soul-funk fusion than the standalone, excellent Harlan County. – j. crosby
Download:
MP3: Jim Ford :: I'm Gonna Make Her Love Me
MP3: Jim Ford :: Dr. Handy's Dandy Candy
———