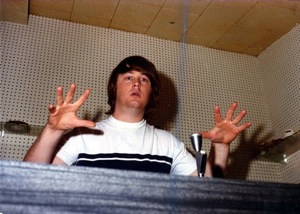 The 2008 Newport Folk Festival kicked off Friday night at the beautiful International Tennis Hall of Fame in Newport, Rhode Island. The Hall, which is part of the Newport Casino, hosted the first-ever championships of the United States Lawn Tennis Association in 1881, an event that eventually outgrew the venue and would later become the U.S. Open. The combed lawns and green shingles give the grounds an almost Victorian air; when a biplane flew overhead before the commencement of Willy Mason's set, it could have very well been 1926.
I know, I know, none of that seems terribly important, but it does prove the point that Newport is one of the most unique festivals in the country, one that (rightfully) prides itself on its history and tradition. Blame it on the wealthy Nor'eastern audience or the town's historic mansions, but walking through the streets here can feel like walking through an historic reenactment. In other words, it's a somewhat magical place to see a show, and I haven't even been to the festival grounds yet.
Martha's Vineyard's Willy Mason opened the night, and if the time slot or setting unnerved him, he certainly didn't show it, confidently playing a set of slow, waltzing country-folk in a tank top and hiking boots. The twenty-three year-old Mason is seasoned enough to have already taken a short hiatus from performing music, and it appears to have done him nothing but good. Everything about him — from the strength of his voice to the crafting of his arrangements — was tighter and more focused than what he exhibited on his 2004 record, Where the Humans Eat. He even invited his parents, folk singers Michael Mason and Jemima James, to sing harmonies on a gorgeous country gospel song written years ago by the elder Mason.
Continue Reading After The Jump…
Following the opening set was Kate Taylor, whose gritty, soulful voice could not sound more different from that of her better-known brother James. Where James has always dialed it down, Kate instead turned it up, ripping through several compositions of her own as well as a sharp cover of Tina Turner's "A Fool in Love." It was her soulful, finger-picked version of Erica Wheeler's "Beautiful Road," the title track off of Taylor's 2003 record, that truly showcased her abilities as a singer.
But tonight belonged to Brian Wilson. The sixty-six year-old mastermind behind the Beach Boys, together with one of the sharpest bands this side of E Street, tore through classic after classic with more energy than anyone could have expected; once the crowd gave in to Wilson's admonitions to dance ("this is dance music, after all," one member of the band said), it stayed on its feet and boogied in the aisles all night. Wilson himself was charming and charismatic, even adding hand motions and a few of his own dance moves. "We've been havin' fun all summer long," he sang early in the set. I don't doubt it.
Even in his somewhat limited physical state, Brian Wilson still knows how to throw the best beach party on any coast. The songs that he's written — and there are so many more than you remember — all translated beautifully into the Rhode Island air, from the thick, classic groove of "Fun Fun Fun" to the swaying "Surfer Girl" to the psychedelic meandering of "Heroes and Villains." The latter, in particular, was incredible, if for no other reason than to hear all eleven musicians sing the falling harmonies; if there has ever been a more complex yet utterly listenable pop song recorded, I've yet to hear it.
Wilson's set ended with the closing track from his upcoming That Lucky Old Sun, a slow meditation on the history of the Beach Boys that even found Brian poking fun at himself as he sang, "Fell asleep in the bedroom, woke up in history." And while he has certainly had his share of well-documented hard times, Wilson seems to have found the sun shining on the other side of the darkness. Given the world of temptation that swirled around him early in his career, and the life he lived after allowing himself to be dragged under and into that world, the fact that he was ever able to make pop music at all seems nearly miraculous at times; the fact that that pop music is some of the catchiest, most original and most important music in American history is downright improbable. And yet, for the Rhode Islanders who filled the aisles and demanded encores, nothing could ever make more sense.- words/marty garner
+ Download your music via eMusic's 25 free MP3 no risk trial offer
—————————————————————————————————————————