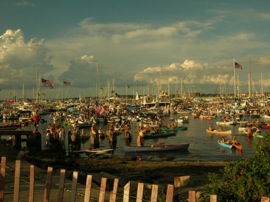 With the sun taking its seat in the top of the sky alongside a few billowing clouds left over from yesterday's rainstorms, Day Three of the 2008 Newport Folk Festival kicked off in a swirl of cracking mud and beating heat, with enough hype and excitement surrounding today's performances to warrant standing around in the sun. The yachters showed up early today for fellow pirate Jimmy Buffett's headlining set, and Brenton Cove started to look more and more like San Pedro Island during Spring Break as the day moved by.
The relentlessly friendly Ryan Fitzsimmons (an OurStage Newport winner) opened Sunday's festivities with a set of stark, eerie folk on the Waterside Stage. Fitzsimmons' chiming open chords shoved their way across layers of feedback and programming (courtesy of a tiny Line 6 amp modeler), until they found a place situated somewhere between country music and horror soundtrack. The four songs he played were forceful, passionate pleas about cigarettes, gasoline, crystal meth, and everything between: the soundtrack to small-town boredom and that ever-present hope for light. The fact that he was so polite between songs (even taking the time to thank the sound man, the promoters, the audience, and anything else he lay eyes upon) struck the darkness of his songs even deeper. Complex dude.

Continue Reading After The Jump…
Following Fitzsimmons' performance were Boston's Honors (another OurStage winner), whose Coldplay-cum-Interpol songs were a surprise hit. Beneath the layers of seemingly-out-of-place distorted guitars and rawk 'n' roll shouts was some of the funkiest drum 'n' bass combo work of the weekend, and lead guitarist Andrew Bayardi drew out some squiggly lines as if Trey Anastasio hadn't been around the day before. The ever-open minded Newport crowd dug it, particularly the slower jams that singer Brandon Heisler introduced as his "folk songs," and the Honors found themselves signing autographs throughout the afternoon.
Sunday's first mega-performance came courtesy of the Columbia-backed Brandi Carlile, who hit the stage several minutes early. Carlile's voice simultaneously drips and curdles like burning honey, particularly on "The Story," one of last year's best songs, whose soft-loud dynamic had the noontime crowd on its feet and screaming. She responded with a menacing cover of "Folsom Prison Blues" whose jailbound lyrics sounded almost as tough coming from the diminutive Carlile as they did from Johnny Cash (almost). Her set reached its peak, though, with a stand-still version of the classic "Hallelujah," her voice climbing and weaving, cracking and peaking with a serious fire. Like Jim James' "It Beats 4 U" yesterday afternoon, Carlile's take on "Hallelujah" was one of those moments that make standing around in the heat of the weekend all worth it. Hey, Columbia: either blow her up or let her go; Brandi Carlile is far too talented to remain in the major label middle ground.
Over the Rhine's gracious Linford Detweiler, in speaking to the crowd at the Harbor Stage between songs, mentioned that his father was a minister in a small coal-mining town in rural Ohio, serving at a little white church that bumped up against a set of railroad tracks; the elder Detweiler even had to pause his sermons when the trains pulled through. The Ohio group, named for the tough neighborhood in which they got their start, pulled together the white church, the train tracks, and the flecks of blood that come with inner city life in one of Newport's more unassuming sets. Karin Bergquist's voice shot out like a gilded hurricane, though, with all of the requisite calm in its eye, as the band mixed jazz and gospel and rock 'n' roll, crushing light into dark and coming out with something not grey so much as crimson and deep blue.
Back in the sun of the Fort Stage, Calexico floated their steamy, dreamy sound through the rising humidity. I've seen these guys twice now, both times at outdoor festivals in the middle of the day, and I can't think of an atmosphere better suited for them; they're one of the few bands out there whose panoramic songs need a wide visual landscape to match the strokes they brush from the stage. The Arizonans played a few songs from their upcoming record, Carried to Dust, including "Two Silver Trees," whose Western harmonies and shuffling horns landed somewhere between the dusty Calexico of Feast of Wire and the New Age-y Calexico that's been backing Iron & Wine. To no one's surprise, Jim James joined the group for their collaborative cover of Dylan's "Goin' to Acapulco." James sang it out hard while the band played head-down, punch-out perfect; they sounded more like The Band than Levon Helm's band would on the same stage two hours later.
Gillian Welch and David Rawlings followed Calexico, playing a set of antique songs that Welch often classifies as "American Primitive." While the style of music certainly isn't progressive, the word "primitive" implies something amateur and unstudied, two words that should never be used to describe the duo's music. They played a few new songs from their upcoming record (the first in six years; rumor has it that it'll be out in early '09), including one that found Welch repeating the line "Ain't nobody gonna kill my honey dead" while Rawlings slow-rolled lines out of his ancient guitar. Jimmy Buffet's steel drums could not have looked more out of place in the background.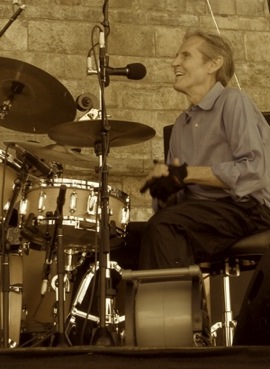 As wild as Newport went for Calexico and Welch, though, today was all about Levon Helm. As we reported in our fest preview, the former drummer for the legendary Band overcame throat cancer and made one of last year's best albums in any genre with the soul-heavy Dirt Farmer. While the majority of the tracks from that record are dark and weary, Helm himself was anything but; grinning and waving into the crowd, he pounded his drums with the same Cajun stomp that marked all of The Band's recordings and even picked up a mandolin for a few songs, allowing his daughter Amy to drum in his place. Not surprisingly, Helm gave up vocal duties often, allowing other members of his band to shine, though one got the feeling that he would have done this even if his voice had been perfect. He sat on his chair in the middle of the stage with a huge grin on his face, leading his sizable band through a punchy version of "Rag Mama Rag," whose wild tuba solo threatened to bleat and blat the crowd back into Brenton Cove. Helm was joined by Welch and Rawlings for a long and emotional version of "The Weight," Helm hitting most of the notes and his daughter backing him up when he couldn't. If Jim James owned Newport yesterday, today belonged to Levon; the crow's nests above the stage were filled with nearly every other artist at Newport paying their respects.
As Jimmy Buffett's Parrotheads filled the lawn (and the Cove; there were almost as many yachts parked in the water as there were chairs on the grass), I shuffled back to the Harbor Stage, where the Avett Brothers were finishing their set with a violent "Pretty Girl From Chile." Joe Kwon pushed his cello hard into the monitors, drawing out deep and moaning feedback, while the Avetts (Seth, Scott, and Bob) pushed a thick punk pulse out of their instruments. Many people have noted the similarities between punk and folk (simply arranged and passionately played by the marginalized and poor, at least initially), but few have ever bridged the gap between the two sonically disparate genres with as much satiny static as the Avett Brothers. The crowd — easily Newport's most rabid — danced through the hay-covered floor as North Carolina's finest burned through their set with hot friction, stripping any kind of studio sheen from their records in favor of unbridled passion.
The Avetts were the perfect band to close out Newport '08. Sure, Buffett may have still been playing his island rock on the Fort Stage while the Brothers packed their van (and something about the bleating of the boat horns in the distance told me that he was killing, too), but the sweaty abandon of the Brothers' closing set embodies what Newport — and folk music in general — is supposed to be about: honesty, passion, and that great atomic power. This year's lineup paid respect both to the past and future, to the young and the old, the primitive and the progressive, keeping its heart on where folk has been and its ears perked on the edge of the blowin' wind. – words/marty garner
+ Download your music via eMusic's 25 free MP3 no risk trial offer
—————————————————————————————————————————