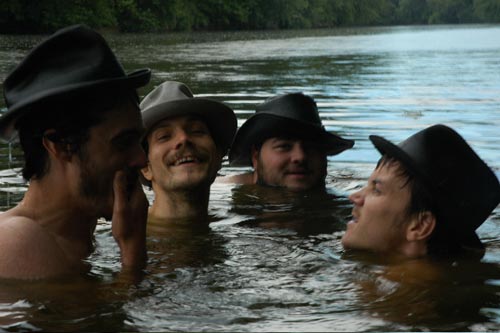 New York's Felice Brothers — whose excellent self-titled record was released this year by Conor Oberst's Team Love label — were one of the highlights of this year's Newport Folk Festival. The group, which consists of Ian, Simone, and James Felice along with their friends Farley and Christmas (seriously), played foot-stompin' country music, knee-deep in the mud and up to their eyes in adoration.
Aquarium Drunkard sat down with James Felice at Newport to ask a bit about the group's history and to see how they're handling the transition to the big time.
* * * * * * * * *
Aquarium Drunkard: You guys grew up playing country, folk, and bluegrass, right?
James Felice: Playing and listening to it, yeah.
AD: Is that mostly your father's influence?
JF: Our father and friends and, for me, my older brothers Simone and Ian. They listened to it all the time. Every opportunity.
AD: And that's how you got started, just playing at your house, right?
JF: Yeah, playing at my dad's house at barbecues and stuff. Then we took it to the street and started playing a lot of gospel music and stuff like that; all the old stuff.
AD: And you played in the subways, too?
JF: Yeah, the subways in New York, a lot of farmer's markets in Brooklyn and Manhattan, and in a lot of the towns near where we grew up. Touristy towns and all of that. Now we're here.
AD: You guys have played Bonnaroo —
JF: Yep.
AD: And a few other festivals. It's a pretty rapid rise from the subways and farmer's markets to the big stages.
JF: It's crazy, you know? I can't even explain it; I'm just excited to be here.
AD: How's the crowd reception been?
JF: The crowd's been amazing. We've had a lot of fun. There are some mishaps: we were playing in Athens, opening for the Drive-By Truckers, and after the show some old lady came up to us while we were packing our shit up and said, "You are the worst band I've ever heard." Like, straight up. (laughs) But usually people enjoy the music.
+ + Continue Reading After Le Jump……
AD: I can't imagine people at a Drive-By Truckers show thinking that you guys are the worst band they've ever heard.
JF: I was pretty surprised. Everybody's got an opinion.
AD: You, Simone, and Ian obviously grew up together; how did the other guys in the band get involved?
JF: They're friends of mine; we went to high school together but I knew them from around this town called New Falls, where I spent a lot of time bumming around. They were just dirtbags. We needed a bass player, so I asked my friend Christmas to play bass. We decided we wanted a fiddle player — I was doing it for a while but I couldn't hack it — so we got Farley.
AD: How did you get interested in playing the accordion?
JF: A friend of mine had one. I was a piano player, but I don't have a piano anymore. It was destroyed, and obviously it couldn't fit in the subway. So I borrowed my friend's accordion.
AD: Do you listen to a lot of accordion music?
JF: I do. Not when I was growing up. I mean, I heard it, of course. But I listen to a lot of Eastern European music, Klezmer — I love that shit. Some zydeco. German folk music. I love the tone and the sound of an accordion.
AD: So when I hear the sound of an accordion, anyone playing at a fast tempo, it reminds me of home, so when I heard your stuff, I got really excited.
AD: I don't want to harp on the comparisons to Bob Dylan and the Band, because I'm sure you guys are sick of hearing about it, but you did get to play with Levon Helm in his barn. What was that like?
JF: It was awesome. That was a hell of a night. We'd gotten to see him the year before — we got tickets somehow — and it was amazing. Then the next year they asked us to play.
AD: They asked you?
JF: Yeah, they did. So we played. It was the most nervous I've ever been for a show in my life, by far.
AD: Did he bring you guys on stage with him?
JF: Yeah, we came up and sang a song with him.
AD: Which song?
JF: "Stand By Me," the Ray Charles song. (sings) "Whoa, stand by me." They were making a documentary on Levon, there was a whole documentary crew up there.
AD: How did you guys get involved with Conor Oberst?
JF: These guys from New York who are our booking agents now wanted to work with us, and they put us on tour with Conor. So we did it and it was amazing. He's a great guy; his whole crew, his whole band is great. And we became fast friends. We were on the road for two weeks together and had a great time. And after one of the shows he asked us to be on his record label, Team Love.
AD: Was that on the Cassadaga tour?
JF: Nah, it was after that one. I forget what it was called, but it was a rock tour. He was just doing rock 'n' roll with a five-piece, kicking ass every night.
AD: What other contemporary acts do you guys get into?
JF: (thinks) That's tough, man. Tough to get into contemporary music. I love Justin Townes Earle. We went on tour wit him. He's Steve Earle's son, and an amazing country songwriter. But most of my favorite bands are street musicians.
AD: Yeah?
JF: Yeah. Like Big Jer and the Dirtbag Sha-Ra-Ra. He's just this dirtbag from Memphis. Albania Mania, stuff like that.
AD: (laughs) That's a great name.
JF: It's an awesome name. They've got a trombone player. And A.A. Bondy, who's our brother-in-law now.
AD: Do you find yourself part of something of a network of street musicians?
JF: (laughs) I don't know, there are people who have been doing it way longer than us. We did it for a while and sorta started doing this other thing. So we're not even a part of that culture, if it even is a culture. I don't know. But they're the professionals; Big Jer's been doing this stuff for twenty years. words/marty garner
Download:
MP3: Felice Brothers :: Frankie's Gun
MP3: Felice Brothers :: Whiskey In My Whiskey
——–
Amazon: The Felice Brothers – S/T
+ Download The Felice Brothers via eMusic's 25 free MP3 no risk trial offer
—————————————————————————————————————————-