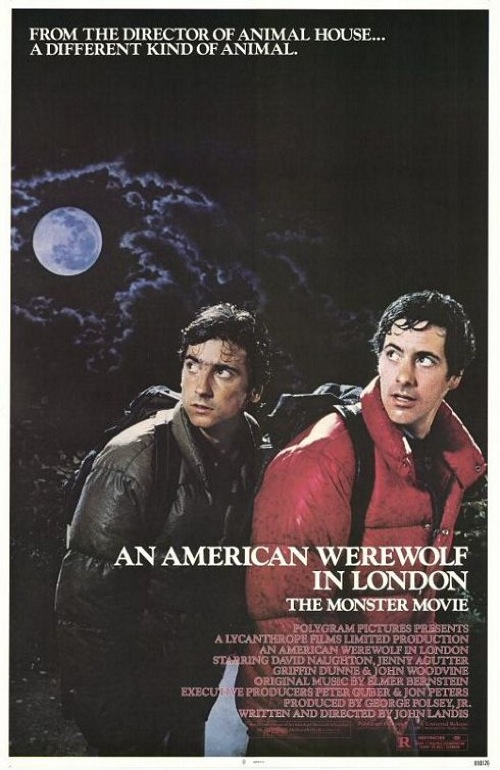 "Stay on the road, stay away from the Moors and beware of the moon." Sage advice, indeed. Filmmaker John Landis's An American Werewolf In London (1981) is a lot of things; a maverick comedy, a gratuitous horror flick, an Oscar winner, and one of my favorite examples of the juxtaposition of music and it's use in film.
Here Landis, no stranger to irony, uses all manner of odes to the moon to accompany his film. They are all here; most notably: three versions of "Blues Moon," CCR's "Bad Moon Rising," and Van Morrison's "Moondance." Whereas other directors would opt for, say, an eerie, chilling score to accentuate actor David Naughton's transformation from man to beast, Landis slyly opts for Creedence's "Bad Moon Rising." The choice is brilliant, as it is both lyrically obvious as well as incredibly disconcerting when its lightheartedness is coupled with the intensity, and visibly painful, werewolf transformation. Conspicuously absent from the soundtrack is Warren Zevon's classic moon-romp "Werewolves of London," off his Excitable Boy LP. Too close for comfort perhaps? Interestingly, two lunar tracks Landis went after, but was denied the rights to, were Bob Dylan's "Moonshiner" and Cat Stevens "Moonshadow."
We'll never know how those tracks would have fit into the score. Or will we? It's possible as there is presently a documentary film in the works, slated for 2009, entitled Beware the Moon: Remembering An American Werewolf in London. Until then, stay tuned, stay on the road and dammit man, stay away from the Moors.
Download:
MP3: Bobby Vinton :: Blue Moon
MP3: The Marcels :: Blue Moon
MP3: Sam Cooke :: Blue Moon
————-
Amazon: An American Werewolf In London (DVD)
+ Download your music via eMusic's 25 free MP3 no risk trial offer
—————————————————————————————————————————-