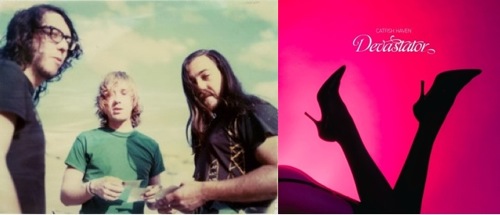 In 2006 , in reference to the bands debut, I wrote that "Catfish Haven take on the trials and tribulations of love and relationships strewn over blues-holler, hand claps, and Dixie rhythms." That statement rings as true today as it did then, but here, on the band's follow-up, Devastator, they've ramped it up to a whole 'nother level.
Devastator is nothing less than a soul revue sounding like an impromptu backyard revival-cum-house-party performed on a makeshift stage, with instruments on loan or just out of hawk. From track one onwards it's that kind of party. This is an album that revels in sweat, booze, and balmy humidity — a perfect storm where everything just barely hangs together, but does, and in doing so approaches an unlikely dirty perfection.
Look for the LP in stores October 9th via their label home at Secretly Canadian. Until then, check out the first single below entitled "Set In Stone." A soul-infused, late Summer, jam if there ever was one. If this doesn't get your foot tapping, you may want to ask your friend to check for a pulse.
Download:
MP3: Catfish Haven :: Set In Stone
MP3: Catfish Haven :: Are You Ready
————
Pre-order: Catfish Haven – Devastator (Oct release)
+ Download Catfish Haven via eMusic's 25 free MP3 no risk trial offer
—————————————————————————————————————————–