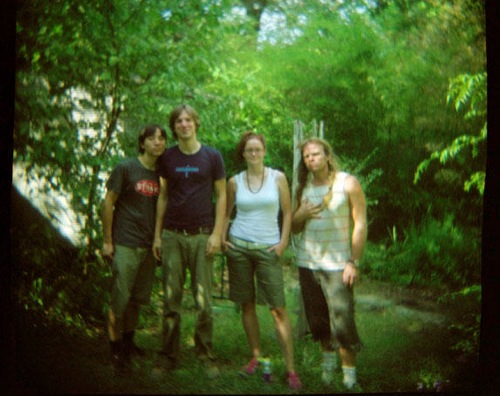 Aquarium Drunkard: Rook is far more thematic than its predecessor Palo Santo. While those songs felt like they could be cohesive, Rook's ongoing chromatic descents seem to hint at a central theme? Is that the case?
Jonathan Meiburg: There's no hidden 'plot' to Rook (as there was, in a way, for Palo Santo), but there's certainly meant to be a feeling of oneness to the songs – I like albums that feel like a complete piece, which these days seems like a dying form. As we assembled the record (and tossed away several tracks that didn't fit), the final order emerged as the one that felt the most 'right', where the songs seemed like they were communicating best with each other, if that makes sense.
AD: The song "Rooks" paints a prescient pre-apocalyptic picture ("feathering pyre") and a very poetic embrace that death may not be too far away is present in many tracks. However, as a whole, some of the smaller images illuminate that this is what living life is all about. Are these, like Palo Santo, more of your meditations on nature?
JM: Palo Santo was mostly, though obliquely, about the life and death of Nico, with some natural landscapes thrown in for good measure. Rook is much more about the landscapes, with people added for color from time to time, since those places get lonely when there's no one there at all. I've been lucky enough, in the course of my bird research and other travels, to visit some places people have very rarely visited (or, in a few cases, may have never been at all).
Continue Reading After The Jump…
The feelings and impressions I've had in places like that are both very striking and hard to articulate. But there's a tremendous sadness in the sense that the old, beautiful, mysterious, pre-human world, which got along just fine without us for millions of years, is passing away forever, and that only these little islands and hidden places remain to suggest it.
But as for the notion of 'apocalypse', which people keep mentioning in connection to Rooks, I didn't intend the song in this way, exactly. The idea of a great cataclysm which marks the end of time and history is born more out of our inability to accept the idea that the world could go on without us than anything else. But we're in the process of making a new world right now, one in which certain species (rats, roaches, zebra mussels, poison ivy) are privileged over other species (albatrosses, mahogany trees, tigers). "Rooks", the song, addresses the ways in which old balances are being disturbed and old orders being rearranged. I think.
AD: Much has changed since Palo Santo, on Rook you have added more orchestration, while still keeping the core of the group fully charged. While you were writing these songs, could you hear the various additions of these instruments?
JM: Mostly. "Home Life" was certainly written with the strings and woodwinds in mind, as was "The Hunter's Star". But some were a surprise – we'd been doing an electric version of "Lost Boys" for a while and found that it just didn't work in the studio, so we went the other way and Mark and I worked up a string arrangement for it. Regardless, it's always a treat when you bring in the extra musicians and hear the songs suddenly come to life
when they play an arrangement you've only heard as a mockup.
AD: With all of the songs on Rook existing on a variety of musical planes-how do these songs translate when you perform them live?
JM: Surprisingly well. I think we're playing almost all of them now. We bring a lot of instruments with us, including trumpet, hammer dulcimer, vibraphone, glockenspiel, and a weird little length of piping like you'd use to hook your washing machine up to the gas line.
AD: Touring with Coldplay must be giving you nightly exposure to massive audiences? How are you being welcomed? How does that compare to your headlining tour and unveiling Rook at SXSW?
JM: Playing those big shows was very strange. I don't think anyone knew who we were at all, but they seemed to enjoy us, and it was a trip hearing the sound of our little band bouncing off the back wall of the LA Forum. At one
show, they'd packed the first few rows with what looked to be high-school-age young ladies, with instructions to scream and dance and generally freak out, which they dutifully did during our set as well as CP's.great fun, but hardly "real"-feeling. We felt lucky to have done those shows, and also happy to get back to playing for our own audience again afterward. I did get to say "Hello Las Vegas!", though, without any irony at all, and heard 15,000 people cheer. As cheap thrills go (or even expensive ones), that was hard to beat.
AD: There is a lot of space on this record, instruments are given so much room to breathe over Thor's ambient-miked drums and your soaring voice. Was that a result of recording in the vast expanse of North Texas?
JM: Thank you! I could probably have handled even more sense of space and 'roominess' – I usually have to be pulled back from the edge in mixing. North Texas, at least the part where we were recording, doesn't feel especially vast. The studio was in a little town that used to be way out in the country but is now being overwhelmed by Dallas as it marches north. There were still owls in the ravine behind the studio at night, but by day you could hear chainsaws, bulldozers, and dump trucks.
AD: Is there a particular song or recording on Rook that you are most proud of? Did it turn out as you envisioned it?
JM: Nothing I've ever worked on has turned out like I envisioned it, but that's not a bad thing; it's little moments of discovery that make recording fun. I'd say I'm especially happy with "Leviathan, Bound," "Home Life," and "The Hunter's Star", but I liked all of the songs well enough to stop working on them.
AD: If I were to say Rook is a "difficult" record, how would you initially react? Bear in mind, by "difficult" I mean like Tonight's The Night, this one must be judged only after multiple listens and much examination. Like the aforementioned classic, it is stark and demands your time and undivided attention.
JM: I'd be proud to have made a "difficult" record, as long as it was rewarding in equal measure. But I also don't think Rook is all that difficult or strange. Maybe compared to Avenged Sevenfold or something, but really, we're just getting started. Thank you for the Tonight's the Night comparison, though! I'll roll another number for the road.
AD: Are you already assembling the next record? Or at least planning it?
JM: I'm following every lead at the moment. words/ m. davis
Download:
MP3: Shearwater :: Leviathon, Bound
————
Amazon: Shearwater – Rook
+ Download Shearwater via eMusic's 25 free MP3 no risk trial offer
——————————————————————————————————————————