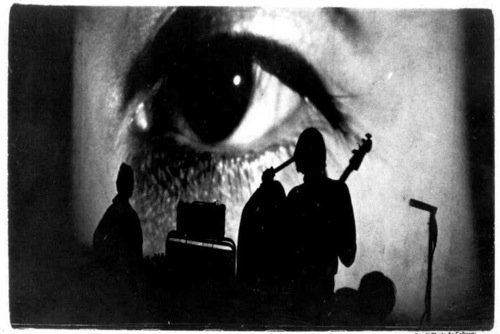 The Velvet Underground with John Cale in the foreground – April 1, 1966
It's not easy to pin down my favorite Velvet Underground album as it regularly changes over time, yet always rotates between three titles. And really, it depends on what kind of mood I am in and where my head is at while it is rotating on the turntable. One thing that is concrete though is that fact that the groups second LP, White Light/White Heat, is always in the aforementioned running. Having cut loose both Andy Warhol and Nico, The VU set forth on their sophomore disc with a new intensity and direction. Drawing from their love of garage rock, then re-imagining it, the opening title track, "White Light/White Heat," sounds amphetamine drenched, dirty, and down right intimidating. And that is a reaction culled from re-listening to it right now, in 2008 (just imagine the reaction upon its release in late 1967).
While "Sister Ray" and "White Light/White Heat" typically get the most ink, and airplay, the album's second track "The Gift" inhabits its own atmosphere and eight-minute universe. Chugging and droning, "The Gift" is sung by John Cale, yet was penned by Lou Reed as a short-story years earlier as a writing assignment in college. A dark and humorous tale, Cale narrates from an omniscient point of view, telling the story of one Waldo Jeffers, a college student who in lovesick desperation mails himself via U.S. Mail to his sweetheart from Pennsylvania to Wisconsin. This being a Lou Reed composition, it's not surprising when calamity ensues…listen below to find out how and why.
Download:
MP3: The Velvet Underground :: The Gift
———
Amazon: The Velvet Underground – White Light/White Heat

* * * * * * * * * * * * * * * * * * * * * * * * * * * * * * * * * * * * * * * * * * * * * * * * * * * * * * * * * * * * * *
The Velvet Underground :: Venus in Furs – Live, NYC – Note the Bull-Whip
+ Download your music via eMusic's 25 free MP3 no risk trial offer
——————————————————————————————————————————