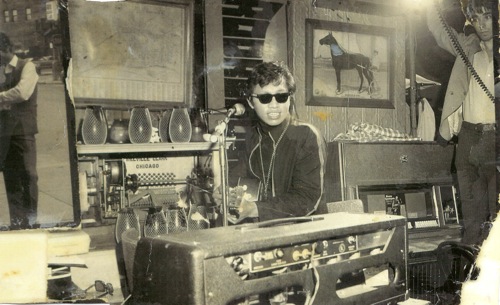 Off The Record is a recurring feature here on the Drunkard that marries two of my greatest interests; music and travel. Having a locals perspective when visiting a new locale is the difference between experiencing it through the lens of a tourist and of that of a native.
Off The Record gathers some of my favorite artists, asks them to reflect on their city of residence, and choose a handful of places they could not live without, be them bookstores, bars, restaurants or vistas.
Today's installment of Off The Record finds us Detroit, Michigan, home of Rodriguez. Whenever we here of an artist long rumored to be dead, not to mention inspiring revolutionaries worldwide, we, naturally, take notice. And when that person plays guitar and sings like a psychedelic Nick Drake crossed with Cream, we really take notice. We're happy to report that Sixto Diaz Rodriguez is indeed alive and well and living in Detroit. With the reissue of his late-sixties LP Cold Fact hitting retail shelves today, Rodriguez uses OTR to provide an unfiltered, politically charged, tour of his hometown. Heads up, this may piss some folks from "the D" off.
* * * * * * * * * * * * * * * * * * * * * * * * * * * * * * * * * * * * * * * * * * * * * * * * * * * * * * * * * * * * * * *
This is a walk through Detroit. But be protected. Our history reads: Not so peaceful. As you take this tour, be sure you stay with the Living. And should you find yourself, a snowflake in an ocean of Darkness, be secure. The Force is with you.
Taking a ride on the bus, might be one quick approach. Especially a crosstown, like the Dexter. These buses don't run on a regular schedule but once you take this ride, the cultural diversity will become clear and obvious.
At the waterfront stands the Renaissance Center, now owned by General Motors. This is the company that is crying poverty. This is the biggest building in Detroit. Before this it was owned by Ford (Motor Company).
Go to the City County Building and you will be confronted with the security measures that are being taken there. This is a city under siege.
Visit the Frank Murphy Hall of Justice, flanked by the Wayne County Jail. It is in the vicinity of one of three magnificent casino skyscrapers newly built to continue to drain this impoverished, undereducated, politically-abused population.
This is a city of victims. Everyone I know and everyone I have met have told me their stories of rip offs, of theft, of violence and of urban mayhem. And I am a musician. They confide in me like others might confide in a priest.
Stop in at 36th District Court. Be witness to the sociology there. The Courthouse sits next to Ford Field (NFL) and Comerica Park (MLB), reflected in the strobe lights of the Fox Theatre and Hockeytown Cafe (NHL). Once there, betwen Woodward and Griswold, pass by what is known as, Urine Street. The stench of it will almost knock a person down.
As a person is en route to a place called Capitol Park, you will find an area adorned by ten dead trees, with a statue of the first governor of Michigan. Governor Mason. His head swarmed with pigeon shit. This is not far from historic Campus Martius where a monument stands to commemorate so many who sacrificed so much in the Civil War.
This, Our beloved polis. – Rodriguez
Download:
MP3: Rodriguez :: Sugar Man
MP3: Rodriguez :: Only Good For Conversation
———
Purchase: Rodriguez – Cold Fact
+ Download your music via eMusic's 25 free MP3 no risk trial offer
—————————————————————————————————————————-