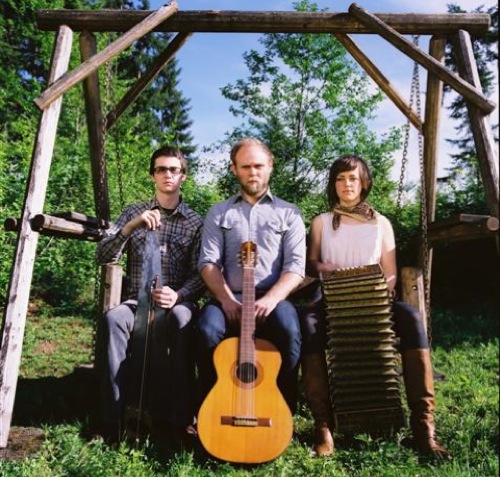 Off The Record is a recurring feature here on the Drunkard that marries two of my greatest interests; music and travel. Having a locals perspective when visiting a new locale is the difference between experiencing it through the lens of a tourist and of that of a native.
Off The Record gathers some of my favorite artists, asks them to reflect on their city of residence, and choose a handful of places they could not live without, be them bookstores, bars, restaurants or vistas.
Horse Feathers debut LP, Words Are Dead, was one of our 12 favorite records of 2006. The bands follow-up House With No Name that is slated for a release September 9th via Kill Rock Stars. Today's installment of Off The Record catches up with Horse Feathers Justin Ringle as he walks us through some of his favorite Portland haunts.
* * * * * * * * * * * * * * * * * * * * * * * * * * * * * * * * * * * * * * * * * * * * * * * * * * * * * * * * * * * * * * *
1. Mississippi Records :: Hands down the best record store in town. It's all vinyl and they started to put out their own records to boot. Great selection of older roots music plus new stuff. I get lost in there sometimes and my only savior is the allure of Stumptown coffee next door at Fresh Pot (the adjacent local coffee house). In fact a testament to Portland's love for the store is that recently during a street fair on Mississippi ave. where the store is located, someone put a "Future Home of Starbucks" banner on the store front. Before I knew it was a hoax everyone I knew was seething with anger ready to brick windows and commit arson. . .just goes to show you what local business means to people here.
2. Beulahland :: I went for a long time in Portland without declaring a bar my own but I think this is the one. Beulahland is definitely the closest thing to Cheers we've got in Northeast Portland. I am guaranteed to see half a dozen people I know there on any given night which is sometimes both a good and bad thing. The combination of good food, cheap whiskey beer backs, booths, and an incredible amount of stuff to look at on the walls brings me back way too frequently.
3. Powells Books :: This one goes without saying, but it must be mentioned. It's practically the Disneyland of literature. If you can't find it at Powells you might be out of luck. I have lost days in this place before, so it comes with a warning. . .
4. Irvington :: Not necessarily on the cool map of Portland, but it is where my place is and I have to say that when I'm on tour I really miss walking around and looking at all the old giant Portland homes . During the spring it seems totally surreal with everyone's perfect gardens blowing up. It actually appears that in this neighborhood the real plants actually choke out the weeds.
5. Valentines :: A very small and intimate venue located downtown where you are likely to witness the freshest music projects Portland has to offer. It seems that for some reason musical rules don't really apply here and I am always impressed with how casual it all seems. It's my favorite place to watch quieter folk stuff, or singer songwriters, plus they have great art on the walls.
Download:
MP3: Horse Feathers :: Curse In The Weeds (new)
MP3: Horse Feathers :: Finch On Sunday
———–
Pre-order: Horse Feathers – House With No Home
+ Download your music via eMusic's 25 free MP3 no risk trial offer
—————————————————————————————————————————-