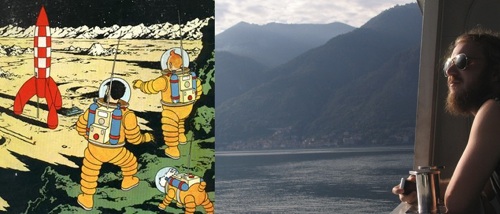 "…And I'm gonna be high, as a kite, by then." – Elton John, 1972, Honkey Chateau

Jim James and Co. have long been about the choice cover song. A number of which can be found on the Darla Records issued Early Recordings Chapter 1 & 2. These two (separate) collections cull tracks recorded prior to the release of 2001's At Dawn including eclectic covers, demos, and b-sides.
Besides the obvious Dune reference, Chapter 1 is home to the band's cover of Elton John's "Rocket Man." In regard to the mood and sound of MMJ's cover, the adjective that immediately comes to mind here is: "spooky." This is classic recording-in-a-grain-silo-in-Kentucky My Morning Jacket, a far cry from sound the band would evolve into a decade later on this years Evil Urges. I could listen Jim James take on disparate covers all day long; fortunately, for fans, he is more than willing to accommodate (see the bands set lists from this summer). Also: savvy trainspotters may have noticed the inclusion of the bands "Rocket Man" cover at the end of the pilot episode for Showtime's new drama Californication.
Elsewhere: if you haven't seen it yet, check out this clip & mp3, on Gorilla vs. Bear, of Erykah Badu joining My Morning Jacket in Dallas, last weekend the Palladium, as the band covered her 1997 jam, "Tyrone." Smooth. The band's cover of Badu's "Tyrone" can be found on Chapter 2: Learning.
Download:
MP3: My Morning Jacket :: Rocket Man
———–
Amazon: My Morning Jacket – Chapter 1 The Sandworm Cometh: Early Recordings
www.mymorningjacket.com ++ www.darla.com ++ mmj myspace
+ Download My Morning Jacket rarities via eMusic's 25 free MP3 no risk trial offer
—————————————————————————————————————————-