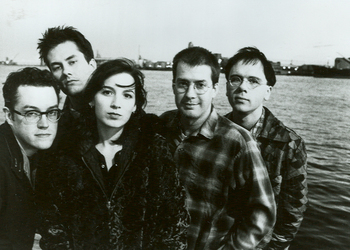 I forget where exactly I picked up my cassette copy of Simpatico!, but it was a good deal, I'm sure. But I'll admit right off the bat – and this is something you may want to note; that I'm willing to admit ignorance – that this is the only Velocity Girl album I've ever heard. Simpatico!'s oft-cited predecessor, Copacetic, has never made it to my ears. Is it a better album than Simpatico? Consensus seems to say yes, but I can't say. I do, however, know how much Simpatico! resonated with me when I bought it in high school and how now it is doing so in new and bigger ways.
The mid-90s were already such a fertile ground for the commercially-burgeoning 'alternative rock' scene and the godfathers of the whole shebang – in America that would be R.E.M. especially – were finally having a huge impact on the new bands. "Sorry Again," Simpatico!'s opener, has everything from R.E.M., in its lightly distorted, chiming guitars, to the giddy rush of Britpop and an altered version of the shoegaze fuzz – just enough to help people who picked this up because it was released on Sub Pop Records feel like they weren't buying an out-and-out pop album.
From what I've read about Copacetic, it is essentially a much fuzzier, more poorly recorded version of this album. That lo-fi aesthetic charms a lot of people, but Velocity Girl was making a play for a bigger piece of the pie. And listen – I can't imagine them creating a better radio-ready album. Simpatico! is, in a lot of ways, the great, misplaced C-86 album. The band did take their name from the Primal Scream song that graced the original C-86 compilation afterall, and they even brought in John Porter, producer of both The Smiths and Meat is Murder, to helm the boards.
So, the results? It's a grabbing, powerful blast of pop. Clocking in at just under 35 minutes, and only one song going longer than 3:40, the album takes advantage of Sarah Shannon's gorgeous voice over and over to create winning tracks. "Tripping Wires" has an incredibly lovely chorus; "There's Only One Thing Left to Say" and "Rubble" bounce along with the sort of frantic pace that contemporaries like Blur and Lush were cranking out back across the pond. The more I listen to this record, the more and more I'm amazed at just how British this record sounds. This could've come in on the Britpop invasion – especially alongside a band like Sleeper – and fit right in.
To have stumbled upon this album randomly was certainly an act of providence. I truly hadn't listened to this album in quite a long time and in listening to it repeatedly for this review, I've felt able to make connections I never would have made before. This is the real reason you hold onto records. It's also the reason why you never stop learning. Being able to place this album within the larger context of its surrounding has given me a greater appreciation for just what's going on. And man, it's something fantastic. words/j neas

Download:
MP3: Velocity Girl :: Sorry Again
MP3: Velocity Girl :: Rubble
———–
Amazon: Velocity Girl – Simpatico!
+ Download your music via eMusic's 25 free MP3 no risk trial offer
—————————————————————————————————————————-