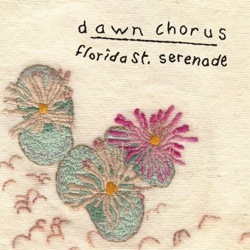 Seeing a band with multiple writers employing the old trick of 'you write it, you sing it' is always fun to watch – especially to see how the other singers add to the recipe when they're not the spotlight. Greensboro, North Carolina's Dawn Chorus mine that territory with a pair of songwriters – Zachary Mull and Andrew Dudek – who compliment each other in numerous ways. Whether it's lyrical style or guitar work, along with Amy Kingsley and Will Ridenour, the band is a cohesive unit.
The band's latest, Florida St. Serenade, is their third album, but their first to have a record label behind it (Fractured) and a well-known producer at the helm (Brian Paulson.) Paulson has put his stamp on everyone from Wilco, Son Volt and Golden Smog to Superchunk, the Kingsbury Manx and Beck. And he does an amazing job of helping Dawn Chorus sound fuller, tighter and better than on previous efforts.
The record could be a lesson on sequencing. Opening with the sprightly "I'm Cured," the record sets its spirited pace with the opening three songs, before using Mull's "I Missed It," full of one of his most Neil Young-esque vocal performances, to reel it back in. The title track is a nearly eight minute slow-build that uses cathartic drum cadences at key points to keep the song's languid pace interesting. "The Pearl" and "Carly Anchovy" take the pace back up before the album grounds itself for the dynamic closing songs, "It's Human" and the majestic "Dust."
Within Dawn Chorus' sound are elements of the soaring indie-rock of the 90s combined with the structure and tone of classic singer/songwriter music. Dudek's songs lean towards the former while Mull's head in the other direction, but it's undoubtedly the work of the band that laces the whole album with a consistent sound, no matter who is singing. Live, they're an equally engaging band that spaces out its pieces and follows some enjoyable paths, but Paulson's production has distilled their songs down to their pristine best.
The band's first two albums are available for free by download at the Fractured Discs website. There is also a live album available via Amie Street for a little over a dollar. Check out the video below featuring a "Oh Please" from the live album. words/j neas
Download:
MP3: Dawn Chorus :: I'm Cured!
MP3: Dawn Chorus :: Dust
—
Video: Dawn Chorus – Oh Please
———–
Purchase: Dawn Chorus – Florida St. Serenade
+ Download your music via eMusic's 25 free MP3 no risk trial offer
—————————————————————————————————————————