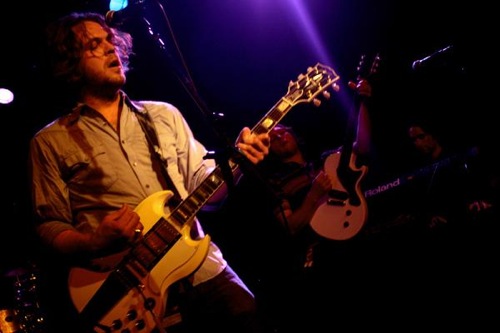 Tomorrow sees the release of The Broken West's sophomore LP, Now Or Heaven, their second album for their label home at Merge Records. The album marks a departure from the more straight froward, hook laden, work of the bands last two studio efforts, both in tone and arrangement. We caught up with the Broken West's vocalist and songwriter, Ross Flournoy, on the eve of the band's Fall tour to discuss, among other things, the range of the new album and its construction compared to its predecessors.
* * * * * * * * * * * * * * * * * * * * * * * * * * * * * * * * * * * * * * * * * * * * * * * * * * * * * * * * * * * * * *
Aquarium Drunkard: First off, let's talk about the vibe of the new record in comparison to the self-released 2005 EP and last year's I Can't Go On I'll Go On. From track one onwards it is obvious things have moved away from the strictly golden coast pop vibe. What were some of the main contributors to the stylistic expansion?
Ross Flournoy: Most importantly, I think our own amusement, to be honest. What I mean by that is, we didn't want to re-make I Can't Go On; we wanted to explore new things musically and keep it fresh and interesting for us as songwriters and musicians. More specifically, I think the overall guiding principle for this record was paying enormous attention to the rhythm section — especially to what the drums were doing. Touring with the Walkmen and the National was a real eye-opener for us — both of those bands have incredible drummers, and the drums are a really integral part of those bands' songs, in terms of really interesting and unique drum parts. I think we wanted to get away from more straightforward, 4/4 drum patterns and try to come up with parts that really stood out on their own, parts that became indispensable and exciting sections of the songs in and of themselves. So we spent a great deal of time working on drum patterns, and our drummer Robbie did an incredible job of executing those parts.
I also think we were more interested in production this time around; that is, we were more interested in, and focused, on creating an atmosphere on this record, trying to create an overall mood. We were less interested in making the songs as immediately accessible as they might have been on I Can't Go On and more interested in creating a unified sonic aesthetic that would tie the whole record together. Finally, there was a LOT more attention paid to lyrics on this record. For I Can't Go On, lyrics were often written 5 minutes before I recorded the lead vocal. On Now and Heaven, we wrote and wrote and re-wrote and re-wrote again, really trying to make the lyrics as tight as possible…really trying to tell a story. Thom Monahan, who recorded the basic tracks, really pushed us in that regard, and I'm sure glad he did.
AD: I Can't Go On I'll Go On was in the can when Merge approached you to release it, correct?
Ross Flournoy: Yeah, it was done when they signed us. We recorded one other song after we were signed ("Slow") and re-recorded another ("Baby On My Arm"), but it was pretty much finished.
AD: This time you guys holed up in a studio in northern California recording the new album. How did the process, and general experience, differ from the last two projects?
Ross Flournoy: Making this record was a much more deliberate process, which is to say we worked harder on this record than on the other two. We spent three weeks at a studio in Sacramento called The Hangar recording basic tracks, and about eight weeks in LA doing vocals and overdubs.
We REALLY tore apart songs for Now or Heaven, meaning we would record a track and then completely strip it down and rebuild it, re-recording and tweaking things until we refined it to where we wanted it. We did that to some degree on I Can't Go On, but not nearly to the same extent. "House of Lies," "Ambuscade," and "Gwen, Now and Then" are all songs that ended up in radically different places from where they began. "House of Lies" started as this sort of raw, Pavement-y/almost Stonesy raveup with this big, jangly chorus, and over the course of many revisions became what it is, which I love and I think is MUCH more interesting than it was. A lot of those re-arrangements came from Thom Monahan, who did an excellent job of identifying which sections of certain songs were working and which sections weren't. He really helped us focus the songs and make them as strong as they could be. I Can't Go On was recorded sporadically over the course of a year, whereas Now or Heaven was done in about 4 months with minimal breaks. I think that concentrated effort helped in that it really sharpened our focus and made us work hard at getting what we wanted. Honestly, making this record was an arduous, difficult process. But in the end, it was the most fun I've had making music, and the most rewarding musical experience I've had thus far.
AD: As a music fan yourself, have you found your own palette and tastes expanding since the recording of I Can't Go On I'll Go On? If so, have certain artists/albums/styles influenced your songwriting and how you go about making music?
Ross Flournoy: I definitely think our tastes have expanded since the last record. All of us are huge music fans, and we're always looking for stuff we've never heard. Some stuff we got turned on to by Thom Monahan — Kate Bush was one I got into while making the record, specifically her record Hounds of Love, which is incredible. I know Danny was listening to Echo & the Bunnymen (Ocean Rain), and Danny really got into Robyn Hitchcock too, which lead me to getting into him. Brian was listening to a lot of Dylan, Sly & the Family Stone, and Prince when we were making the record.
Since I Can't Go On, I got REALLY into LCD Soundsystem, which I NEVER expected would happen. I resisted even listening to that band for at least a year, because I just assumed they were hipster assholes. But one day I heard a track in a bookstore and fell in love with them, and basically bought everything they've put out, and I still — nine months later — listen to them all the time. I think James Murphy is the shit. The songs groove so hard, but the not at the expense of the songwriting — the songs are so incredibly well-written and thoughtfully constructed and super fucking hooky.
There's really only one song on the record where I feel like I was trying to go a specific direction based on something I loved about another artist. I got really into this song by The Knife called "Heartbeats", and I was trying to sort of push "House of Lies" into that territory, sort of in terms of a really heavy, driving, synth bass that kind of never lets up. In the end, I don't think "House of Lies" sounds anything like The Knife, but "Heartbeats" was definitely a jumping off point for where I wanted to take "House of Lies." I know Brian very much had Prince in mind while constructing "Got It Bad."
AD: In addition to new stylistic territory, Now Or Heaven also sees Brian Whelan's first on-record contribution with the '80s leaning "Got It Bad." With this exception, are you and Dan still handling the lion's share of the songwriting?
Ross Flournoy: Yeah, aside from "Got It Bad," Danny and I wrote all the songs with our good friend, Adam Vine. Adam's one of my best friends — we went to college together — and the three of us spent a lot of time together for the first four months of the year.
AD: Of the new tracks "Auctioneer" in particular feels like it could had had a home on I Can't Go On. Was this an older song that found its way on the new LP? (do any of the tracks on the new LP date back to the last album?)
Ross Flournoy: It's interesting you say that…it hadn't occurred to me that "Auctioneer" would have fit on the last record, but I think you're right. To me, "Perfect Games" and "Terror for Two" are the two songs from Now or Heaven that I think could have been on the first record. And I like that. I feel like this record is a natural progression for us, and one of the reasons is that I think there is a bit of crossover it terms of the material fitting comfortably on either record. I felt the same way about the transition from The Dutchman's Gold to I Can't Go On — I could picture a song like "On the Bubble" being on Dutchman's, but I couldn't see "Baby on my Arm" being on Dutchman's.
AD: As a band, for the first time, you all toured the country pretty extensively during the past year in support of the last album. How was the experience?
Ross Flournoy: Honestly, I think it was a huge — and invaluable — learning experience. It was such a shock — like being dunked in ice water. Just transitioning from having day jobs and leading a very home-based lifestyle to being out of town for 7 weeks at a time, a different city each night, etc. Personally, I think it really forced me to acknowledge the things at home that were important to me, and it forced me to work hard to keep those things in tact. As a band, I think we learned that touring is rarely a romantic, cross-country Kerouacian adventure — it's hard fucking work. It's like any job. You hit some real lows, but the highs are great — it can be incredibly rewarding: that one show, that one moment, when everything clicks and you experience the joy of doing what you love.
AD: Did you take anything away from opening for relatively seasoned vets like The National and The Walkmen?
Ross Flournoy: As I mentioned, the drummers in both those bands were a big influence on us in terms of thinking in new ways about structuring grooves. But I think in terms of us as a live band, the single most influential act we toured with were The Whigs. Those guys write incredible songs and have made a great record (Mission Control), but they absolutely devastate live, and they do it night after night with frightening consistency. I never once saw them disillusioned by a small crowd, or technical problems, or whatever. They just went out and KILLED. They're super pro and just SO fucking good on the stage.
We had the good fortune of becoming very good friends with them during the tour we did with them last fall, and we still all keep in touch. The level of dedication they bring to their live show is unlike anything I've seen. Parker plays guitar and warms up his voice for like an hour before every show. Julian is back there pounding away on a practice pad. That was REALLY inspirational to us. Frankly, it made us feel like a bunch of hacks. As we were winding down the recording of this album, Brian and Danny and I had many, many conversations about how we wanted to use The Whigs as a template for how we were going to be as a live band in the future. So I think we learned from them to take each and every show very seriously. And to just go out there, be confident whatever the circumstances might be, and leave a pint of blood on the stage, to quote Jimmy Fallon in Almost Famous.
AD: Speaking of live shows, the Broken West is again about to embark on a lengthy U.S. tour. In terms of the beats and synths, how faithful will the band interpret the new material in a live setting?
Ross Flournoy: That's a great question. And something we discussed a lot while making the record. There was a point during the sessions when the record was HEAVILY synth-based, with few guitars. That would have been seriously problematic. We ended up reining that in and bringing it back to more of a guitar-based realm. Nevertheless, you're correct in pointing out there are a lot of loops and different synth tones on the record.
To answer your question, it hasn't been as difficult to faithfully recreate the record in rehearsals as I might have thought. Obviously, we can't recreate the sound of every weird ass analog synth we used in the studio, but our keys player, Jeff Howell, does a fucking great job of replicating those sounds with just one synth, and organ, and a piano. Brian's song, "Got It Bad," is the most synth-heavy on the record, I believe. So we can't truly recreate that one live, but I really love the way we've been doing it.
AD: Last time I had you guys on the (radio) show, just prior to your embarking on a tour, I asked what tunes would be in heavy rotation in the tour van. Dan was adamant the Dwight Twilley catalog would be represented in full. What's the band listening to these days that will help pass the miles and hours on the road?
Ross Flournoy: Well, keys man Jeff very generously got us XM Radio for the van, so I'm sure we'll be rocking that a lot. – AD

Download:
MP3: The Broken West :: Auctioneer (new)
MP3: The Broken West :: Perfect Games
———
Pre-order: The Broken West – Now Or Heaven
+ Download The Broken West via eMusic's 25 free MP3 no risk trial offer
—————————————————————————————————————————–