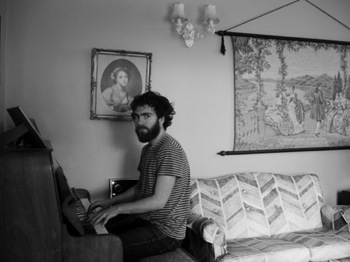 The Monolith Festival, held at Red Rocks outside of Denver, CO is approaching this weekend. AD sat down to chat with one of the festival's performers, Liam Finn, about how he ended up at Monolith, touring partners, current and future records and growing up as a musician under the influence of his father, Neil Finn. His 2008 solo debut, I'll Be Lightning, has garnered strong critical reviews and he's currently on a tour of the U.S. with the Veils.
Aquarium Drunkard: My first question is just about the Monolith Festival – how you got involved in that. There are a lot of great bands playing there and I wondered how you got drawn into playing there.
Liam Finn: I guess my agent was shopping for some festivals. And Monolith was the first people who were sort of interested in what we were doing. I don't really know that much about the festival other than that there are some great bands playing. I'm looking forward to it, it ought to be quite fun.
Continue Reading After The Jump…
AD: Who are some of the bands you're looking forward to seeing at the festival?
LF: I'm really looking forward to seeing White Denim. That'll be cool. The recording is really great. I'm a really big fan of TV on the Radio as well and I've seen them a couple of times, but I'm always happy to see them.
AD: Did you have the current American tour set up before Monolith or was it set up to coincide with the festival?
LF: I think it sort of all ended up coincided, because when Monolith became interested, that's when my manager was booking the tour. I'm not really sure of the logistical side of things. It just sort of ended up on my desk.
AD: Were you always planning on bringing the Veils out with you on tour?
LF: We'd done quite a few tours of this country already, mostly in support slots, so when we decided to do a headline tour, we decided to bring a band along that would generate a bit of interest as well as be familiar to us. I think they're well suited for what we do – so actually, it's an excuse to get the know the band as well. We've had lots of mutual friends for years.
AD: The record you released earlier this year, I'll Be Lightning, is your first proper solo record and before that you were in a band called Betchadupa. Was there a big difference going from recording as a band to recording as a solo artist?
LF: Obviously it's a lot different not having a band, but in a way it was similar to how I'd done the band demos in the past. In some ways that's what made me want to do it. I've always enjoyed making demos and being on my own and letting my imagination run wild. I guess that's what brought me to do the solo thing.
AD: How has your success here in the States been relative to your success in Europe and New Zealand?
LF: Well, I guess in New Zealand I've been doing stuff for quite a long time, so it's a bit more down the track there because I've been known longer. It's in much earlier stages everywhere else in the world, but people seem to be buying the record and coming to shows. It's exciting.
AD: I know that album just came out earlier this year, but have you started thinking about the next one?
LF: I definitely want to start doing something as soon as possible – I'm going to be touring until the end of the year, but in January or February of next year, I'll probably start making a new record.
AD: The record has a very poppy feel, very catchy, both in the lyrics and music – but there are also splashes of psychedelic pop sound. It almost reminds me in points of the Elephant 6 stuff over here in the States – these people who sort of channeled a lot of that psychedelic sound. Is that something that has had a large influence on you?
LF: I like a lot of psychedelic music, but a lot of the actual 60s stuff has been influential on me. But everything from the Beatles to Neil Young – I quite like the way the approaches music, being quite live and performance based. I guess the psychedelic nature of the Beatles and the sort of first-take attitude of Neil Young made me make the record sound as it does.
AD: You say you want to get back into the studio soon – do you feel like your writing is changing and evolving in different ways? How will the next record sound compared to this one?
LF: I think the next record will probably be quite affected by the nearly 2 years we've been touring for this record. I do the show in quite a sort of unique fashion – it's with one other person and we make guitar loops and play bass and drums and the songs sound very different live. It gives them a new life and keeps things fresh. I think when I go back in the studio – we've gotten pretty good at the off-the-cuff, kind of loop-based and improvisational sort of thing. I think we'll use that quit a lot. I'll be back in the studio with my friend E.J. who sings with me and I think her influence will be quite big on the next record. It'll sound completely different as this one, but with the same attitude and aesthetic, I suppose.
AD: I wanted to ask, since we were discussing influences, other than the obvious thing, having grown up around music, what kind of influences did your dad [Neil Finn] have on you?
LF: Well, I guess growing up, a lot of what he was into and influenced by rubbed off on me. I did end up taking after him in the sense that I love harmonies and melodies and that's important to how I write and heartfelt, genuine lyrics. I guess that sort of naturally rubbed off on me – either genetically or by years of brainwashing me with his own music. [laughs] I don't know. He's played as much a part as I've wanted him to, but he's also been good to let me do my own thing as well. We've had a pretty good dynamic.
AD: So did you ever have that teenage rebellious phase where you felt you really had to prove yourself as something different from him?
LF: I think Betchadupa was that part of my life. We were much more of a rock band – schizophrenic, punk rock type of stuff. It was me trying to do more of what I wanted – heavier in a 90s, grunge type of way. But it made me over time that what I felt was my most natural style was musical songs and – we kind changed a little bit in the band, but I think it was better not to make the band fit that structure. So I got it out of my system, trying to be different. Now I think I'm more different just by being true to myself and making things as true to myself as possible.
AD: Although I really feel like I can hear your dad's voice when you sing – it's not exactly the same, but I can tell – it's like, 'oh, they're family.'
LF: Yeah, I don't think I could've avoided that unless I smoked a pack of cigarettes a day or something.
AD: Took the Tom Waits route?
LF: [laughs] Yeah, exactly.
Download:
MP3: Liam Finn :: Second Chance
———–
Amazon: Liam Finn – I'll Be Lightening
+ Download your music via eMusic's 25 free MP3 no risk trial offer
—————————————————————————————————————————