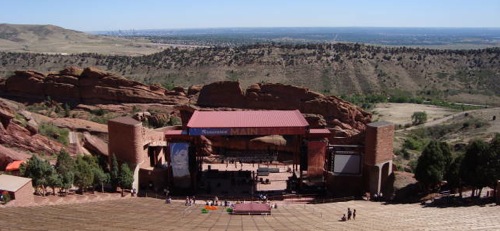 The Monolith Festival: I was intrigued by the lineup for multiple reasons – this was certainly the most 'indie' looking festival I'd seen in awhile – more in tune with Pitchfork than Lollapalooza. The headliners went from Devotchka, Silversun Pickups and Atmosphere to Justice, TV on the Radio and CSS. Those names alone tell you something different is going on and the litany of bands on the underbilling reinforced that idea.
But first a bit about our host – Red Rocks Amphitheater is, seriously, the most beautiful outdoor concert area I've ever seen. Situated in the town of Morrison, just outside of Denver, it's a model in development that works with the environment rather than bending it to development's will. Denver is, however, 5,280 feet above sea level and this raises problems when it comes to, you know, breathing. Less oxygen makes a good stair climb, of which there are many at Red Rocks (approximately 230 steps from the bottom of the amphitheater to the top), a much more tiring task.
Both days at Monolith proposed similar problems – namely too many good bands jammed together. Especially during the early part of day one. Luckily, the festival crowd didn't pick up until nearly 4 o'clock. This left plenty of room to move to catch bands up close.
With five stages to choose from, there was a lot of cycling in style and space. Austin, Texas' Erin Ivey opened the day with a beautiful, low-key performance on the acoustic stage, a great place to catch some quieter, more subtle performances throughout the day. Rock Plaza Central would also give a good show on this stage later in the afternoon, sampling new songs from their forthcoming new album and from last year's Are We Not Horses?

The rest of the stages would demand more energy and decibels. Oxford, Mississippi's Colour Revolt was a high point of the early performances, firing off some truly inspired work from their latest, Plunder, Beg and Curse. The Veils brought their peculiar mix of snark and pathos and wordplay and succeeded despite tech problems. Cut Copy scored the first genuine over-the-top audience reaction of the day on the main stage and Port O'Brien turned an early crowd into a genuine party by inviting the audience up onto the stage, with pots and pans no less, to accentuate a closing performance of their song "I Woke Up Today."

Continue Reading After The Jump…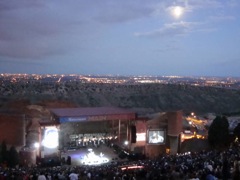 The Port O'Brien set was a good example of everything that was good about Monolith. The crowd was a feel-good crowd, eager to dance and sing along, eager to enjoy every band that could be enjoyed and it made circulating and talking with people an absolute must. This festival, for one reason or another, was drawing in people really, seriously passionate about the music on stage. This wasn't a festival where people came in simply to roam around, get drunk and think about listening to the music after the fact.
Which did lead to the first, and not last, frustrating moment of the weekend. Sequestered within the rock of the amphitheater are two smaller stages that were used, taking turns back and forth, to showcase some of the smaller bands. These were rooms with limited capacities that probably topped out at about 200-250 people at the most, though I'm often bad at estimating those things. Enter Blitzen Trapper. With a fantastic new album hitting shelves soon and certainly a fast rising star, they were sure to have a crowd. I was about five minutes late for the start of their set and found myself stuck outside of the room with no way to get in. Packed, person to person, all the way out the door, there was nothing I could do but stand back and hear some of the music coming out the door. Blitzen Trapper had been on my top list of bands to see and I was thwarted. This wasn't the last time this would happen as day two would attest soon enough.
My moping about missing Blitzen Trapper would end with the second audience ripping performance of the day – Holy Fuck. No other performer at the festival, short of CSS, would have an audience dancing and moving as much as they did. As day turned to night, Silversun Pickups laid down a masterful, fuzzy set of their music, including a few songs from their in-progress new album. Back up the hill, Del the Funky Homosapien and Atmosphere would have a whole other section of the audience in the palm of their hands. It was here that my night would end, not because the bands did, but because of the weather. A chilly, low 50 degrees, matched with a steady wind and eventually a constant drizzle of rain, would force me to call it a night before Devotchka took the stage to close things down. Thankfully day two held more bands I was very excited to catch, so I retired to my hotel room a grateful man. words/j neas

+ Download your music via eMusic's 25 free MP3 no risk trial offer
——————————————————————————————————————————