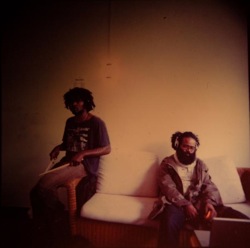 Writers have been describing TV on the Radio as "soulful" since their Young Liars EP came out five years ago, for no discernible reason other than tandem-singers Tunde Adebimpe and Kyp Malone's wailing, churchy harmonies. But on Dear Science, TVOTR — which also includes drummer Jaleel Bunton, bassist Gerard Smith, and guitarist/producer David Sitek, whose wall-of-static style has always served as a welcome foil for the singers' wails — appear to be actively exploring what the word "soul" can actually mean in the 21st century. Sitek and Adebimpe, the group's core since Young Liars, have always made very deliberate musical decisions, treating the pop form as nothing short of high art. And while that conviction has in the past meant a somewhat-revolutionary juxtaposition of buzzing fury and vocal crooning, Dear Science, finds the group liberated and airy, with ample room given to its gifted singers.
Taking a production cue from Remain in Light-era Talking Heads, Sitek has pulled the needles out of the red and given each instrument room to speak for itself. Though equally note-stuffed as 2006's Return to Cookie Mountain, Dear Science, is a clear, balanced effort. The previous record's monolithic sound buried tablas, sitars, and keys under loads of distortion and made for an exhausting listen. Here, Sitek is much more comfortable letting the players breathe, tossing biting horn sections and sharp, crystalline guitars over processed bleeping and for the most part not allowing his singers to get buried in the mix. The end result is a record that's just as dense with dancing as it is with brooding; while it's still a concrete wall of sound, it's more Venice Beach technicolor than Berlin barbed wire.
It's hard to tell sometimes if TVOTR are honest-to-goodness prophets or swaggering Prince acolytes — or, on tracks like "Crying," whether there's any real difference between the two. Dear Science, is a staggering record in its scope, something that plays just as easily in the black blood of humanity ("DLZ") as it does in the strings and clouds of hope ("Lover's Day"). The title of the record is the salutation to an actual letter that Sitek wrote and posted in the band's studio, daring the rational world to either "fix all the things you're talking about" or shut up, according to the New York Times. Not surprisingly, then, Dear Science, is something of a living apologetic for a way of life that is bigger and more dynamic than reason could ever hope to encapsulate. Lead single "Golden Age," a strong contender for song of the year, finds Kyp Malone proclaiming that an age of miracles is on the horizon while big-time horns and shifty drums pull at the heart and the feet. Tunde Adebimbpe focuses his words on the blind following of style in "Dancing Choose," which captures the inherent tension in an indie culture that attempts to celebrate both authenticity and cold rationality; following the formulas and trends of the day, a criticism often levied at hipsterdom, is an essentially rational and scientific act, whether that style originates from the pages of GQ or Vice. Or, think about this way: how many times has the word "poseur" been lobbed at someone who bloodlessly follows the pre-existing subcultural map?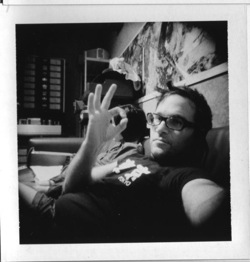 All of that aside, Dear Science, would make its case for the dynamism of life heard even if Adebimpe and Malone kept their mouths shut. From the crystal-clear guitar lines of "Crying" to the Antibalas-driven congas and imperial horns of "Red Dress," this is a record that hits emotions like Manny Ramirez hits baseballs. "We're hanging in the gallows of your family tree," Adebimpe sings over swelling strings and echoed piano in "Family Tree," his voice moaning like a trombone in what is one of the most stripped and touching songs TVOTR have recorded. On the shifty-eyed sexiness of album -closer "Lover's Day," whose clippy drums, boozy horns, and martial snare make it something of the Pentecostal equivalent to Arcade Fire's high church marching, Adebimpe duets with Celebration's Katrina Ford. "Yes, of course, there are miracles," the pair sing, "A lover that loves, that's one," and a chorus of panting clarinets, squawking saxes, and an angelic choir step and shake over the swinging snap of Jaleel Bunton's snare drum. It's perhaps the highest moment on a record of highs, six minutes of triumph that follows forty-five minutes of tension between the goods and bads of what it means to be alive. By this point, the "Dear" in the title seems almost patronizing, like the pat on the head of the third grader who's just learned his multiplication tables; he can't for the life of him understand why this knowledge hasn't changed the world.
Science has no answer for the swinging gallows of human evil. Rationality and reason, for all of the good that they've brought us, don't explain the sparkle on lovers' tongues. Sure, it may show us the blueprints behind our bodies. It may map out in black-and-white the lines of serotonin and dopamine and endorphin that precision their way through our brains, and that's a good thing. But those lines on paper have nothing on the holiness that we've felt since our beginning, the undusted corners and stained-glass shouts of jubilee that come when the architect's plan finally starts to breathe, free of self-conscious shoulder-watching. Dear Science, is the sound of one band, freed; a joyful noise in every sense of both words. words/marty garner

Video: TV On The Radio :: Golden Age
——–
Amazon: TV On The Radio – Dear Science
www.tvontheradio.com ++ www.myspace.com/tvotr
+ Download your music via eMusic's 25 free MP3 no risk trial offer
——————————————————————————————————————————