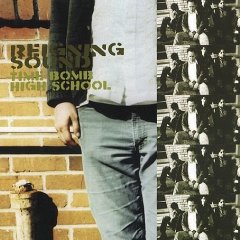 I've been on a huge Reigning Sound kick of late devouring their 2002 LP Time Bomb High School almost daily. There is something about this record that is so immediate, so primal and completely organic, that is eschews a sense of what rock & roll is all about – or what it should be about. I asked my friend Will, who first turned me on to the band, to lay down some thoughts per the record below.
For days now I've been thinking of what to say about Time Bomb High school and there's nothing I can say that doesn't sound like rock critic hyperbolic bullshit because I like this album more than anything else released in the 21st Century.
Years from now when rock nerds listen to rock & roll from our era are they are going to hear Greg Carwright's work with The Oblivians, The Compulsive Gamblers and Mary Weiss and say to themselves "This guy was great". But when they hear The Reigning Sound rip through the Harold Arlen* co written, "Stormy Weather" like they were the soul of Tommy Burke reincarnated through a beat up amplifier they'll realize that Greg Cartwright was the great under appreciated standard bearer of Rock and Roll for the 21st century. Lucky for us we can hear him now.
Time Bomb High School is a masterpiece. It starts with the aforementioned "Stormy Weather" and rips through 14 more tracks full of pop hooks and crushing guitars riffs. If you don't like the TBHS brand of rock you don't like rock at all.

*Harold Arlen also co-wrote "Over the Rainbow".
Download:
MP3: Reigning Sound :: Stormy Weather
MP3: Reigning Sound :: Straight Shooter
———
Amazon: Reigning Sound – Time Bomb High School
+ Download your music via eMusic's 25 free MP3 no risk trial offer
——————————————————————————————————————————