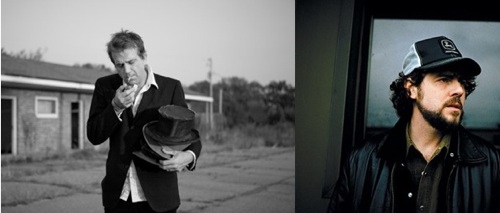 (Long Shots, a new feature on Aquarium Drunkard, asks some of our favorite artists to interview one another. Think of it as listening in on a good conversation.)

Presently on the road touring with the Drive-By truckers, Don Chambers & Goat, released their latest LP, Zebulon, September 9th via Athens, GA's Warm Recordings label. Chamber's pal, Patterson Hood, produced and played on the album. Below, the two talk shop for a bit before getting into the nitty-gritty in regards to favorites in film and music. Great stuff.

Don Chambers: When we were choosing the songs for this record, what were you hearing in the ones you chose?
Patterson Hood: The day we met at your apartment to listen to your new songs, I was blown away by how good they were as well as with the growth in your writing in the past year.Working on the album just furthered that. I was also taken aback by how great the band played, not just individually but as a unit. Andy Baker always blows me away as an engineer and producer.
Don Chambers: This album is the first one I really worked on demoing the songs – in garageband – and preconceiving ideas about structure and sound. Usually I just bring songs into the band and we work them out live. Do you demo or does the band work the songs out together – or both?
Patterson Hood: In the past, we always kinda worked songs up on the fly. This last album, Cooley brought 9 songs in that he demoed at home, so we were able to learn them before hand. Likewise, Shonna demoed her songs on Garage Band, which really helped. I spent a day in the studio demoing about 15 songs (in very rough form) so everyone could learn the songs.I just bought a new computer w/ Garage band and plan to work some things out more in advance before we record our next album. We always have to work on the fly since we live in 2 different states and time together (when not on road) is hard to come by.
Don Chambers: Name some favorite scenes from movies.
Patterson Hood:

+ The Searchers :: Finale with closing door.
+ North By Northwest :: Banter on train between Thornhill and Kindle.
+ The Killing :: Parking lot attendant and horse assassin dialogue.
+ Treasure of the Sierra Madre :: Any of the Walter Huston scenes.
+ Full Metal Jacket :: Boot camp men's room w/ Gomer.
+ Giant :: Fight in restaurant.
+ Miller's Crossing :: When thy come to kill Albert Finney's character.
+ To Kill A Mockingbird :: Courtroom, Atticus cross examining girl.
+ Psycho :: The shower scene.
+ Unbearable Lightness of Being :: Tomas and Sabina fucking with hat.
+ Raging Bull :: LaMotta channeling Brando at the end.
Patterson Hood: Name your favorites
Don Chambers: Damn, those are some great ones, I had forgotten bout the derby in Unbearable Lightness of Being, and for that matter Miller's Crossing could be the best hat movie ever.
+ The Usual Suspects :: The final scene when Kevin Spacey's character begins to unravel his hand, loose his limp as you realize the ruse.
+ To Have and Have Not :: Lauren Bacall, smoking a cigarette, tells Bogart to "just put your lips together and whistle."
+ Double Indemnity :: The opening scene with Fred McMurray bleeding, talking into the dictaphone with a face of realization and dread.
+ Fanny and Alexander :: The speech about life in the theatre by the Jewish merchant, also Alexander playing with his puppet theatre
+ Andre Rublev :: Opening sequence with the long tracking shot of a medieval balloon taking flight, hitting a building, and floating off. I could go on all day…
Patterson Hood: The Bogey/Bacall scene was almost in mine. I thought of it right after pressing send. Watched Howard hawks doc last night on TCM. Love me some Hawks. Double Indemnity should have been on mine as should the spaghetti strainer in The Apartment and the swimming pool in Sunset Blvd.
Patterson Hood: Name 5 songs that are very relevant to your writing:
Don Chambers:
+ "Willow Tree" :: Roscoe Holcomb (The High Lonesome Sound), the way he bend around the notes makes the words irrelevant, though the words are beautiful. This is punk rock, stripped down, from the gut and bleedin stuff.
+ "Sugar Baby" :: Doc Boggs (Country Blues), Boggs made me wanna play banjo, he called his style "playing it straight" (pickin the notes of the melody instead of chords). Intense stuff.
+ "Blind Willie McTell" :: Bob Dylan (Bootleg), I cannot make this list without one Dylan song, though I hate to leave out "Visions of Johanna," this song didn't make it onto Infidels – Dylan thought it wasn't good enough, it a big apocalyptic song with concrete visual details – perfectly balanced.
+ "One Evening" :: The Jesus Lizard (Head), heart pounding band with a drunk monkey lead singer, precision and flailing madness, architecture and slinging mud, these guys live were a force of nature. This song has all that and a great guitar riff.
+ "Moon River" :: Johnny Mercer, this one just gets me, it's been done smaltzy many times, but that doesn't matter to me, the melody is better than any bad production.
These list are always a bit misleading, though I like reading them – of course two minutes later I will think of "There Is a Fountain" (the old hymn), "Shut It Tight" (T-Bone Burnett), "Singapore" (Tom Waits), "I Walk the Line" (oh, thats a big one), your turn…
Patterson Hood:
+ "Freddie's Dead" :: Curtis Mayfield (writing with a theme, circular motions in lyrical composition). This one is a huge influence, even though most folks probably wouldn't know it. I love the rambling structure, how it implies a structure that isn't even there and how the song actually follows the flow of the words instead of vice versa.
+ "Hello It's Me" :: Todd Rundgren (Pop melodic sensibility defied by complex themes and variations). A reoccurring theme in my writing, but never done anywhere any better than in this song. The song sounds like a simple pop song until you really think about what all is being said and all the contradictions within. Nothing is as it seems (another huge influence in my writing) as the relationship and it's hardships are as ambiguous as real life usually is. Goffin & King never wrote a better melody than Todd in this one.
+ "Pay No Attention To Alice" :: Tom T. Hall (Story song and the implied story) No one ever wrote better story songs than Tom and this one is my personal favorite. Love how it tells one story but implies a totally contradictory story. I love the unreliable narration (something Randy Newman has spent his life perfecting). It is a perfect sketch of a marriage and as good a song about alcoholism as any ever written. I covered it on my first solo album and it's one of only 2 songs I've ever covered on a studio album (non compilation).
+ "Louisiana 1927" :: Randy Newman (Another variation on what I just wrote about). A perfect story song on so many levels. It tells one story but implies another. It is told in a point of view that is on the surface incorrect (southern paranoia, "They're trying to wash us away") but upon closer look is actually quite historically accurate (Plaquemines was flooded intentionally to save the city of New Orleans from flooding, thus protecting federal (ie yankee) interests at the expense of poor southern farmers. Unfortunately it's still very relevant all these years later. You address this same issue on your album with Patrick's wonderful song "Highwater".
+ "Speed Racer" :: Vic Chesnutt (Manifesto As Personal Statement). Can't leave out possibly the greatest living southern poet, Athens' own Vic and a song that is so personal and political on so many levels. What a ballsy song on a personal level.
+ "Waterloo Sunset" :: The Kinks – A perfect rock and roll song with as good a melody as any ever. I just fucking LOVE The Kinks and this is their best song ever.
+ "I'm So Lonesome I Could Cry" :: Hank Williams I had to list this one because it's a perfect song and in my op. the finest song of the twentieth century. Simple, timeless and perfect in every way.
Download:
MP3: Don Chambers & Goat :: Highwater (w/ Patterson Hood)
MP3: Patterson Hood :: Heavy And Hanging
MP3: Don Chambers & Goat :: Pig Luck
———-
Amazon: Don Chambers & Goat – Zebulon