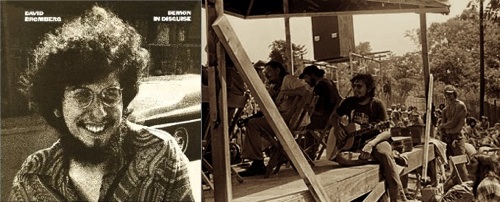 (Sevens, a new feature on Aquarium Drunkard, pays tribute to the art of the individual song.)
Some songs feel like a carnival. Some songs feel like a saloon. And some songs manage to convey both (yeah, I'm lookin' at you Tom Waits). Yes, David Bromberg's swaying "Sharon" is one such song. A loose and funky narrative, the tune tells the tale of, what else, a mysterious lady, a carnie in fact, who among other feats "smiled a smile for the whole world to see."   In addition to Sharon, the protagonist, Bromberg, is plagued by a heavy "with curly red hair, a big bushy beard, and built like a bear," and is repeatedly reminded that the "same rowdy crowd that was here last night is back again."   But like all great story-songs, the layers tend to unfold after repeated visits — so I won't spoil anymore. This one's a classic; the aural equivalent of a daytime shot of well bourbon with a side of trapeze.   Cheers.
Trivia: What Beastie Boys track sampled the hook from "Sharon"?   Hit the comments below.
Download:
MP3: David Bromberg :: Sharon
————
Amazon: David Bromberg – Devil In Disguise
+ Download your music DRM free via eMusic's 25 free MP3 no risk trial offer
——————————————————————————————————————————