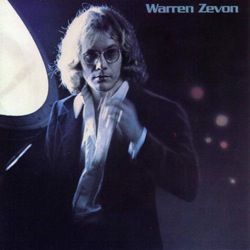 "And if California slides into the ocean, like the mystics and statistics say it will, I predict this motel will be standing until I pay my bill." – Warren Zevon, Desperados Under The Eaves
Some artists feel inextricably linked to specific locales. Can you imagine Lou Reed hailing from anywhere other that Manhattan, or the Allman Brothers oozing out of somewhere besides the deep South? Warren Zevon is one such artist – his work, both explicitly and subliminally, just feels like Los Angeles. Unlike his friend and peer (and the producer of his self-titled major label debut) Jackson Brown, Zevon mined the depths of L.A.'s underbelly with a wry an unmatched lyrical wit that often sounded like Charles Bukowski – if Bukowski had sang and played the piano. L.A. is crawling all over this album- from Topanga Canyon and Hollywood, to Griffith Park and Echo Park.
In the liner notes to the new two-disc reissue, Jackson Brown reminisces that after once introducing Zevon onstage as "the Ernest Hemingway of the 12 string guitar," Zevon corrected him by stating "no, the Charles Bronson of the 12 string guitar." As an artist Zevon was a chameleon, soaking up and regurgitating both high and low culture – painting vivid pictures with his words of scenes, encounters and people most of the world would never know. This is no more evident that on this, his 1976 major label, debut. This is his masterpiece. If you are only familiar with Warren Zevon through his AOR staples "Werewolves of London," and "Lawyers, Guns, And Money," I cannot think of a better, more appropriate, introduction to the the man's work than right here where it all began. In fact, I envy those who have yet to listen to this album. This expanded edition is the the perfect companion soundtrack for driving the length of Sunset Blvd, from the Ocean to Echo Park.
Below: Hyperbole aside, For Zevon fans, this reissue is a godsend. The entire second disc is chock full of alternate and demo versions; some sparse, some with different arrangements. I've about decided this "Take 2" version of "Join Me In L.A." may very well be the definitive version, as Zevon's invitation sounds more like a dare than ever. The production feels raw and worn off like the varnish on an old wooden table. "Carmelita," Zevon's tell-tale ode to junkie-dom, in demo form, is surprisingly upbeat compared to the album version.

Download:
MP3: Warren Zevon :: Join Me In L.A. (Take 2)
MP3: Warren Zevon :: Carmelita (1974 demo)
———
Amazon: Warren Zevon – S/T Reissue
+ Download your music DRM free via eMusic's 25 free MP3 no risk trial offer
——————————————————————————————————————————-