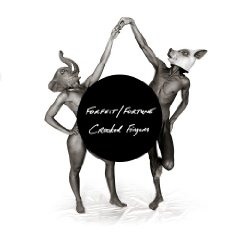 Three years marks the longest yet that listeners have had to wait for a new Crooked Fingers album. Though Eric Bachmann's 2006 To the Races solo album did come out in the meantime, it wasn't the same as a full on assault from the band. Forfeit / Fortune crafts some interesting moves in the overall sound of the band, keeping some things and adding others to create an overall winning continuation of the band's oeuvre.
Eric Bachmann continues to inflect his music with Spanish tones, the same as on Dignity and Shame, but uses it to color songs rather than dominate them in any way. These accents are interesting when played against the traditionalist rock and roots that is Crooked Fingers stock in trade – opener "What Never Comes" takes an early rock sound, complete with horn section, while "Cannibals" sounds like an outtake from the last album.
The starkest development of Crooked Fingers sound comes in tracks that hearken back to Simple Minds-esque synthesizer sounds and the big, dramatic drum sound of the same era. "Phony Revolutions" comes with that opening drum sound and mixes with Spanish flourishes to concoct a darkly engaging piece. "Give and Be Taken" builds itself around sounds that distantly recall Art of Noise in its mechanical precision. The vocals of band member Miranda Brown, a frequent counterpoint to Bachmann throughout the album, are the sole voice on "Luisa's Bone," a song that echoes the recent output of His Name is Alive in its cold and textured guitars and multi-tracked female vocals.
It's good to see Bachmann playing with this mixture of genres and not simply coasting on his strengths, but it is telling that the album's peak comes at the end when Bachmann does just that. "Modern Dislocation" is a classic Bachmann song – anthemic, yearning and big – the type of song he has seemed to write effortlessly ever since Archers of Loaf's "Web In Front." "Your Control" is a similarly engaging big song, this time featuring Neko Case as his duet partner. It's a shame that this song comes after "Modern Dislocation" – it would have made a stronger album closer – but they both show that even after opening his post-Archers career with a song as ceaselessly gorgeous as "New Drink for the Old Drunk," Bachmann is still capable of creating truly moving music that doesn't sound like a retread as much as a refashioning of universal themes. words/ j neas
Download:
MP3: Crooked Fingers :: Let's Not Pretend (To Be New Men)
MP3: Crooked Fingers :: Modern Dislocation
————-
Amazon: Crooked Fingers – Forfeit / Fortune
+ Download Crooked Fingers DRM free via eMusic's 25 free MP3 no risk trial offer
——————————————————————————————————————————-