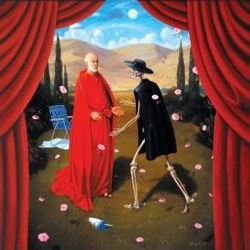 Vic Chestnutt is no stranger to collaboration. One need look no further than his work with Brute, Lambchop, or most recently, his new LP Dark Developments, with fellow Athenians Elf Power.
On each of the aforementioned collaborations Chesnutt has deftly straddled that fine line between retaining what makes his prescence and songwriting such a singular voice in contemporary music, and letting go enough to remain open to new influences and ideas.
We last caught up with Chesnutt on 2007's North Star Deserter, an album that itself was rife with an interesting cast of players including filmmaker Jem Cohen, Fugazi's Guy Picciotto, and local Canadian outfit Silver Mt. Zion Memorial Orchestra. Whereas North Star Deserter reigned things in a bit, Dark Developments opens up full throttle with teeth bared reminiscent of Chesnutt's work with Brute on 1995's Nine High A Pallet and the more rousing moments of About To Choke.   At times dark, the album worldview reflects the present state of the union at the end of the first decade of the 21st century: bloated, bankrupt, and polarized. But that's not to say the album isn't a hell of a lot of fun.   Elf Power, a honed veteran act in their own right,   are more than competent here, and bring a freshness to Chesnutt's oeuvre that is immediate upon the first listen.   Highly recommended.
+ Vic Chestnutt and Elf Power are presently of the road touring North America.   See Dark Developments live.

Download:
MP3: Vic Chesnutt/Elf Power :: And How
MP3: Vic Chesnutt/Elf Power :: Teddy Bear
———–
Amazon: Vic Chesnutt, Elf Power, and The Amorphous Strums – Dark Developments
www.vicchesnutt.com ++ www.elfpower.com
+ Download your music DRM free via eMusic's 25 free MP3 no risk trial offer
——————————————————————————————————————————