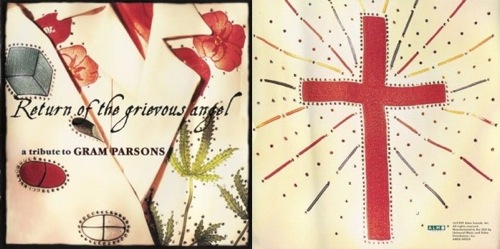 The other day while scanning the used bin at Amoeba Music I ran across a copy of the Gram Parsons tribute compilation Return Of The Grievous Angel. I had not played this collection (all the way through) in a couple of years and immediately dug out my copy out when I got home. I was quickly reminded that, for a tribute album, the contents are incredibly solid. The artist lineup is both appropriate and impressive, boasting Steve Earle, Wilco, Emmylou Harris, David Crosby, Gillian Welch, Whiskeytown, Beck, etc. Because of the date of its release (1999) the collection is aided by the fact that there was still a buzz surrounding artists returning to their roots (alt.country, no depression, et al.); it also helped that bands such as Wilco/Ryan Adams had not yet begun to seriously augment their sound away from guitar/bass/keys/drums as they would in the coming decade. Elvis Costello fans will want to be sure to check out the noted country-rock fan and purveyor work out an aching rendition of Parsons "Sleepless Nights".
Last weekend the subject of Parsons came up at a party, and although the myth of the artist, and the details surrounding his death, have grown to near Jim Morrison proportions (in music-nerd land, that is), everyone could agree that between his work with the Byrds, the Burrito Brothers, and one his own, the guy wrote 10-15 excellent songs. The caliber of both the (varied) artists culled here and the track selection do much to prove that point.
Note: This is just one of many GP tribute collections that have been released over the years; some good, some fair, and some not worth your time. One such tribute, whose contents are admittedly a mixed bag, is the 2005 collection Return to Sin City – A Tribute to Gram Parsons. The tracks themselves were recorded during the Los Angeles date (there was also one the following night in Santa Barbara) of the tribute concert which featured, among other players, Keith Richards, Lucinda Williams, Norah Jones, Dwight Yoakam and John Doe.
Elsewhere: Speaking of Whiskeytown/Ryan Adams, the artist and his band have just posted video of them performing their new LP Cardinology acoustically, which I think might actually I prefer to the studio version. Check it.
Download:
MP3: Wilco :: One Hundred Years From Now
MP3: Whiskeytown :: A Song For You
MP3: Elvis Costello :: Sleepless Nights
———–
Amazon: Return Of The Grievous Angel – A Tribute To Gram Parsons
+ + + + + + + + + + + + + + + + + +
The Flying Burrito Brothers – Christine's Tune (Devil In Disguise) 1969
+ Download your music DRM free via eMusic's 25 free MP3 no risk trial offer
——————————————————————————————————————————-