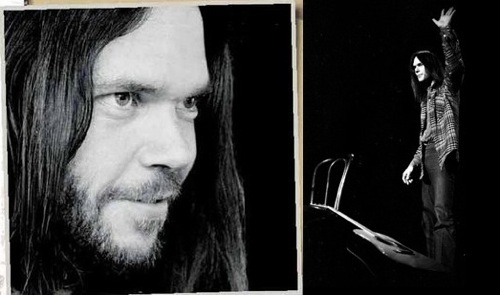 According to the new issue of Rolling Stone, at long last, the first volume from Neil Young's vast archives have a firm release date. Looks pretty outstanding, but I am curious if the format (DVD and Blu-Ray only), and the price point, will curb fans enthusiasm. Excerpt below.
After more than 20 years, the first volume of Young's career-spanning box set is finally coming out. The 10-disc set (available in Blu-ray for $432 or DVD for $345, and eventually in CD and download formats) is built around an interactive timeline that allows users to access hundreds of hours of audio and video, ranging from Young's high school band through 1972's Harvest. "There's photos, there's original lyrics, there's all the materials that make up a career," says Larry Johnson, the set's producer. So when is Vol. 2 due? "Now that we've done the format," says Young, "it'll be quicker." [From Issue 1066 – November 27, 2008]
Neil Young :: Chrome Dreams (Rust Edition)
Re-post from 2007. What you see below is a bootleg acetate version of what is thought by many to be the original track listing for Chrome Dreams just prior to Young scrapping the project in 1977. A number of the tracks made their way on to various LPs while some remain officially unreleased. We originally posted these just prior to the release of Young's Chrome Dreams II.
The following wiki excerpt for Chrome Dreams sheds some light: "The version of "Powderfinger" included is the original acoustic demo, while the "Sedan Delivery" featured is at a slower pace than the Rust Never Sleeps take and contains an additional verse. "Pocahontas" is the same version heard on Rust Never Sleeps without overdubs. "Hold Back the Tears" is a radically different take compared to the one that appears on American Stars 'N Bars, also featuring additional lyrics. "Too Far Gone" would not see release until 1989's Freedom."

Download:
MP3: Neil Young :: Pocahontas (chrome dreams version)
MP3: Neil Young :: Will To Love (chrome dreams version)
MP3: Neil Young :: Star Of Bethlehem (chrome dreams version)
MP3: Neil Young :: Like A Hurricane (chrome dreams version)
MP3: Neil Young :: Too Far Gone (chrome dreams version)
MP3: Neil Young :: Hold Back The Tears (chrome dreams version)
MP3: Neil Young :: Homegrown (chrome dreams version)
MP3: Neil Young :: Captain Kennedy (chrome dreams version)
MP3: Neil Young :: Stringman (chrome dreams version)
MP3: Neil Young :: Sedan Delivery (chrome dreams version)
MP3: Neil Young :: Powderfinger (chrome dreams version)
MP3: Neil Young :: Look Out For My Love (chrome dreams version)
——–
+ Download your music DRM free via eMusic's 25 free MP3 no risk trial offer
——————————————————————————————————————————-