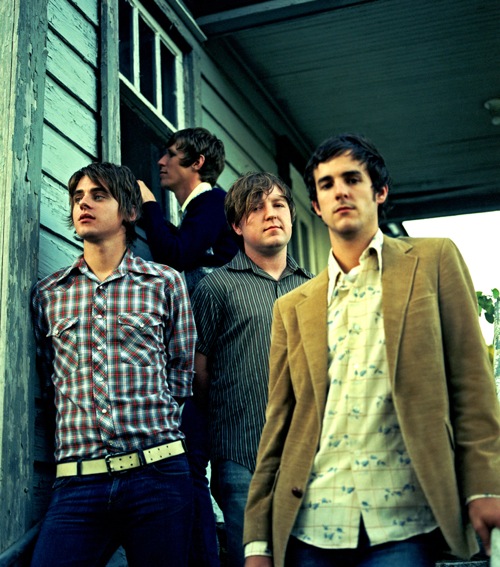 Off The Record is a recurring feature here on the Drunkard that marries two of my greatest interests; music and travel. Having a locals perspective when visiting a new locale is the difference between experiencing it through the lens of a tourist and of that of a native.
Off The Record gathers some of my favorite artists, asks them to reflect on their city of residence, and choose a handful of places they could not live without, be them bookstores, bars, restaurants or vistas.
Today's installment of Off The Record finds us in Athens, GA; home to Modern Skirts who will be releasing their second album, All Of Us In Our Night, at the beginning of 2009.

* * * * * * * * * * * * * * * * * * * * * * * * * * * * * * * * * * * * * * * * * * * * * * * * * * * * * * * * * * * * * *
Life as an Athenian is idyllic. Athens has the best cost-to-culture ratio in the country, which is yet another reason why it's such a great place to live and play music. You can work at a small job with minimal responsibility and make enough money to support a robust social life, and still have plenty of time and energy and resources to devote to practice and shows and touring. It is blissful to be a musician or artist in Athens, to be part of the community of such creative and fascinating people. It's the American Dream for someone with creative urges.
Having a lot of my favorites already covered by Patterson Hood, here are some of my personal essentials around the Athens area:
Cali 'n Tito's :: The Cubano Especial sandwich is the best tasting food imaginable. To anyone. Hands down. Grand Central Station for the flavor train. And there is beach sand and picnic tables and Latino music videos. And you bring your own beer and wine.
Jittery Joe's Roaster :: This is the first place I take people when they come to visit me in Athens. Local artisans helped renovate the place when Jittery Joe's bought it. It's got this old country store feel to it; it has the old wood stove, cool woodwork and ironwork on the front porch, and it's the freshest coffee you can possibly get. This is one of the most unique places in Athens. Before business was booming and they had to fill the back room with coffee beans, they once hosted shows and parties and plays on a regular basis. Roastmaster Charlie Mustard and crew are oh so friendly and excited to show people around. Oh, there's a huge chessboard in the back, too.
The 283 Bar :: A great little bar exiled from the other cool bars on the west end of downtown. One of my favorite things in the world: in the bathroom, they play nice quiet music in contrast to the bar music, which makes for an otherworldly relieving experience. I sometimes go just to use the bathroom (which they frown upon, by the way; be sure to buy a drink). The bloody Marys are exquisite.
AthFest :: The best opportunity in town to discover upcoming Athens talent and devour a massive amount of local music for really cheap, even by Athens standards. The daytime stages are great for seeing the more established acts for free, and at night you can fly from bar to bar and catch all kinds of shows that you might not stumble across otherwise. The tradition is to make a master schedule of all the bands you want to see and make it to as many as possible before getting stuck somewhere with friends and missing most of what you wanted to see.
Habitat for Humanity ReStore :: My favorite thrift store in Athens. It's a little out of the way and all gloriously junky. I bought a English lit book with a pot leaf pressed in the pages and all of my luggage there.
The Boulevard Neighborhood in Normaltown is kind of the hub of bohemian living in Athens. It's a friendly and tight knit little neighborhood full of great people. It's quirky and lovely and inexpensive (in some places) and I am hard pressed to come up with another community like it. It's a pretty legendary place to be a part of.
Download:
MP3: Modern Skirts :: Soft Pedals
———-
Pre-order: Modern Skirts – All Of Us In Our Night

www.modernskirts.com ++ www.myspace.com/modernskirts
+ Download Modern Skirts DRM free via eMusic's 25 free MP3 no risk trial offer
——————————————————————————————————————————-