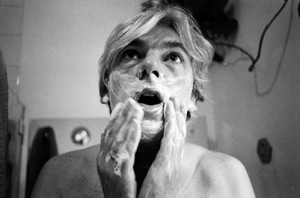 It was a bit odd to walk into Symphony Space on Saturday night and see director Jonathan Demme trying to scalp his extra tickets to that evening's performance of I Often Dream of Trains, the "psych-folk" masterpiece by British cult figure Robyn Hitchcock. Hitchcock has appeared in several of Demme's movies over the years — most recently in the excellent Rachel Getting Married — so I'm pretty confident that Hitchcock would have put Demme on the guest list. But hey, perhaps he needed the extra cash, as times are indeed tough.
Accompanied by Tim Keegan on guitar and Terry Edwards handling horns, keyboards, bass and piano, Hitchcock wowed a roomful of die-hard fans most of whom have never heard the majority of these songs played in a live setting before. Taking the stage dressed in a top hat and his trademark polka-dotted shirt (he had a matching guitar) Hitchcock opened the show accompanying himself on the piano. The strangely comedic "Uncorrected Personality Traits" was performed acapella in three-part harmony and could have easily been a lost Monty Python sketch from 30 years ago. It was obvious to everyone in attendance that the three men on stage were enjoying themselves immensely. The show was being filmed and whenever there was a miscue or a sound issue they simply just went for a second take. The songs "Cathedral" and "I Used to Say I Love You" were the two highlights of the night, and anyone that has seen Hitchcock's live shows is accustomed to his absurdist stage banter, between songs, and tonight was no exception. He prefaced a darker and somewhat moodier version of "Winter Love" by saying "this song was written during the last white Christmas in London…I believe it was 1981."
He compared the state of the world during the time when the album was written during "the Reagan/Thatcher years part 1" to the scary world we are currently occupying. "After 8 years of faith, what this country needs is some unbelief with a little bit of common sense." He congratulated our country on its President Elect and spoke of "hope on the horizon" as he introduced the optimistic "This Could Be the Day." Everyone in attendance was psyched to have been part of this evening as Hitchcock thanked them for enjoying "another slice of recorded music." But it was obvious that, for the most of the attendees, it was much more than that. words/ a. mandel
MP3: Robyn Hitchcock :: I Used To Say I Love You
MP3: Robyn Hitchcock :: Winter Love
Aquarium Drunkard is powered by our patrons. Keep the servers humming and help us continue doing it by pledging your support via our Patreon page. Only the good shit.