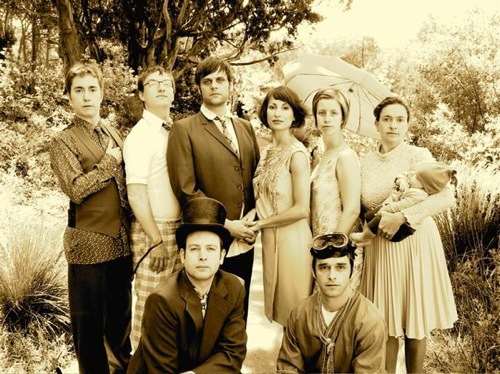 Off The Record is a recurring feature here on the Drunkard that marries two of my greatest interests; music and travel. Having a locals perspective when visiting a new locale is the difference between experiencing it through the lens of a tourist and of that of a native.
Off The Record gathers some of my favorite artists, asks them to reflect on their city of residence, and choose a handful of places they could not live without, be them bookstores, bars, restaurants or vistas.
Today's installment of Off The Record finds us in Michael Zapruder's Oakland, CA. We first got hip to Zapruder via his 2006 Rain of Frogs album New Ways of Letting Go, and the artist is back with his new LP Dragon Chinese Cocktail Horoscope. Below is Zapruder's guide to his favorite local haunts in the Bay Area.

* * * * * * * * * * * * * * * * * * * * * * * * * * * * * * * * * * * * * * * * * * * * * * * * * * * * * * * * * * * * * * *
Lake Merritt :: This is Oakland's gem of a lake. A man-made, amoeba-shaped urban planning triumph, it's low-key, beautiful, and even has occasional gondolas with stripe-clad gondoliers. Just like Venice, but with Raider fans instead of wandering violinists. Run around it, sit on a bench and read Murakami, drink coffee and then take a look at the wintering waterfowl, but don't take a swim. It's Oakland, not Vancouver, people.
Coach Sushi :: Right across from the lake, this place has real very nice sushi, indeed, but the main attraction is Coach and his giant bottle of sake. He's a constantly smiling, Gilligan-like angel of a man who initially looks basically normal and gradually gets wavier as the meal goes on. He should have a license as an anesthesiologist. When you get there, you get your own little cedar sake box (called a masu I think). You draw your name on it and put it on the wall to use when you come back. Trust me, Coach will be over your shoulder practically every time you take a sip, so make sure you walk there for dinner or arrange for someone to pour you home. And when you leave, more often than not, Coach will stand outside, smiling a beaming smile and waving at you for two full minutes.
Alameda County Fair :: On the first Sunday of every month, the old Naval base on Alameda hosts a truly giant antique fair. This goes way beyond your typical flea market, and it's my favorite way to start the month when I'm home. Nothing can be sold there unless it's twenty years old or more, and the sheer quantity and size of the fair cannot be communicated in print. It's not exactly cheap, but there are some good vinyl sellers, some really cool Scandinavian furniture booths, and tons and tons of arcana. The food's good, too.
Our Backyard :: We have invited the birds to feast here, above the faux-vintage French picnic table that I built this past summer. Two acacia trees, a meyer lemon tree and an orange tree (these seem to fruit year-round, so please send your address if you need some oranges or lemons), a walnut tree to fatten the squirrels, and some unassuming little cedars, this place is absurdly beloved to my wife and me. These few trees were planted by someone with a good plan – they seem to be gathered in a circle around the back deck where we can sit and watch the finches, juncos, wrens, hummingbirds, and the clouds fight over the sky. But before you think this is heaven on earth, take a look at the messed-up grass and the funky metal shed back there! I have major work to do.
Piedmont Cemetery :: OK, possibly on the morbid side, but this very large graveyard is one of my favorite places to walk around. It's on a giant hill and there are graves from way back in the late 1700s there I believe. Lots of birds, high meadows, and solemn drives with appropriately somber trees planted on either side, this is simply a very beautiful place, with a good balance between the obvious creepiness of your typical graveyard and the kind of elysian quality you hope for in
an eternal resting place.
Legendary Palace :: Oakland's Chinatown rules. Not only can you get all manner of authentic herbs, bones and lead-filled toys, but you can eat at the aptly-named Legendary Palace. You can't miss the wraparound neon at 7th and Webster Streets, and the food is frighteningly delicious. This is the old-school Chinese restaurant experience. Get the shrimp and candied walnuts. And if you go late enough at night, when you leave you might spot a black-crowned night heron haunting the street corner. It's like living in your very own graphic novel.
Parkway :: The best place to see a movie in town, even if they are second-runners, and you can drink beer and eat food there, too. They'll bring em to you! Go early to get a couch (yes, they are dilapidated and seem to be groaning under the weight of too many years in service, but they are saturated with the dreams of Oakland's movie-loving folk – that's got to count for something).
Cafe 504 :: My local cafe with absolutely the most velvety, deeelish cappuccinos possible. We can walk down the hill and make sure we'll have enough oomph to get back home. A great place to spend some hours with a book or the computing machine befriending America's online horde.
Download:
MP3: Michael Zapruder :: Ads For Feelings
———–
Amazon: Michael Zapruder -Dragon Chinese Cocktail Horoscope
+ Download Michael Zapruder DRM free via eMusic's 25 free MP3 no risk trial offer
——————————————————————————————————————————-