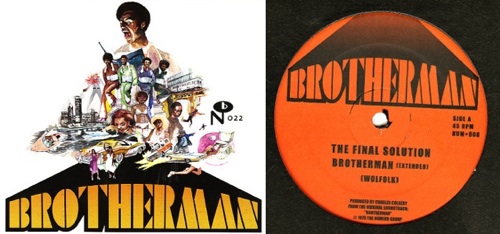 If the below description of this lost blaxploitation flick's soundtrack doesn't pique your interest then I would wager you have never watched Dolemite, The Mack and Superfly back-to-back (which, I might add, comes highly recommended if you're feeling funky and happen to have an afternoon to kill.)
"He was a pusher that became a preacher. A gangster pimp serving soup from the trunk of his Coup Deville. A mutant cross between Robin Hood and Friar Tuck. Everyman, our man on the street, Brotherman. Continuing a tradition that began with Sweet Sweetback's Baadasssss Song, and culminated with Shaft and Superfly, Brotherman was a blaxploitation film set to hit screens in 1975."
For every Shaft and Superfly there are a dozen "lesser" films in the blaxploitation genre, many of which boast super funky soundtracks heavy on the R&B and Soul tip. But in terms of actual soundtracks Brotherman cannot be considered one of these…at it was never actually shot. No, the plug was pulled on the film by producers during pre-production but, as fate would have it, the soundtrack had already been commissioned prior to the film's production. Earlier this year the always on point reissue label, Numero Group, released the twelve track OST — all recorded by the obscure Chicago vocal group The Final Solution (bad name, funky sounds). Only two of the tracks on here were totally mixed and mastered but even the sketches get down way down. Check it out.
Download:
MP3: The Final Solution :: Theme From Brotherman
MP3: The Final Solution :: No Place To Run
———–
Amazon: The Final Solution – Brotherman OST
+ + + + + + + + + + + + + + + + + + +

Manhattans :: Kiss And Say Goodbye
While the above video is completely unrelated to Brotherman, it might very well be the best thing you watch all day. For real. One word: choreography.
+ Download your music DRM free via eMusic's 25 free MP3 no risk trial offer
—————————————————————————————————————————–