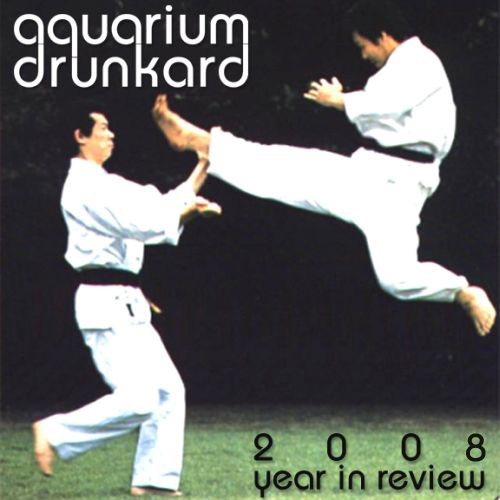 As I mentioned in our Songs: 2008, year-end wrap up, AD brought on two regular contributors over the course of the past twelve months, J. Neas and M. Garner. In lieu of listing our favorite forty or so albums released over the course of the year, we each chose five (different) LPs comprising a group of fifteen releases that not only sound great now, but we predict will stand the test of time. Note: for the sake of argument, we excluded our own four 2008 Autumn Tone releases, as they will soon be getting a recap of their own. Cheers. – AD

1. Fleet Foxes – S/T : Aquarium Drunkard's album of the year. The 1-2 punch delivery of Fleet Foxes self-titled LP, and their Sun Giant EP, dominated much of my listening attention during 2008. I was fortunate enough to catch the Seattle groups first out-of-state show at the beginning of 2008 in San Francisco during Noise Pop. It was one of those rare instances in which when going into a show cold, knowing nothing about the band or what to expect, you leave feeling like you truly experienced something; a sentiment that would only increase after digesting their recorded output and catching them twice more during the remainder of the year. As I wrote last winter, the album(s) hearken back to the sounds of the '70s west coast coupled with the aforementioned decade's British pastoral folk movement. The contents feel so natural, so effortless, that repeated listens only draw out further depth and nuance. At 22 vocalist/songwriter Robin Peckhold has created a world of his own—a world I would highly recommend to anyone who follows AD to explore.
Download:
MP3: Fleet Foxes :: White Winter Hymnal
———-
Amazon: Fleet Foxes – S/T

1. Deerhunter — Microcastle / Weird Era Cont. : Despite the shaking frenzy of last year's Cryptograms, Deerhunter are something of indie rock's quiet kids, hanging out in the back of the class and trying to avoid the insults of the cool kids, praying like crazy that nothing happens. And then something happened. But when the skinny-jeaned commenters began to throw their punches at Bradford Cox and co., the Atlanta five-piece held their ground. Rather than fight back, they accepted the blows to the face, running their tongues over their bloody teeth and smiling. Like sadists with eyes closed, Deerhunter found weird rapture and beauty in a whorling mass of black, white, grey, and red. Microcastle is all of that, filtered through 50's rock 'n' roll gentillesse and Sonic Youth's pedal collection, then distilled by muffly bedroom vocals and warm black blankets of drone; it's the sound of sweat-matted hair and trickling blood, the triumphant glint in the eye of the kid who wins the fight by not fighting at all.
Download:
MP3: Deerhunter :: Nothing Ever Happened
———-
Amazon: Deerhunter — Microcastle / Weird Era Cont.

1. Portishead — Third : Bands don't disappear for a decade and return so thrillingly every day. Third sounds as if Portishead was making records the entire time — this isn't a record that picks up where they left off in 1997. It acts like a fifth or sixth album, not their third. This is the sound of a band who never stopped growing, even if the entire evolution happened off camera. The cinematic scope of Portishead's music, the oppressive and redemptive paranoia and catharsis, the hazy hope and happiness buried within it all, is as astounding today as it was when they first emerged, seeming fully formed, fourteen years ago. Instead, they trump all aces, all the cards played up until now and change the game into something much larger than the table we all thought it was being played upon.
Download:
MP3: Portishead :: Machine Gun
———-
Amazon: Portishead — Third

2. Bon Iver – For Emma, Forever Ago : Technically self-released in 2007 (primarily at shows), Justin Vernon's debut, For Emma, Forever Ago, found both a label home (on Jagjaguar) and a devoted audience over the course of the past year. Truly a grower in every sense of the word the album is a minor masterpiece in its naked, hushed and aching complexity. Recorded in near seclusion during a frozen winter in a remote cabin in Vernon's native Wisconson, the album breathes in slow breaths reminiscent of the tone of Will Oldham's Master And Everyone. It's an album rife with blink-and-you'll-miss-it moments. If music can convey painful truths and honesty, Vernon does so here lyrically, vocally and with the sparsest of instruments. A new genre classic? Indeed.
Download:
MP3: Bon Iver :: Skinny Love
———-
Amazon: Bon Iver – For Emma, Forever Ago

2. Blitzen Trapper — Furr : So many bands have pulled from the nebulous 'world music' stash over the years that it's refreshing to see people beginning to treat American music the same — as one big palate from which to pull colors. Furr is a hybrid above hybrids — channeling Dylan, the Dead and Pavement, it's a fusion like little other. Even the lyrics mine influences that pull from all over – the archaic "Black River Killer" sounds like it could've been sung by the most artful hobo from the late 1800s that you've ever met, yet it does so in a way that isn't hokey or distracting – just genuinely sharp. That all this comes off as honest evolution and not studied homage is its true masterstroke.
Download:
MP3: Blitzen Trapper :: Black River Killer
———-
Amazon: Blitzen Trapper — Furr

2. Plants and Animals — Parc Avenue : There is a city dug into the dirt below Montreal where the French-Canadians retreat when the thin, spiky air of winter makes walking from the front door to the car seem epic. Those who don't live or work in the underground city huddle together near fireplaces on the Plateau, keep fuzzies on their feet, and drink hot drinks. With winters this harsh, it's fair to say that all the bundled animals have a fair appreciation of summer. Plants and Animals' Parc Avenue is a massive disc that bears the many-colored furriness of a Montreal summer. Over eleven tracks, the trio barrel through typical Canadian indie pop without any pretension and Dave Matthews soul without any irony. And that's what makes Parc Avenue one of the year's best: with cymbals crashing and feathers flying, Plants and Animals made a record that never tries to be anything but itself.
Download:
MP3: Plants and Animals :: Feedback In The Field
———-
Amazon: Plants and Animals — Parc Avenue

3. The Walkmen – You & Me : Alright, so 2006's A Hundred Miles Off was…well, a bit off; and the follow-up Pussy Cats, a practically note for note rendition of Harry Nilsson's rasp-fest was, while good, just that (more often than not making me want to throw on the original and be done with it). But forget all that, or at least don't let it stop you from giving The Walkmen's new LP You & Me a serious listen. All the fans that swore the band off, heralding Bows + Arrows as their pinnacle, should step up, get in line, and reinvest. This is the sound of a band reclaiming themselves, re-grouping and becoming all the better for it. Buy the album, and if you haven't done so yet, do see this band LIVE. "I know that it's true. It's gonna be a good year…"
Download:
MP3: The Walkmen :: In The New Year
———-
Amazon: The Walkmen – You & Me

3. Nick Cave & the Bad Seeds — Dig, Lazarus, Dig!!! : Nick Cave writes with the poetic fury of an Old Testament prophet and the shaggy soul of John Berryman. Like Berryman, he's as funny as he is tragic. Like Isaiah, Jeremiah, and Ezekiel, his depictions of sin and decay are harrowing, hollowing horror. Over the course of Dig, Lazarus, Dig!!!, Mr. Cave takes us through the dark passages of horny hearts, down the barrel of Hemingway's gun, into the newsroom from nowhere, and all the time he kerygmas through his scenes, barking like a baritone about the futility of futility. The Bad Seeds, no slouches themselves, sound hell-hot all over the place. Chief noisemaker Warren Ellis strokes the feathers in his hair over and again. He quivers through the horror-pact of "The Night of the Lotus Eaters," he trembles like a vomiting child in the title track. And yet, as Cave trods through Cormac McCarthy's America, he finds traces of silver mercury glinting underneath the rocks. "Jesus only loves a man who bruises," Cave sings in "Hold On to Yourself," and as we shuffle our lizard feet, we know he's talking about all of us.
Download:
MP3: Nick Cave & the Bad Seeds :: Dig, Lazarus, Dig!!!
———-
Amazon: Nick Cave & the Bad Seeds — Dig, Lazarus, Dig!!!

3. Drive-by Truckers — Brighter Than Creation's Dark : As fascinating as it was to see Drive-by Truckers Mach 3 step up to the plate, it was worrisome. Sure, the band had existed in fine fettle before Jason Isbell's entry, but the band had put out its finest albums with him as a member. A 19 song, borderline flawless album is hardly what anyone expected. But from "Two Daughters and a Beautiful Wife" to "A Ghost to Most" and the introduction of Shonna Tucker as a writing contributor, this is one of the Truckers' most thorough albums to date. Every time this band ups the ante, they continue to impress.
Download:
MP3: Drive-by Truckers :: Two Daughters and a Beautiful Wife
———-
Amazon: Drive-by Truckers — Brighter Than Creation's Dark

4. Bonnie "Prince" Billy – Lie Down In The Light : "When there's only one thing I can do, well you know that I still don't wanna do it" is how Will Oldham, the Bonnie Prince, begins his 2008 LP Lie Down In The Light, my favorite Oldham release since Superwolf, his 2005 collaboration with Matt Sweeney. After various covers projects (The Brave And The Bold with Tortoise, the acoustic Ask Forgiveness EP), Oldham returns to what he does best: exploring that weird old Americana. This is his twisted and churned bread and butter and no one does it better. While working on a book about the Delta blues trail last Spring, Lie Down In The Light became the soundtrack that accompanied me through various Mississippi juke joints, cotton fields, Arkansas back-roads, and Memphis pool halls. I can't think of a more appropriate aural companion riding shotgun through the secret South.
Download:
MP3: Bonnie "Prince" Billy – Easy Does It
———-
Amazon: Bonnie "Prince" Billy – Lie Down In The Light

4. The Hold Steady — Stay Positive : Look at the logo on that album cover. It's as tough as Black Flag's bars and stark like spray paint on a wall, that plus sign blocked out in an infinite loop. Bold, plain, and loud, Stay Positive is the answer to the Minutemen's shoulder-shrug suggestion that maybe partying will help. It opens in the battle cries of "Constructive Summer," where the band scream "Get hammered!" in unison before Craig Finn canonizes Joe Strummer, announces that we are our only saviors, and makes a pact to build something this summer. But as the tracks wear on, entropy sets in; kids get knifed ("One For the Cutters"), youth group girlfriends are lost to drugs and ambiguous creepy sex (the heart-smudging "Lord, I'm Discouraged"). People get hangovers, people get arrested, people get old, and somehow in the middle of all of this there is fierce rock 'n' roll music begging you to hang on. By the time "Slapped Actress" closes out the set, Finn can't see the lines between reality and fiction, all he's made is his own movies, and even those are couching at his bedroom door, trying their best to take from him more than he ever intended.
Download:
MP3: The Hold Steady :: Slapped Actress
———-
Amazon: The Hold Steady — Stay Positive

4. The Whigs — Mission Control : It could be that it just doesn't pay to rock anymore. Maybe truly creative, up-tempo rock and roll just isn't in vogue. Return the Whigs, possibly the best power trio circulating in the indie scene at the moment. Their debut was a blast of the liberating rock that indie hadn't exactly had in spades of late. Their sophomore effort, Mission Control, is a toughening and diversifying move — creating some of this year's most raucous music. Laser precision is the key. These are musicians who know their aim is true.
Download:
MP3: The Whigs :: Right Hand On My Heart
———-
Amazon: The Whigs — Mission Control

5. Little Joy – S/T : If you had told me eight months ago that the drummer from a Strokes side-project, named after a local neighborhood dive bar, would rate as one of my favorite albums of the year I would have more than likely raised an eyebrow. Or two. Well, here it is. Whereas the term "side-project" often denotes something less than superior in terms of quality (insert many an example here), nothing could be further from the truth on this eleven song, thirty minute LP. Comprised of Fabrizio Moretti, Binki Shapiro and Rodrigo Amarante, Little Joy's debut excels in both its simplicity and subtlety. The tunes within feel retro—without the kitsch—and only vaguely homegrown, espousing a warm and heady atmosphere that owes as much to Latin America as it does sixties Euro-pop and rock. Feeling blue? Cold outside? If so, this album pays off in dividends.
Download:
MP3: Little Joy :: No One's Better Sake
———-
Amazon: Little Joy – S/T

5. Stephen Malkmus & The Jicks — Real Emotional Trash : The burden of longevity — especially if that includes a stint fronting one of the most genre-defining and influential bands of the past 15 years. It was obvious that Stephen Malkmus was trying both to escape the mantle of Pavement and the yolk of being a 'solo artist' — thus his insistence (and apparent failure) of titling some of his records under just the 'Jicks' moniker. Real Emotional Trash is the first post-Pavement record that truly puts Malkmus' past to rest. It harnesses the jammier elements of Malkmus without the needlessly messy parts. These songs wander on paths, not fields, and their focused sound gives his lyrics new room to breathe and truly engage. As odd as it sounds to say this, Mr. Malkmus has finally arrived.
Download:
MP3: Stephen Malkmus :: Hospscotch Willie
———-
Amazon: Stephen Malkmus — Real Emotional Trash



5. Silver Jews — Lookout Mountain, Lookout Sea : At this point in the history of the Silver Jews, It's a bit much to expect the weak handshakes of Starlite Walker, the tarry bleakness of American Water, or the muscle-flexing of Tanglewood Numbers. Having journeyed through the darkness to find God's shadow on this world, David Berman deserves a victory lap. The circles he traced came in the form of some weird jelly-belly alt-alt.country on Lookout Mountain, Lookout Sea. And though it was largely greeted with the same shoulder shrugs that accompanied Wilco's Sky Blue Sky a year ago, Lookout Mountain is as lyrically involved as anything else in the Joos' thick catalog. Like Sky Blue Sky, the Joos' latest effort is complex in small, subtle ways, all dressed up in country sheen and standing on the banks of the Cumberland River, just a' checkin' out the Nashville skyline. And while Berman's poem-songs are as strong as ever (and just as funny — anyone who doesn't laugh during "San Francisco B.C." needs a pants-straightening), it's the countrypolitan shimmer of the Lookout Mountain band that kept the disc spinning throughout most of the summer. From the flamenco piano runs of "Aloysius, Bluegrass Drummer" to the sparkles of guitar in the future-haunt of "What Is Not But Could Be If," the road has only served to tighten the Joos' musical grip.
Download:
MP3: Silver Jews :: Suffering Jukebox