Off The Record is a recurring feature here on the Drunkard that marries two of my greatest interests; music and travel. Having a locals perspective when visiting a new locale is the difference between experiencing it through the lens of a tourist and of that of a native.
Off The Record gathers some of my favorite artists, asks them to reflect on their city of residence, and choose a handful of places they could not live without, be them bookstores, bars, restaurants or vistas.
Today's installment of Off The Record finds us in Houston, TX with Holden Rushing of The Small Sounds. I have been following Holden's music since 2002 when he lived here in L.A., back when he would play the Cinema Bar in old Culver City. Below is Rushing's guide to his favorite local haunts in H-town. I can personally vouch for Mama Ninfa's…fantastico.
* * * * * * * * * * * * * * * * * * * * * * * * * * * * * * * * * * * * * * * * * * * * * * * * * * * * * * * * * * * * * * *
Houston's charms are not readily apparent to an outsider's eye, but if you're willing to do just a little digging, there are some true gems to be found. For its size, we don't have the music scene one would expect, but the quality of music is stellar, the players are dedicated, and the scene is laid back and growing. One unintended plus is that a band that would play a 1200 capacity venue in a place like Austin would play a smaller club in Houston, like Walter's (around 300 capacity). If you're in town, here's some good stuff to check out:
3700 Main Street :: This block is a one-stop shop for music, food and cultural needs. Continental Club, The Mink and Shoeshine Charley's Big Top Lounge serve up live music from touring acts to great local bands. Tacos a Go-Go, The Breakfast Klub, t'afia and Julia's Bistro all have good grub. There's a funky little record/book/kitsch shop called Sig's Lagoon. (Advice for bands: The barbacoa and carne guisada tacos at Tacos a Go-Go are fantastic pre-show fuel for a Continental gig)
The Orange Show :: This is a crazy place, built by an ex-postal worker over a period of 25 years in tribute to his favorite fruit. Now it's an ever-evolving art studio, museum and live music venue. The bizarre setting adds a little something extra to some already cool shows — Bonnie "Prince" Billy, Daniel Johnston, Joanna Newsom, Vetiver, and many others have graced the stage. The Orange Show Center for Visionary Art also maintains the Beer Can House and hosts the Art Car Festival every year, both of which are totally nuts and a complete ball.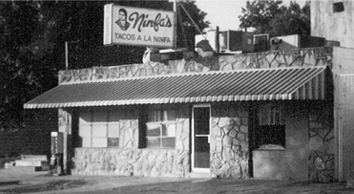 Ninfa's on Navigation :: A Houston Tex-Mex institution. They claim to have invented the fajita, but that is sort of akin to inventing the internet or the question mark. There are those who will claim that there are better Tex-Mex joints in town (and they're probably right), but when they have a guest in from out of town, they'll go to Ninfa's first. This place is part of the reason that Houston is constantly near the top of the "Fattest Cities in America" list. Honorable mention Tex-Mex joints: El Tiempo, Last Concert Café, Spanish Flowers, Pico's.
The Menil Collection :: A free museum set smack in the middle of Montrose (a funky neighborhood in its own right) housing a diverse and constantly changing private art collection. Definitely a cool place to stroll through on a lazy day. Made up of several buildings including The Rothko Chapel (interesting trivia: The Peter Gabriel tune "Fourteen Black Paintings" was inspired by the 14 black paintings on the walls in the chapel).
West Alabama Ice House :: An outdoor beer joint open since 1928, and one of the best hang-outs in town on a nice day. The cross-section of people (and their dogs) that you see is unrivaled. Cold beer, free hotdogs, horseshoes, live music on the weekends, plenty of picnic tables, cool bartenders, and never a cover charge. Awesome.
Cactus Music :: A classic H-town record store. Cool owner, knowledgeable staff, good selection, and a fully booked calendar of free, in-store performances by local bands and national touring acts. A good place to run into a friend (or make a new one) while browsing.
Download:
MP3: The Small Sounds :: Somervell
MP3: The Small Sounds :: Grey While Gone
————
Purchase: The Small Sounds – S/T
+ Download The Small Sounds via eMusic's no risk 25 Free MP3 trial offer.
—————————————————————————————————————————–