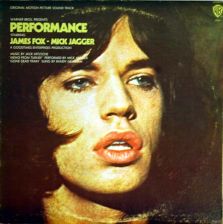 February of 2007 saw the long-awaited DVD release of the 1970 psychedelic/schizophrenic gangster-meets-pop star tale, Performance. Famously known as Mick Jagger's on screen debut, Performance expertly captures the late sixties decadence and decline into hard drugs and paranoia. But for many of us, long before we saw a grainy VHS bootleg copy of the film, we knew Performance as the vehicle that housed the tune "Memo From Turner."
Legend has it that Richards was so distraught over Jagger's love scenes with his then girlfriend, Anita Pallenberg, he refused to play guitar on the track. In his stead, a young Ry Cooder and a band of session players (including Lowell George) laid down the track from L.A. and sent it to England. It is also said that Richards would not step foot on the set because he knew if he saw Jagger and Pallenberg together it would be the end of the Stones. Makes sense as, allegedly, the films depiction of sex and drugs were not "simulated" at all, but real.
There are two recordings of "Turner" floating around, the Performance take, and the Stones take which can be found on the Metamorphasis compilation. Both great. Don't miss the video of Jagger below performing "Memo From Turner," in Character, from Performance.
Download:
MP3: Rolling Stones :: Memo From Turner (Metamorphosis version)
———–