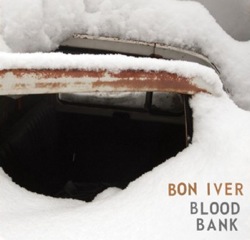 What better way to stoke the fire for 2009 than by releasing an EP hot on the heels of near ubiquitous year-end praise for your debut LP? (Including a #2 slot here at AD.) Bon Iver has done just that with the Blood Bank four-song EP that feels like a bit of an experimental branch off of For Emma, Forever Ago and yet still holds that album's tone.
The title track itself is worth the price of admission, a driving song that echoes a lot of the LP's finest moments in its melancholic ruminations, subdued noise and haunting vocals. "Beach Baby" feels like a leftover track from the album that would be an admirable short filler song for an LP, but isn't a standout song on its own. Using mostly Justin Vernon's voice and a muted guitar, occasional licks of pedal steel punctuate the song's loneliness. "Babys" uses almost nothing but droning, repetitive piano chords and vocals to create an atmosphere that washes over the listener, again sounding like a leftover track. Is that a criticism? With Bon Iver, not really.
"Woods" here is the truly standout track – not just because of its breaking of the alliterative theme of the album song titles up until this point – but because we get to hear a full on autotune song. Bon Iver had teased with brief flashes of the autotuner on For Emma.. but hadn't full on used it to dominate a song. "Woods" is structured from head to toe utilizing the autotuner and, as far as I can tell, nothing else. It's a purely an a capella song that manages to be one of the most unique additions to the Bon Iver catalogue up until now. Whether it elicits repeat listens is up to each person, but as far as really sticking in your memory, it's a great way to close out a strong stop-gap EP. words/ j neas
Download:
MP3: Bon Iver :: Blood Bank
———
Amazon: Bon Iver – Blood Bank EP
+ + + + + + + + + + + + + + + + + + + + + + + + + + + + + + + + + + + + + + + + + + + + + + + + + +
Bon Iver :: Your Love (Outfield cover)
This fan-shot, live, video from last month's show is a must watch.
Download:
MP3: Bon Iver :: Your Love (Live, via)
————–
+ Download Bon Iver via eMusic's no risk 25 Free MP3 trial offer.
—————————————————————————————————————————–