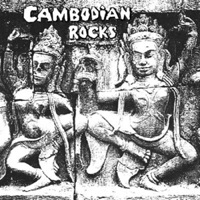 I was recently given a vinyl copy of Dengue Fever's second album Escape From Dragon House; an LP I hadn't listened to since its initial 2007 release on CD. One component that has long been a feather in their cap is that they not only excel at furthering the sound, and underlying soul, of Khmer, but in turn expose more people to the roots of the very music they are paying homage to.
Prior to Dengue Fever there was a widely circulated semi-bootleg entitled Combodia Rocks which gathered up a dozen or so late sixties and early seventies tracks found on random cassettes, many without the name of the artists and song titles. I say semi-bootleg as the collection was sold on compact disc for a time (apparently not in eight or so years). Not unlike reggae, thousands of miles away in Jamaica, these Cambodian musicians were being exposed to an exceptionally wide array of Western influences (in an accelerated time frame) including a lot of American and British rock & roll and pop. The following tracks are there answer to what they heard and it could not be more fascinating. Far from just an aural curio, or an exercise in cultural appreciation, some of these tracks are as vital as what you'll find on your old copy of Nuggets.
Word of note: Since the release of the Cambodia Rocks bootleg another company apparently co-opted the name and has released a numbered series of compilations (all searchable on Amazon). I cannot speak to the quality/validity of any of these as I'm not at all familiar. Are you? If so, hit us up in the comments below.
Also Recommended: Cambodian Cassette Archives :: Khmer Folk And Pop, Vol. 1
Download:
MP3: Yol Aularong :: Jeas Cyclo "Ride Cyclo"
MP3: Ros Sereysothea :: Chnam Oun Dop-PramMuy "I'm 16"
MP3: Ros Sereysothea :: Tngai Neas Kyom Yam Sra "Today I Drink Wine"
MP3: Yol Aularong + Tuk :: Sou Slarp Kroam Kombut Srey "Rather Die"
MP3: Sinn Sissamouth :: Srolanh Srey Touch "I Love Petite Woman"
MP3: Pan Ron :: Rom Jongvak Twist "Dance Twist"
MP3: Pan Ron :: Knyom Mun Sok Jet Te "I'm Unsatisfied"
MP3: Liev Tuk :: Rom Sue! Sue! "Dance Soul! Soul!"
MP3: Ros Sereysothea :: Jam 10 Kai Thiet "Wait 10 More Months"
MP3: Ros Sereysothea :: Jah Bong Ju Aim "Old Sour & Sweet"
MP3: Samouth + Sothea + Ron) Maok Pi Naok "Where From?
MP3: Sin Sissamouth :: Phneit Oun Mean Evey? "What Does Your Eyes Has?"
MP3: Yol Aularong :: Yuvajon Kouge Jet "Broken Heart Man"
MP3: Meas Samon :: Jol Dondeung Kone Key "Going to Get Engage"
MP3: Ros Sereysothea :: Kerh Songsa Kyoum Thay? "Have You Seen My Boyfriend?"
MP3: Ros Sereysothea :: Chnang Jas Bai Chgn-ainj "Old Pot, Tasty Rice"
MP3: Ros Sereysothea + Seang Vanthy :: Kone Oksok Nas Pa "We're Very Bored Dad!"
MP3: Ros Sereysothea :: Kom Kung Twer Evey "Don't Be Mad"
MP3: Ros Sereysothea :: Penh Jet Thai Bong Mouy "I Like Only You"
MP3: In Yeng + Pan Ron :: Sralanh Srey Chnas "I Love Mean Girl"
MP3: Samouth + Meas Samon :: Komlos Teng Bey "Three Gentlemen"
MP3: Ros Sereysothea :: Retrey Yung Joup Knea "The Night We Met"
————
Don't Think I've Forgotten (Cambodia's Lost Rock And Roll)
Trailer for John Pirozzi's 2006 Cambodian rock documentary Don't Think I've Forgotten.
+ Download DRM free digital music via eMusic's no risk 25 Free MP3 trial offer.
—————————————————————————————————————————–