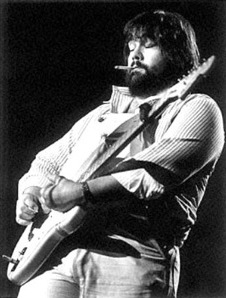 (Sevens, a recurring feature on Aquarium Drunkard, pays tribute to the art of the individual song.)
Masterful songwriting often leads to reinvention. Sometimes a song so is so approachable, so adaptable, that to cover it almost feels like a duty. At their best, these interpretations have the ability to transcend just being a cover, but act as a new entry into the song's lineage.
Question at hand: Is it possible that one could make an Allen Toussaint composition more soulful than its original? Could someone further Toussaint's vision, placing the original in it's shadow, wallowing in a lack of extravagance that, rather than destroying, instead uplifts and invigorates it? That's a tall order, indeed, but when it comes to Toussaint, there may have been only one person able to make that claim: Lowell George.
I originally happened upon George's cover of "What Do You Want the Girl to Do?" under tepid circumstances. By tepid, I don't mean in my life, and I don't mean that day (or that particular ride) with the car radio on. I speak of the first minute-and-a-half of the song, which admittedly feels more Michael McDonald Yacht Rock than the soul-and-face-melting opus it becomes. It doesn't help that one of the most throw-away lines in Toussaint's songwriting career ("Like it's good for her/like Apple Pies/And she don't even cry") occurs in the first few lines, or that one of the most endearing qualities of the song – the false-start pace that repeats each verse — sounds, upon first listen, like it may have been the chorus when you first pass it, leaving little satisfaction.
But wait: with George's chiming scratch guitar, backing vocals – and horns – coalescing into a truly massive crescendo, the true, actual, chorus literally made me pull the car over. Sitting on the side of the road in a small town listening, I couldn't decide if I wanted to head bang, head shake, dance or just pound out the beat on the steering wheel. And then…the song collapsed. Frightened, alone without song or artist, I waited for several painful seconds until the verse came back – now, not as painful as a Doobie Brothers song, but with a heart wrenching   story unfolding itself. In a way, Toussaint's plain sung, almost monotone and barely played original hides the pain of the narrator: speaking both of himself and of the anonymous protagonist as he loses grip and slowly his relationship – while the dutiful, diligent and loyal love is "broken in two."
Sometimes the songs that mean the most pass us by before we knew they even kicked in — before they even allow us to register the sheer power that 3-5 minutes of verse/chorus can wield. As I pulled back onto the road I found myself wishing that "What Do You Want the Girl to Do?" was on my iPod and not on a lost FM station disappearing into the ether somewhere in the Northeast. words/ b. kramer
Download:
MP3: Lowell George :: What Do You Want the Girl to Do?
————–
Amazon: Lowell George – Thanks, I'll Eat It Here

+ Download your digital music via eMusic's no risk 25 Free MP3 trial offer.
—————————————————————————————————————————–