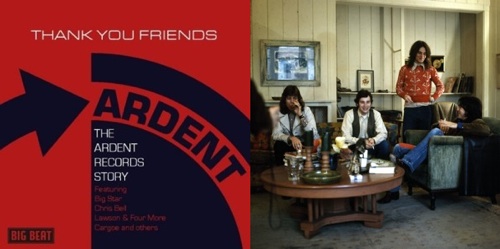 Ardent Records – all the way from Memphis. Whereas the bluff city will be forever known for its huge impact on soul, r&b, and the very roots of what became known as rock & roll, for many of us the label/studio had an additional/seminal impact: its lasting influence on (insert the bands you love here). Personally, thinking about my own record collection, some of my most treasured albums over the last two-plus decades owe a huge debt to the label's Big Star alone. And I would imagine — whether you're aware of it or not — yours does as well.
While Big Star have been, and will forever remain, the flagship Ardent group, Thank You Friends :: The Ardent Records Story sets out to tell the story of the label, studio, and its surrounding culture. And in doing so, over the course of two discs, succeeds. Yes, the demos/outtakes from Big Star, Alex Chilton and Chris Bell ultimately justify the purchase, but it's the other artists included included in the compilation that fill in the blanks. Rarely (if ever) does art exist in a vacuum, and the Memphis scene during the late '60s and '70s was no exception. Bands like Rock City, Cargoe and Lawson & 4 More also carry the Badfinger torch – through an albeit Southern lens – expertly mixing power-pop, molasses and Southern garage rock. Highly, highly recommended.
Related: Garage Rock Tales :: Memphis, TN

Download:
MP3: Big Star :: Back of A Car (demo)
MP3: Rock City :: Lovely Lady
————-
Amazon: Thank You Friends: The Ardent Records Story
+ + + + + + + + + + + + + + + + + + + + + + + + + + + + + + + + + + + + + + + + + + + + + + + + + +
Thank You Friends :: 1971 Big Star footage by Chris Bell and Andy Hummel.
+ Download your tunes digitally via eMusic's no risk 25 Free MP3 trial offer.
—————————————————————————————————————————–