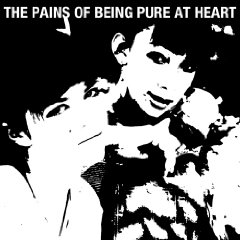 Music critics spend a lot of time hemming and hawing over the idea of 'unique' bands versus those simply channeling something familiar. The Pains of Being Pure at Heart, overly wrought name and all, will have people howling about the latter – much in the same way they did over Interpol's first album. The touchstones are obvious – Ride, Jesus and Mary Chain, Felt, C-86 bands, Velocity Girl, etc. – but it's been a hot mess of minutes since anyone has channeled these sounds in this effective a way.
The album opens with "Contender," a light-percussive haze of melody that cloaks the classicist pop singing that adorns the entire record. It's a warm and familiar opening that is the perfect gateway into the world that the album presents. "Come Saturday" then tears off at a breakneck pace, all 'oohs' and foot tapping – the guitars rioting, the vague memory of keyboard melodies punching through at odd points, fighting against the tide of fuzz.
Though the pace slackens a bit – they become more standard tempo pop songs for the vast majority of the rest of the record – the songs are perfect distillations of the sound they harness. "Young Adult Friction" takes its bounding bass line and duels the crystalline keyboards in an aching testament to adolescence. "Stay Alive" holds the lilting purity of some of shoegaze's finest moments as a frame. Simple riffs that are at times clean, at times eradicated by treatment, great harmonies and vocals.
While it's easy to imagine The Pains of Being Pure at Heart feeling right at home in the mid-to-late 80s, their sound is much more joyous in the surroundings of 2009. And in the midst of the deathly cold of winter, this is a slice of summertime that is badly needed. words/ j. neas
Download:
MP3: The Pains of Being Pure at Heart :: Young Adult Friction
MP3: The Pains of Being Pure at Heart :: Stay Alive
———–
Amazon: The Pains of Being Pure at Heart – S/T
+ Download this album via eMusic's 25 free MP3 no risk trial offer
——————————————————————————————————————————