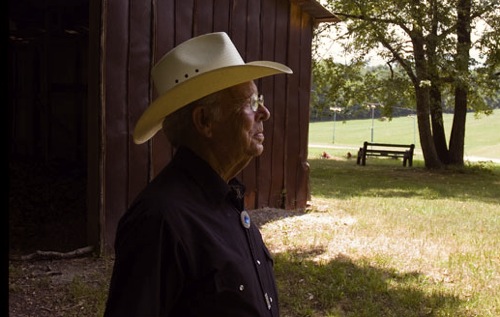 Charlie Louvin is a legend. And I don't use that term lightly. Recording alongside his late brother, Ira, The Louvin Brothers recorded some of the most vital and beautiful music of the last 60 years and was an unquestioning influence on the eventual alt-country movement. Even though Charlie has been a solo artist for over 40 years, he still receives numerous Louvin Brothers requests at his shows and their albums are still in print and widely available.
On February 8th, Charlie was in Los Angeles for the Grammy Awards after having last year's Steps to Heaven, one of two albums he released in 2008, nominated for the Best Southern, Country, or Bluegrass Gospel Album award. He sat down with Aquarium Drunkard via phone to talk about his other latest record, Charlie Louvin Sings Murder Ballads and Disaster Songs, playing in venues that are traditionally rock oriented, collaborating with others and how three dollars a day was the start of a career.
Aquarium Drunkard: You've got a new record out [Charlie Louvin Sings Murder Ballads and Disaster Songs] and this is your third record for Tompkins Square Records. Was there any reason you were attracted to that genre of songs?
Charlie Louvin: Well, I like the songs. They're life. They're really not as mean as real life is, but my brother and I were very successful with an album called Tragic Songs of Life and it's still available today, some 60 years after it was recorded. And people still buy it. And I thought I'd get close to that. I wasn't trying to copy, but there are a lot of songs in that feel that are tragic songs and most all of them are old, old songs. I think they say more about life and they have a beautiful melody to them. I wanted to record an album of that nature, so we put it out and it's been pretty good.
AD: You anticipated my next question. I was going to say that two of the tracks on the new album, "Katy Dear" and "Mary of the Wild Moor," were recorded on you and your brother's first LP, Tragic Songs of Life, back in 1956. Was there any particular reason you chose to re-visit those songs?
CL: "Mary of the Wild Moor" had always intrigued me – that anyone, regardless of how mean they were or what they other person had done, could do what this man did to his daughter. I think it tells a great story. In my earlier days, the song intrigued me because of that. And when I was in England I had a chance to visit a moor and a guy took me and showed me and it was nothing that I imagined it would be. [laughs] I thought it would be a swamp, real wet, because it did mention a willow tree, but it was just a barren hill with nothing that would grow there. I couldn't believe that was what they called a moor, but that's an old English folk song. I also re-recorded "My Brother's Will." My brother and I's A&R man, a great friend, Ken Nelson, wrote that song and I thought it would help him, but it was too late. He passed away, so, somebody will get a few coins off of it, I hope.
AD: One of the interesting things I've seen in how your recent records are being promoted is that you've been touring the country playing more traditional rock venues. It's not the type of place you would necessarily see a veteran country musician play. Is this a targeted effort to engage with a younger audience?
CL: Well, I've toured purposefully with younger artists – the latest was the Old 97s, a rock group, and Lucinda Williams. And in 2003 I toured with Cake and Cheap Trick and some other rock group that we did an extensive tour with. Wherever I went, the people knew what I was singing. I've been a single artist almost 45 years, but the bigger percentage of requests I get on my tours are Louvin Brothers songs. It's unbelievable how that material has hung around for so long. It's really a thrill for me, of course.
AD: My introduction to you and your brother's material was through other artists covering it. With younger bands and people cover your material and bringing attention back to you, do you think it speaks to a universality of the type of songs you recorded?
CL: I do. And I think any artist that has any strength to them – it's the material you use. If the young people like it, then it will live. Right now I am singing for the great-grandchildren of the people Ira and I were singing to and I think that's a thrill that very few artists or writers can say they do.
Last night we played club Spaceland in Los Angeles and we had an unbelievable crowd of people. It's one of these places where you're not accommodated with a lot of seats and we had 1500 people and they stood in front of the stage and everything was groovy until we had two other songs to sing and then the lights went out. Absolute total darkness. A few people had flashlights and they turned them on and we had no P.A. system, but I did have one acoustic instrument on stage, a flat top guitar. And I went ahead and did those other two songs. My voice isn't strong enough to fill a whole club, but the first four or five rows up front heard it and they might've thought it was awful crazy of me to finish that way, but I come from the school of thought that the show must go on, so we finished it up. We had a great time, a great show.
AD: I heard that you commented during the show that it reminded you of some of the ramshackle, back road places you would play back in the 50s without electricity.
CL: That's true. We worked places where they didn't have that. My brother and I would sing a lot louder back then. My brother played the mandolin and I played guitar. And we'd play a little softer and just sing. The people that came to those shows, they came to listen. And if you talked, or someone talked loud enough to bother someone, they would politely tell you that "we came to listen, if you want to talk, you need to take it outside." And they'd try to drop it right there, but if you continued to talk, there's a couple of them that would take you outside. [laugh] But they'd put you out of the building if that's all you wanted to do was talk. They just wouldn't tolerate it. Those were the kind of people who came to hear what you were going to do. They didn't come for a party or anything like that. I really enjoy an audience like that myself.
AD: These venues you've been playing lately typically have audiences that do talk a lot during shows. Is that something you've seen, or have the audiences actually been more attentive?
CL: They have been. I've worked a few rowdy places. I don't truly dig clubs. I would rather work venues where there's not drinking. Some people can't control their drinking and they get loud, so when that happens you just have to grin and bear it. But mostly the audiences are attentive and act like they appreciate what you're doing. We try to answer requests. No matter how much you work on shows, you'll get requests for songs the band doesn't know. You'll have to take a chance – do you want to go ahead and do them and let the band feel their way through them, or stick to a list? We prefer to answer the requests if possible.
AD: What was the first concert that you can remember seeing?
CL: It was in the late '30s. I was born in 1927, so I was 10 or 11 years old and my brother, being three years old. Roy Acuff, hadn't been on the Grand Ole Opry long, and he was coming within walking distance. It didn't bother us if it was five miles. We'd walk five miles like people would walk a city block today. We walked those five miles knowing we didn't have enough money to see the show, but we wanted to be there. And there were nearly as many people in the yard, where we were, as there were in the building because the concert was full. So we stood in the yard with a lot of other people and it was warm weather, the windows were up, no air conditioning, so we got to see and hear him. And it put something in us. We were already singing together, but we knew that's what we wanted to do and our ambition was to be members of the Grand Ole Opry.
Our first professional show that we got paid for was on the 4th of July in 1941. There was this thing called a Flying Jenny. It was kind of like a sorghum mill – a mule pushed this thing around in a circle and people got in to ride around it. It's kind of like a Merry-Go-Round today. And Ira and I sat in the middle and played songs while the people rode. We'd play two songs and that would be about six minutes. At the end of two songs, the mule would stop and the people would get out and the next set get on and we'd play again. We'd get a ten minute break every hour. But that was more so the mule wouldn't get too tired.
Our father, when he wasn't working on his farm, would hire himself out for the day to work on other people's farms, from sunup to sunset, for fifty cents. And we got paid three dollars a day for playing at that Flying Jenny. I think it kind of spoiled us. We thought we had the world by the tail, but it really had us. And it took 14 years to arrive at the Opry, but we finally did become members in February of 1955. So I guess you would tell people, if you believe that you can, that's the first step. I know there's a lot of luck involved, correct timing and stuff like that. But first and foremost, you have to believe you can do it. If you possess that, the rest of it is just hang in there and keep on and one day it'll happen.
AD: On the new record, you've done some collaborations with a few people, and Lucinda Williams got up with you for a few songs last night. Other than your brother, who have been some of your favorite collaborations?

CL: I set together, in my first effort, a self-titled CD – I asked George Jones, Tom T. Hall and Bobby Bare to come in and help on a few songs. Then the producer enjoyed that and he got all the other people. I knew Elvis Costello, but I didn't know the other kids. They were just very young and he called them Americana artists – some of the Americana stuff I've heard sounds like rock and roll more than anything else. But Tift Merritt, she's as cute as a button and just sings her heart out. So they got her on there and later I got to sing the song she recorded on, I got her to sing that with me when she was on the Grand Ole Opry.
AD: With the music you've recorded over the past half century and the continued interest in it, where do you see your legacy in American music?
CL: Well, I don't worry about that. I hope that my legacy will be as a believable person. I'm a strong believer that you are not a better person than your word. If people can't believe what you say, then you're not much of a person. And so I've always strived to do that. If I tell you I'll do something, you don't need a contract. In today's world, people want to go strictly on a contract. My brother and I worked for 25 years together and most of the time there was no contract. You wrote the information down, where you were supposed to be, and you were there. Most of the time we got paid. There were a few people who gave you that bad check, but that wasn't a problem really in our career. We worked for pretty honest people. The world's changed a lot now. You probably do need a contract, otherwise you're walking on thin ice. words/ j neas

Download:
MP3: Charlie Louvin :: Darling Corey (w/ Andrew Bird)
———–
Amazon: Charlie Louvin Sings Murder Ballads and Disaster Songs
+ Download digital music via eMusic's 25 free MP3 no risk trial offer
——————————————————————————————————————————