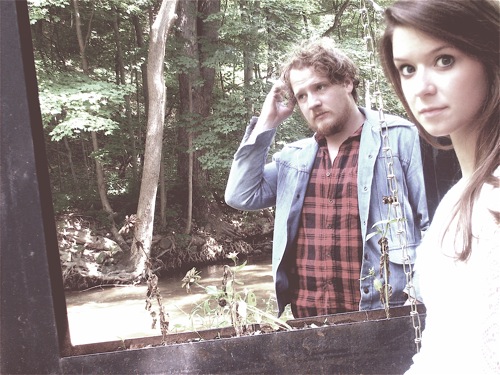 Off The Record is a recurring feature here on the Drunkard that marries two of my greatest interests; music and travel. Having a locals perspective when visiting a new locale is the difference between experiencing it through the lens of a tourist and of that of a native.
Off The Record gathers some of my favorite artists, asks them to reflect on their city of residence, and choose a handful of places they could not live without — be them bookstores, bars, restaurants or vistas.
Michael Nau and Whitney McGraw continue to impress, originally via their work with Page France, then with The Broadway Hush, and now this latest project Cotton Jones. Preparing for their upcoming tour (look for them at SXSW in March), in support of the recently released Paranoid Cocoon LP, Nau took some time to hit us up with his five favorite locales in his hometown of Cumberland, MD.

1. The Fruit Bowl :: Fruit, Veggies, and Candy (all the good shit from when you were a youngster), tossed in individual bins of gum-rotting thrill. At first visit, the offered goods are the appeal, but later, you realize it just smells good in there. It's been sitting beside a stream, beside train-tracks, and beneath "lover's leap", since the beginning of time, I think.
2. Constitution Park Swimming Pool :: This, along with the high school football stadium, keeps the town populated. You know, gives the weekends meaning. I'm not much of a swimming pool guy, but growing up, I remember swimming there and having to evacuate the area, due to kids losing their shit (literally) – something in the water, I assume. I'll occasionally drive by and see a crowd of kids lined around the pool, and no one's swimming. I know what's going on. Smile.
3. Times News Coupon Factory :: I had some good times at this joint. My buddy and I worked here, stuffing coupons into the local papers. We worked the 12 to 4 am shift on weekdays, and a day shift on Saturdays. It amplified my assembly-line skills – you know, everyone has got to do their thing, or else the machine stops functioning. There, I learned that you can record Pink Floyd quality albums, for 5 bucks, in your kitchen, assuming you reeled in the right producer, and his 4 track. I also learned not to fail the group, or I'd pay. I took my Saturday lunch break to see a Jets to Brazil show in DC, and returned the next day to two thumbs down. I lost my job. So, I began delivering their papers, which I was qualified to do. However, I longed for the factory all the while. It's pretty cool to spy through their window in the middle of the night, and hear the machines chugging. Another place with a sweet smell. More of an experience than a place I couldn't live without.
4. Baltimore Street Grill (Summer) :: This is one of the few good spots to go for a drink. In the Summer, you find a table along the pedestrian mall, and just watch. You can tune your ears to the left, for a karaoke rendition of the Sam Cooke discography, sung from the belly, by John Polly and His Charlie Davidson beard. Or, to the right, hear the ladies claiming their tan is unbalanced. It's got its sentimental lure as well, as it seems to be the place we always end up before someone leaves town for a long spell. All in all, it's a pretty great spot, with some real Pony Boy charm.
5. Solar Mountain :: The only place in/near town to buy a record. He's got it all, and if he don't he'll find it. We've spent a lot of time just rambling and listening to records. If I had money, I'd spend it all here. The owner, Bart, once said to me, "Virginia! That's where all the girls are". I don't know what that meant, but the guy seems to know what he's talking about, much of the time. I said, "well, I'll just buy these records for now, please." And, "thanks", of course.

MP3: Cotton Jones :: Blood Red Sentimental Blues
MP3: Cotton Jones :: Gotta Cheer Up
Only the good shit. Aquarium Drunkard is powered by our patrons. Keep the servers humming and help us continue doing it by pledging your support via our Patreon page.