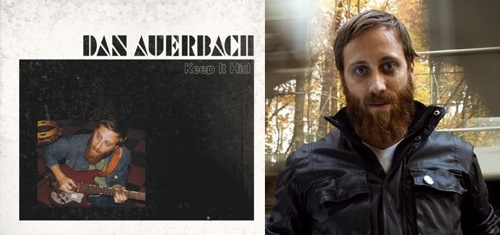 Fresh off his appearance on Conan O'brien, and a week after the release of his solo debut, Keep It Hid, Dan Auerbach spoke on the phone with Aquarium Drunkard discussing, among other things, the process behind his new LP, Charles Bukowski, the Black Keys, playing with his uncles, and the old days of lazy White Stripes comparisons. Yes, that was a long sentence. Auerbach is touring select U.S. dates next month; dates here.
Aquarium Drunkard: When was the majority of Keep It Hid put together. Were these sketches from years past or all new material?
Dan Auerbach: Most of it was new, the majority of it. But there were a few songs that went back a ways, 2 or 3 years, "When the Night Comes", "Going Home" "The Prowl" those are all older songs. They were songs that when I realized I was gonna make a record I re-recorded them. I'm always recording, I've got a ton of songs – I had thirty to choose from for the record, wittled it down to the ones I thought would work together. Just went from there.
AD: The album is quite varied — some very slow tempo songs, some acoustic tracks with harmonies, and some songs that would not feel out of place in the Black Keys catalogue. How did you find the feel for the shape of these tracks?
Dan Auerbach: I won't say it was difficult. I put a lot of thought into sequencing, how the songs would work together. I didn't want to make a record of just songs I liked, thrown together. I wanted it to work from start to finish. The kind of classic record where you put on headphones and listen to it from start to finish and takes you somewhere else – that the was the goal. Every little thing, starting off with "Trouble Weights a Ton." We mastered it a little bit quieter than the rest of the album – so you would adjust your speakers so you can hear it – and then "I Want Some More" would hit in and be that much louder. Also starting off with a slow song, putting it in the center of your mind, making a pretty experience. And then all the transitions pieces we put on the album, in-between songs, that we felt were necessary. A lot of thought went into it.
AD: What was your approach to a solo record vs previous records you've done? Did you have to come at it with a different mindset – feeling your way around it, or did it seem to come naturally?
Dan Auerbach: Black Keys songs start off as songs that I write on my own, you know, they're not Black Keys songs until I get together with Pat (Patrick Carney, drummer of The Black Keys) – they kinda of morph, go through The Black Keys Blender. All the songs you ever heard on the Black Keys started off as me with a notebook and my guitar, or a piano, just making stuff up, working on a tune. I don't really think about it as a Black Keys song, or a solo song or whatever, I just try to write a song. I guess all these songs were accumulating between tours, and records, I was recording on my own since I was 18. I guess it seems new to the public, the first time they've heard any of the songs, but it's normal to me. I've just always kinda done it with my family, my friends. I'm just glad I could finally get it out there.
AD: "Whispered Words" is a song written by your father — how did it feel to arrange music for your father's words, and did you work with him on that?
Dan Auerbach: We co-wrote, he did all the words and I did the melody. He just lets me go, do my own thing. It's fun, you don't always get the opportunity to just take lyrics, lyrics that I thought were great. He just hands me song, I've got a pile of his songs on paper. It's cool, I can do whatever I want to do with them. I recorded a ton of them over the years, but I thought that song fit more on the record.
AD: What was it like recording with your uncle, James Quine?
Dan Auerbach: It's great. He's the guy that taught me how to play music, how to play guitar, how to sing. Watching him and my uncles play is what me want to pick up guitar, join in.
AD: You work with other vocalists on Keep It Hid, something rarely, if ever, heard on Black Keys records – what was it like to work with harmonizing vocals on a record?
Dan Auerbach: It was great. We had some on the last Black Keys record (ed. Attack And Release), but it mostly was just me, all overdubs. It's totally different working on harmonies with other people, it's really fun. I've been playing with my uncle since I was 16, we have a good connection going. He really open to all music I'm doing. He's a pretty hip guy. And with Jessica (Lea Maysfield), she's great. They're both bluegrass based musicians, she and my uncle, they're just really good at it. They make it look easy.
AD: You're going out on the road with Hacienda and drummer Bob Cesare, and they will be serving as your backing band. Do you think you'll sense a true difference playing with an ensemble and not in a duo?
Dan Auerbach: (Laughs) It's gonna be totally different! Going from a two-piece band where I have to do all the melody and all the rhythm parts and all the vocals. We're gonna be able to do all that big instrumentation, all that texture that's on the record. We're gonna be able to do it live – all improvisation, and that open space. I'm really looking forward to it, it's gonna be exciting.
AD: I've heard you say that this record is from the same influences as all the music you've written, but are their any records you've gone back to in the last few years that you think may have been a little more influential than others?
Dan Auerbach: No, honestly I think I've been reading more. Getting more into, I don't know, Bukowski, others. Looking at songwriting as more free-form. Nothing formulaic. Remember, before, I was totally self-taught, I didn't have anyone around to show me – I don't know any songwriters. My dad does his own thing on his own. It's been fun for me to get into writing songs and having fun with it. I was a bit insecure when I was starting. I was never confident enough to do a story song, to sort of get theatrical – it felt to foreign to me. In the last few years I've lightened up, learned to have fun with it, so I can write a song like "Keep It Hid" or "When I Left the Room" which are not songs that I would normally write, but it feels natural now.
AD: You've also said that this record was put together now that you've finally had the time to do it. Even though you haven't taken it on the road yet, is it a process you're hoping to do again. Do you think you might try to work in more free time to do another solo record? Or will it just be fly-by-the-seat of your pants?

Dan Auerbach: I am definitely going to do it again, it's just too much fun not to. Even if I weren't successful, or didn't have a record deal, this is what I'd be doing. This is what I do. This record is my family and friends, making music, everyone I love.
AD: You played many of the instruments on this record – did you feel an increased amount options with this solo venture?
Dan Auerbach: Yeah, totally. I had my studio built, I filled it with instruments. It was like having all these different paints to work with on this giant canvas, it's all at my disposal. The songs that I did do on my own, I couldn't get anyone over, or everyone was busy. So a song like "Real Desire," I just kinda cut by myself. Which turned out really well, I'm happy I did it that way – it has a homemade feel.
AD: In addition to producing this new record, you've increased the amount of producing you have done with other artists. Is there anyone in particular you'd like to work with?
Dan Auerbach: I don't know, everyone that I've gotten into the studio with so far has been amazing, has taught me a whole lot. Every time in the studio with someone I learn something new. The last Black Keys album, Attack and Release, we did a lot of new things – a lot of stuff that I brought to the table with that album, I learned making albums with other people. It's all about free-flowing ideas, back and forth, between musicians. So every time you get into the studio with someone creative you're making yourself a better musician. There's no one in particular, but I've been really lucky so far.
AD: You've done some press for this new record. Are you sick of Black Keys related questions yet?
Dan Auerbach: It's funny. When Pat and I started, we were really sick of the White Stripes questions. "You sound just like the White Stripes" or something ridiculous. We didn't know the White Stripes, we weren't part of that scene in Detroit, we didn't know anyone up there, it was annoying. But over time, people realized we were real, we came from a real place – we're making these records…we don't get those questions anymore. And now, it's like the same thing all over again, but in a different way. I don't mind, I've been through it before, you don't fade away. I'll keep making records and you don't fade away. words/ b kramer
Download:
MP3: Dan Auerbach :: The Prowl
———-
Amazon: Dan Auerbach – Keep It Hid
+ Download Dan Auerbach/Black Keys via eMusic's 25 free MP3 no risk trial offer
——————————————————————————————————————————